Michael Irvin II Has Major Opportunity to Earn NFL Chance at Florida Atlantic
Michael Irvin II spent four years at Miami with heavy expectations. The talented tight end will spend his final year in the college ranks both close to home and at a place he can finally thrive.
Irvin, the son of Dallas Cowboys legend Michael Irvin, announced he intends to play the 2020 season as a graduate transfer at Florida Atlantic.
The move is a risky one, but it's one that potentially provides the younger Irvin with a chance to earn an NFL payday.
Michael Irvin II was sparsely used at Miami
RELATED: Deion Sanders Is Serious About Coaching College Football — Including the Miami Hurricanes
A standout high school player at Florida powerhouse St. Thomas Aquinas, Michael Irvin II signed with Miami out of high school.
Although Irvin frequently played on special teams and started three games on offense last year, Miami never truly utilized his skillset.
Irvin caught just nine catches for 111 yards in three-plus years. A knee injury limited Irvin to only one game, the Pinstripe Bowl, in 2018.
Irvin announced earlier this year he intended to play his final season elsewhere.
Irvin could play a big role in Florida Atlantic's passing offense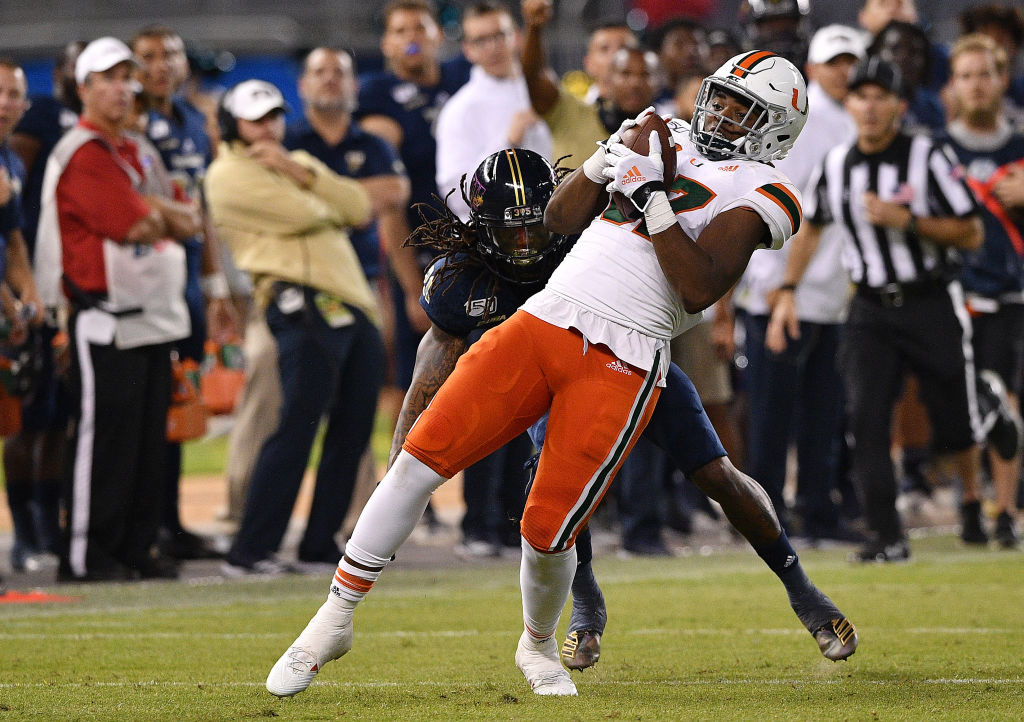 RELATED: Northwestern Football Scores Big in Adding Florida Atlantic's John Raine
If Michael Irvin wanted to spend his final season actually catching passes, he picked the right school in Florida Atlantic.
FAU's offense utilized tight ends as major receiving weapons the last three years. Cleveland Browns rookie Harrison Bryant won the John Mackey Award last year, an honor given to the nation's top tight end.
Bryant's backup, John Raine, transferred to Northwestern in May.
No tight end on FAU's active roster — not counting Irvin, who has not yet been added to the official roster — has caught a pass in a regular-season game.
New FAU head coach Willie Taggart promoted tight ends coach Clint Trickett to co-offensive coordinator. Both Bryant and Raine credited their development to Trickett, a former quarterback at Florida State and West Virginia.
Michael Irvin II will likely need to beat out redshirt freshman Rahmod Smith and redshirt junior Logan Peterson for playing time.
Michael Irvin could be the next 'legacy' player to suit up for Florida Atlantic
RELATED: Florida Atlantic's Willie Taggart Can't Imagine a Fall without Football
The sidelines at FAU Stadium next season will be filled with former NFL players.
Michael Irvin II isn't even the first son of an NFL Hall of Famer to join the Owls. Ray Lewis' son, Rahsaan, and Terrell Owens' son, Terique, both play receiver at FAU.
Warren Sapp's son, Warren II, is a rising redshirt freshman defensive end. Peter Warrick Jr., son of the former Florida State standout, is a defensive back who signed with FAU in February.
Safety Jeff James is the nephew of Hall of Fame running back Edgerrin James. Redshirt freshman safety Diamante Howard's cousin is the late Washington Redskins star Sean Taylor.
The legacy athlete pool also includes Willie Taggart Jr., son of the Owls' newest head coach. Willie Jr. is a quarterback who will likely redshirt this season.
Florida Atlantic had a championship culture under Lane Kiffin. Several of those legacy athletes, especially Michael Irvin II, will have an opportunity to further that culture in the Taggart era.