Michael Irvin Opens Up on Dwayne Haskins' Sudden Death
Dallas Cowboys great Michael Irvin says he felt "so badly" upon learning of Pittsburgh Steelers quarterback Dwayne Haskins' sudden death. The 2019 first-round pick was only 24 years old.
As the football world reels over Pittsburgh Steelers quarterback Dwayne Haskins' sudden death, Dallas Cowboys great Michael Irvin is left to wonder what could have been.
In the immediate aftermath of ESPN's initial report about the 24-year-old Haskins' death on Saturday, April 10, some in the media opted for callous commentary about the quarterback's short-lived playing career. Conversely, although Irvin did reference the Ohio State product's NFL struggles, the Dallas Cowboys great also expressed how bad he felt that the 2019 first-round pick would never have an opportunity to rewrite his on-field legacy.
Michael Irvin shared how he was affected by Dwayne Haskins' sudden death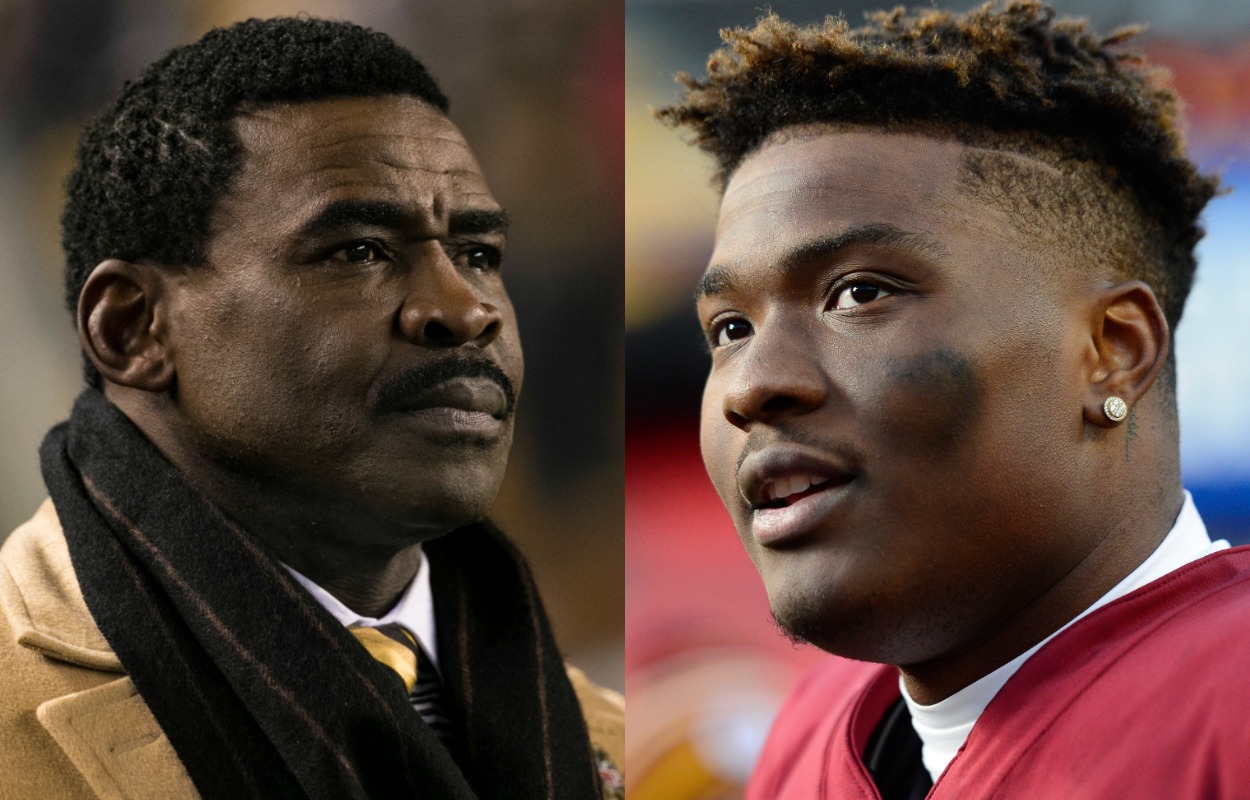 Almost every story regarding Haskins' death (including ours) understandably referenced his NFL numbers. The 6-foot-4, 230-pound gunslinger completed 60.1% of his passes for 2,804 yards, 12 touchdowns, and 14 interceptions across 16 games and 13 starts with the Washington Commanders from 2019-20. Although he did not play a down for the Steelers last year, he was expected to compete for the starting quarterback role in the coming months.
Washington parted ways with Haskins late in the 2020 season after a tumultuous week in which he was fined $40,0000 after reportedly attending a strip club without wearing a mask. Although head coach Ron Rivera stripped the second-year quarterback of his captaincy, he allowed Haskins to start a pivotal Week 16 loss to the Carolina Panthers. The 23-year-old threw two interceptions and lost a fumble before being benched.
"I felt badly when I watched some of the things that went down with him in the few years he had in the NFL," Irvin told Fox News' Ryan Gaydos. "I thought he was thrown in a tough situation in Washington. It's a tough situation."
There were no reported issues involving Haskins during his lone year with the Steelers. He only suited up for one game, in large part because the Steelers traditionally only carry two quarterbacks.
"There's a lot of pressure put on quarterbacks coming into this league, and the quarterback has to carry this mantra, and it's a difficult mantra to carry. They expect you to be a certain way and lead a bunch of grown men, and I thought he needed a little more time. He could have developed into all that he wanted to be in the National Football League."

Michael Irvin
Haskins had joined several teammates, including wide receiver Chase Claypool, in south Florida to train together ahead of offseason workouts. Social media clips showed Steelers players working out at Florida Atlantic University in Boca Raton, roughly 20 miles north of Fort Lauderdale.
"I just hate that his time got cut short, and I'm praying for his family and his friends," Irvin said.
How to get help: Text HOME to 741-741 to connect with a trained crisis counselor at the free Crisis Text Line.