Michael Irvin Questionably Bragged About the Media Copying His Super Bowl Prediction: '11 Weeks Later, the Rest of the Football World Catches up to Me'
Article Highlights:
Dallas Cowboys legend Michael Irvin bragged about others repeating his preseason Super Bowl prediction
The Pro Football Hall of Famer believed the Cowboys and Kansas City Chiefs would meet in Super Bowl 56
We're not really sure why Irvin is taking pride in either fact right now
Dallas Cowboys legend Michael Irvin isn't content with being a Pro Football Hall of Famer or a three-time Super Bowl champion at this stage of his life. No, he wants to be revered as a modern-day Nostradamus.
On the eve of the 2021 NFL season, Irvin predicted his Cowboys and Patrick Mahomes' Kansas City Chiefs would square off in Super Bowl 56. With less than three months left until the Big Game, the five-time Pro Bowler revisited his not-too-bold prognostication and offered some questionable commentary in the process.
Michael Irvin bragged about others copying his preseason Super Bowl prediction
As Dak Prescott and the Cowboys prepared to face Mahomes' Chiefs on Sunday, Nov. 21, many on social media and on television called the game a potential Super Bowl 56 preview. 
On Sunday's episode of NFL GameDay Morning, Irvin called out the fans and observers who took that stance midway through the season. He referenced his own prediction, one which came in early September, about how these two teams would square off again on Sunday, Feb. 13.
"I'm bringing that down from heaven up above that I was the great seer, and I saw this, and this is what I predicted … Now, 11 weeks later, the rest of the football world catches up with me and puts this out as a Super Bowl preview. That's what this is; that's what I said it would be."

Michael Irvin
Dallas entered Week 11 at 7-2 and held a comfortable lead in the NFC East division. The third-seeded Cowboys rebounded from a shocking Week 9 home loss to the inconsistent Denver Broncos and routed the Atlanta Falcons, 43-3, in Week 10.
After over a month of offensive struggles, Kansas City (6-4) pounded the rival Las Vegas Raiders, 41-14, in Week 10. The Chiefs' victory pushed them into first place in the AFC West and into possession of the AFC's fourth seed.
"Both teams are back," Irvin exclaimed. "They're back now. They got their swagger back."
Irvin was in a rare club, but he still has no reason to start bragging right now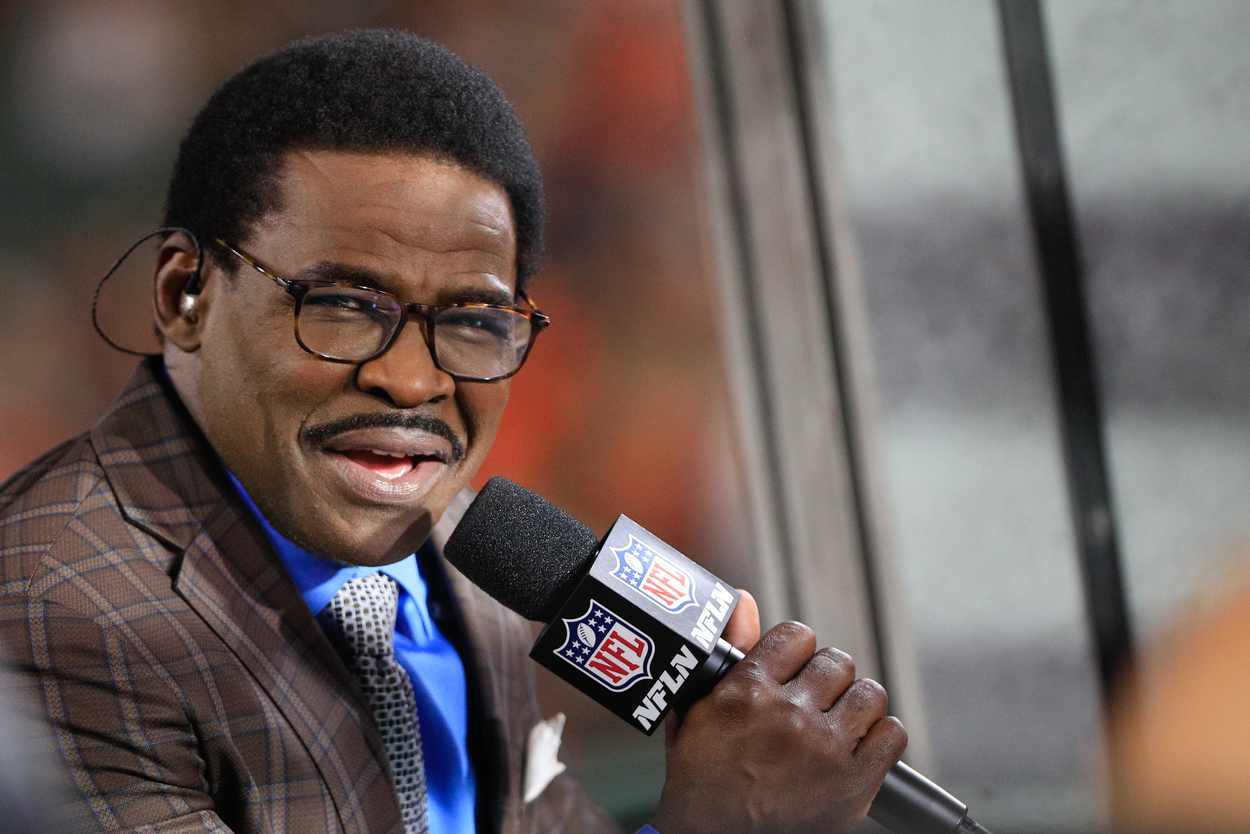 Not only will a quick online search pull up plenty of tweets and articles about how this week's Cowboys-Chiefs game is a Super Bowl preview, but it'll show proof that, at least on a national stage, Irvin found himself in rare territory earlier this year.
Although many reputable outlets predicted the Chiefs would make their third straight Super Bowl, the prognosticators were far less confident in the Cowboys. Of the 17 combined Sports Illustrated and The Ringer writers who made preseason predictions, none expected the Cowboys to win the Super Bowl, much less even win the NFC. Voters for both sites almost always chose the Green Bay Packers, Los Angeles Rams, and Tampa Bay Buccaneers as the NFC's Super Bowl representative.
Of course, Irvin wasn't the only one who had Dallas and Kansas City competing for a Lombardi Trophy. Football Outsiders' Aaron Schatz predicted on Sept. 9 that those two teams would meet at Los Angeles' SoFi Stadium in February.
Still, we're not sure why Irvin is bragging about this right now. He should know by now how quickly things can change in the NFL, especially in the social media era when everyone swaps opinions every five minutes. There are less than two months left in the regular season, and the playoff picture can drastically change in any given week.
If we were days away from the Super Bowl kicking off, we'd fully understand Irvin taking pride in his preseason projection coming to fruition. But in Week 11, when the Chiefs aren't even guaranteed a playoff spot? NFL Media colleague Rich Eisen even called Irvin out later in the broadcast.
"You're talking about how terrific your vision was then, as opposed to two weeks ago, even though the Super Bowl is more than two months away," Eisen said.
Irvin responded that recent events have proven that he "wasn't wrong," to which Eisen interjected, "not yet."
The Super Bowl odds still aren't favoring the Chiefs or Cowboys
Irvin is still buying high on a Cowboys-Chiefs Super Bowl showdown. The sportsbooks aren't exactly in agreement.
As of Nov. 19, Odds Shark listed the Cowboys as +800 favorites (bet $100 and win $900) and Chiefs as +900. Kansas City, at least, has the second-highest odds among an AFC team; the Buffalo Bills have an NFL-best +600 odds of playing in Super Bowl 56.
Tipico, another respected odds site, had the Chiefs at +900 and the Cowboys at +1000. The Buccaneers, Packers, and Rams are ahead of the Cowboys in both books.
At least we know how Irvin still feels on the topic, and we know definitely know what Eisen thinks of his colleague's perspective.
How to get help: In the U.S., contact the National Council on Problem Gambling helpline at 1-800-522-4700.