Michael Irvin Says He Wasn't Getting Political When He Discussed the COVID-19 Vaccine: 'I Only Care About a Ring'
Former Dallas Cowboys Hall of Fame wide receiver Michael Irvin didn't hold back when he talked about current NFL players not taking COVID-19 vaccines.
In fact, Irvin basically said that those who refuse to take the vaccine don't really want to win. Some players took exception to his remarks.
But later, Irvin wanted to clarify and explain that his take was not a political one.
Irvin said he was not making a political statement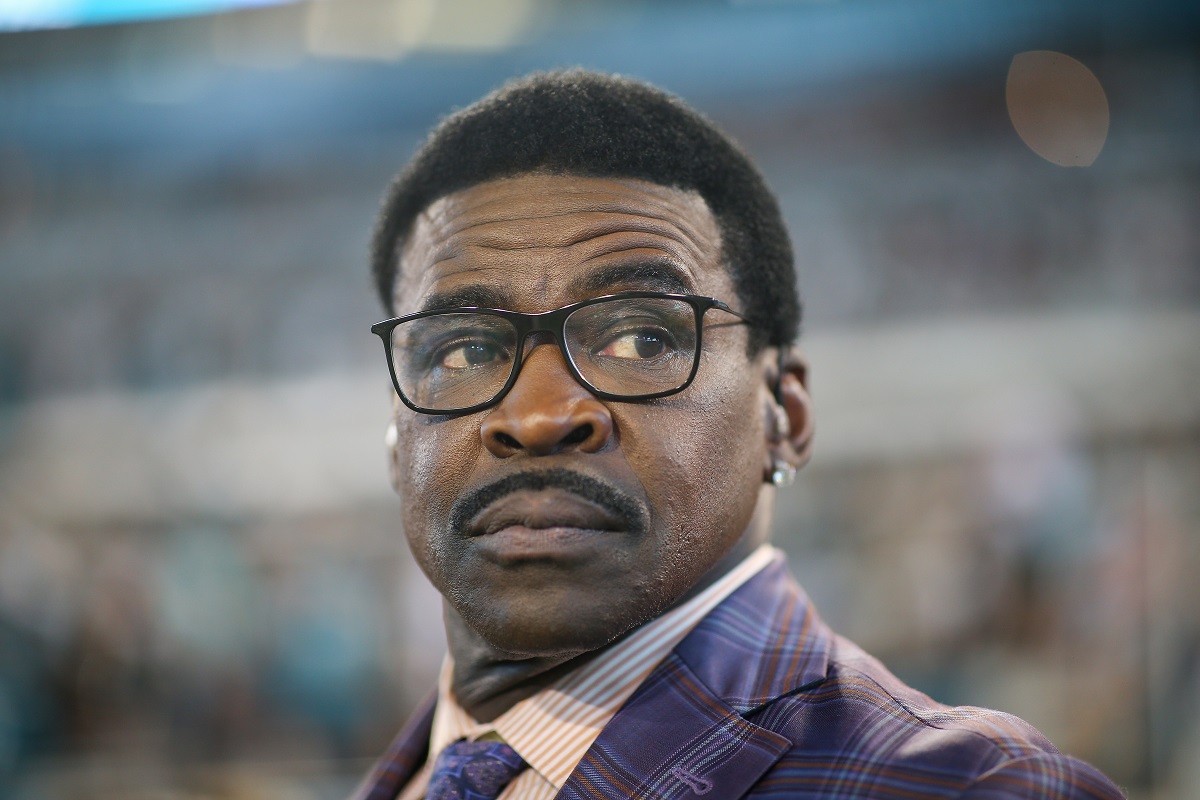 Irvin wanted to make sure that the public understood he was not making a political statement or taking sides in the COVID-19 vaccine debate.
"Here's what gets me. I don't mind you coming after me. I don't mind you say what you say. Do two things, though. Don't put me into your political discussion," he said, via The Dallas Morning News. 
"Oh, right wing, left wing. I don't give a damn about that. I don't care about the right wing. I don't care about the left wing. I only care about a ring. Not the right wing, left wing — a ring. I don't care about the conspiracy theorists, 'Ooh, they're trying to kill us.' If the government wanted you dead, our asses would all be dead right now. So just shut up with all of that."
Irvin continued to talk about players who may be scared to take the vaccine: "My thing is, even if I had them, even if I had those fears, that there's something here, I still am going to get vaccinated. Because the fear don't override my desire to win a championship."
Cowboys owner Jerry Jones said only a handful of his players hadn't gotten vaccinated yet, but he also praised Irvin for his stance.
Former Cowboys wideout doesn't agree with Irvin
Could the Bills cut Beasley?
Cole Beasley, now with the Buffalo Bills, has been an outspoken opponent of COVID-19 vaccines and said about a month ago he would rather retire than take the vaccine.
Beasley tweeted: "Everyone — Hi, I'm Cole Beasley and I'm not vaccinated! I will be outside doing what I do. I'll be out in the public. If your scared of me then steer clear, or get vaccinated. Point. Blank. Period. I may die of covid, but I'd rather die actually living."
The 32-year-old continued to say it was his right to decide whether he would take the vaccine and that if he had to take it, he would retire. 
Could the Bills cut Beasley?
Beasley's hard-line stance against taking a COVID-19 vaccine could cost him his job. The Buffalo Bills aren't obligated to keep him, and the NFL's new COVID-19 policies could effectively end his career, along with those of several other players. 
Arizona Cardinals wide receive DeAndre Hopkins had tweeted that he may also retire if forced to take the vaccine: "Never thought I would say this, But being put in a position to hurt my team because I don't want to partake in the vaccine is making me question my future in the NFL."
NFL players and some teams may have to make some hard decisions following the implementation of the new NFL COVID-19 policy, and those may lead to some unexpected consequences.