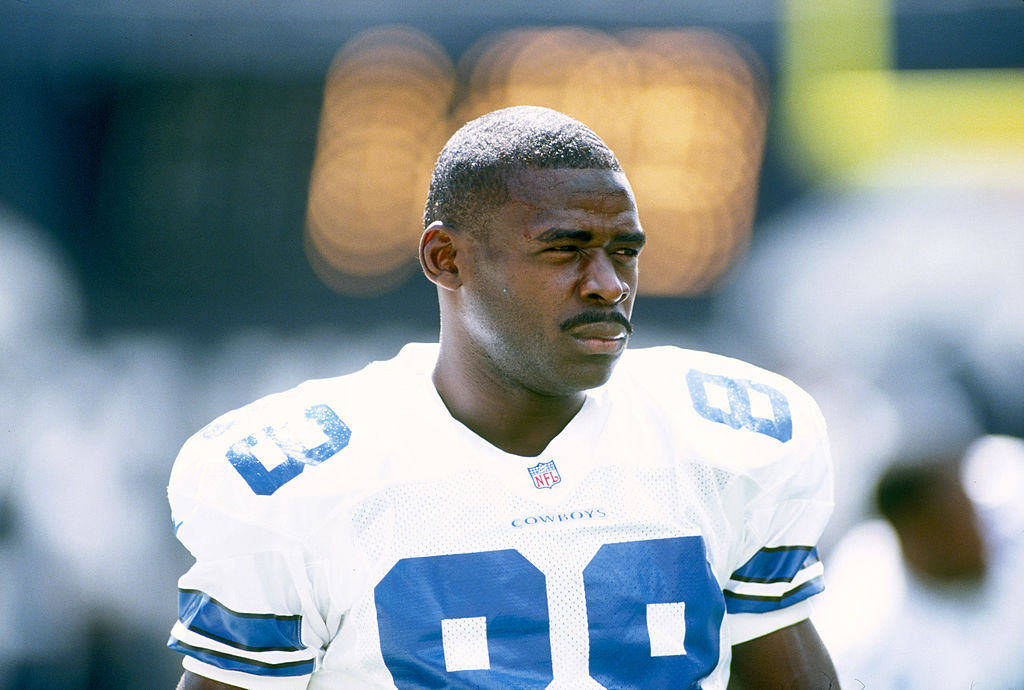 Michael Irvin Once Stabbed a Cowboys Teammate in the Neck With a Pair of Scissors Because He Had to Wait for a Haircut
The Hall of fame wide receiver had once decided to stab one of his former teammates during his tenure with the Dallas Cowboys.
Throughout his Hall of Fame career with the Dallas Cowboys, star wide receiver Michael Irvin didn't exactly have the quietest life off the field.
Numerous stories emerged concerning drug usage and sexual assault charges during and after his tenure in the NFL. But one of the most jaw-dropping moments involved him stabbing a Cowboys teammate in the neck with a pair of scissors.
Michael Irvin's illustrious NFL career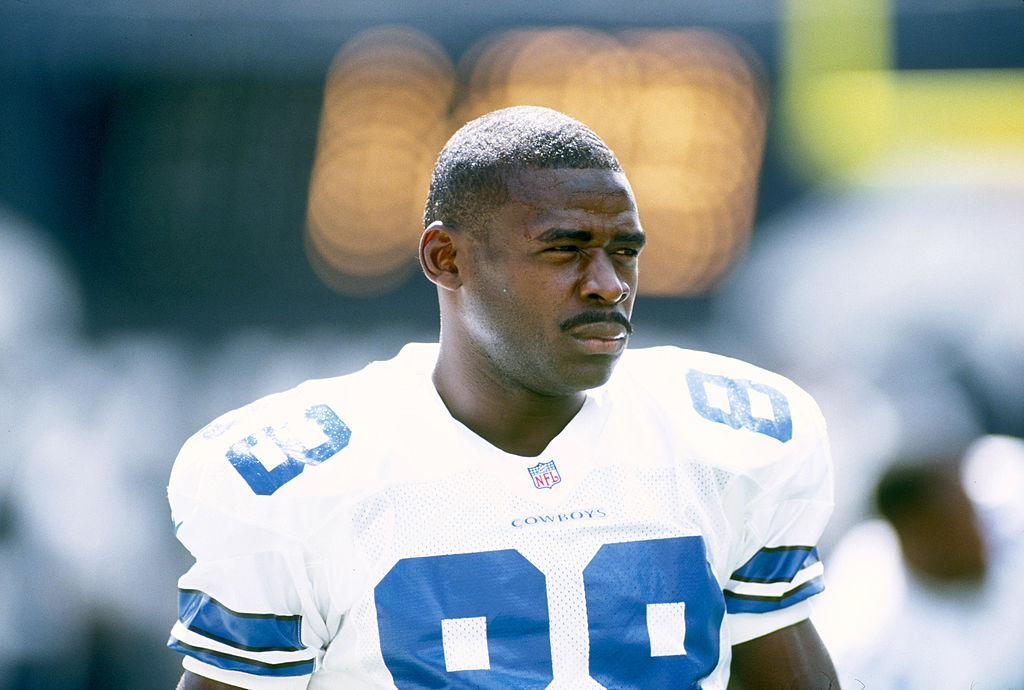 On the field, Michael Irvin enjoyed a remarkable career and was a critical part of the Dallas Cowboys' success during the 1990s.
During his 12-year stint in Dallas, he was part of three Super Bowl-winning teams, was selected to the Pro Bowl five times, made two Second-Team All-Pro nods, and received one First-Team All-Pro selection. He surpassed 1,000 receiving yards seven times and had more than 70 receptions in seven campaigns.
However, his playing days ended prematurely after he suffered a cervical spinal cord injury against the Philadelphia Eagles in the fifth game of the 1999 season.
Irvin ranks fourth in Cowboys history with 64 career receiving touchdowns, trailing only Bob Hayes (71), Jason Witten (72), and Dez Bryant (73). He's also second to Witten (12,977) with 11,904 receiving yards.
Meanwhile, his 47 games with at least 100 receiving yards are the 10th-most in NFL history, per Stathead. Irvin also ranks third all-time in playoff history with six 100-receiving yard performances, ninth with 87 receptions, and fifth with 1,315 receiving yards.
Michael Irvin stabbed a teammate over a haircut
As good as he was on the field, Irvin made many questionable off-field decisions that could have abruptly ended his playing days in the NFL.
One such incident occurred in 1998 when the Cowboys were in training camp at Midwestern State University in Wichita Fallas, Texas. Fifth-year offensive lineman Everett McIver was in the barber's chair already getting a haircut when Irvin came into the barbershop looking to get a trim of his own.
It didn't take long for things to head south. Irvin began to yell at McIver, claiming his seniority should allow him to receive his haircut first. McIver held firm and shoved Irvin, and the two exchanged blows before the star wideout stuck scissors into the lineman's neck, according to TheVersed.com.
"Seniority!" Irvin yelled. Not once, but four times. "Punk get the f*** out of my chair!"

Now, McIver had been in the league five years at that point, so he felt he'd paid his dues. "You're no f*****' rookie. He can't tell you what to do," another lineman chirped in McIver's ear.

"Damn right!" McIver said (or at least thought). He got up from the chair and shoved No. 88. The two came to blows and Irvin reached for a pair of scissors. Fortunately, it wasn't a straight blade. Irvin plunged the shears into McIver's neck, missing his carotid artery by inches.

TheVersed.com
Even more ridiculous? At the time, Irvin was on probation after he was caught with cocaine. Any charges pressed against him could have landed him in prison.
However, McIver never went that route despite the near-lethality of the situation.
Team owner Jerry Jones got involved, and the two men agreed on a reported six-figure payment from the star wideout to McIver. Jones later described the entire incident as "horseplay."
Irvin clearly benefitted from being in a spot where ownership helped him out of tight situations, and it didn't hurt that the league's drug policy wasn't as stiff as it has become over the last decade. If this situation had occurred in the present day, it's hard to imagine him still being allowed to play NFL football.