Michael Jordan's 1992 Comment About a Helicopter Crash Eerily Foretold Kobe Bryant's Tragic Death 28 Years Later
Some people are naturally good interviewers. This ability paired with a love of sports has made Jim Gray one of the greatest sportscasters. In the last four-plus decades, he's interviewed top athletes, including many NBA players. In November 2020, Gray released his book, Talking to GOATs, which includes many stories from his time as a reporter.
One story you likely haven't heard involves a golf outing with former 1992 Olympic members of the Dream Team, Michael Jordan, Julius Erving, and coach Chuck Daly. Along with Gray, the group took a helicopter ride to the course. Their conversation eerily foreshadowed the tragic death of Kobe Bryant years later.
Journalist extraordinaire Jim Gray
RELATED: Why Jim Gray Kept All of His Rejection Letters From Before His Sportscasting Career
Gray was born in Denver in 1959. He graduated from the University of Colorado, Boulder, and began to work as a sports reporter at KBTV in Denver. Over the years, he's worked for many nationwide networks. The 12-time Emmy award-winner has earned three Sports Reporter of the Year awards by the American Sportscasters Association, details Networthy.
Gray has not only worked the Olympics, but covered NBA Finals and All-Star games, Super Bowls, the World Series, and the Masters. He has nabbed exclusive interviews with greats such as Jordan, Kobe Bryant, Hank Aaron, Joe DiMaggio, Pete Rose, Mike Tyson, and Tom Brady. He has also interviewed all the U.S. presidents from Nixon up through Biden.
Gray witnessed the 2004 Pacers-Pistons brawl known as Malice at the Palace, reports GQ. He met with Mike Tyson after the boxer took a bite out of Evander Holyfield's ear. And Gray was called upon to share LeBron James' "Decision" to join the Miami Heat and leave Cleveland. Gray also covered the Centennial Olympic Park bombing during the 1996 Olympic Summer Games.
Gray's helicopter ride with Michael Jordan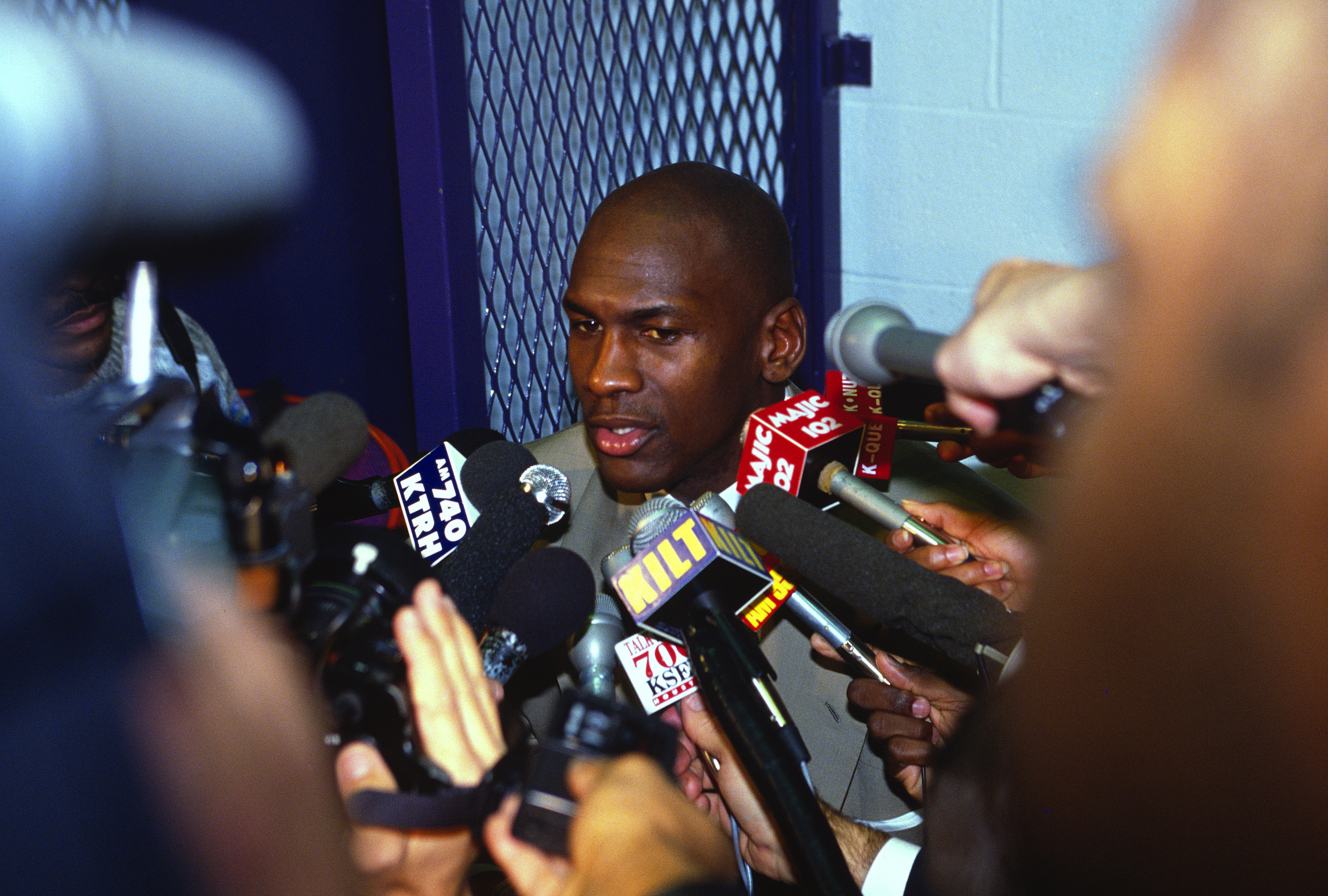 On that day in Spain in 1992, Gray mentioned the possibility of their helicopter going down. As he recalled in Talking to GOATs, the then-29-year-old Michael Jordan responded, "This helicopter is not going down. I've got too much to do."
Gray denies tying his story to the recollection to the infamous helicopter accident in January of last year that killed Bryant, his daughter, and seven others. Bryant was just 11 years older than Jordan's age when he made his comment about the helicopter going down. "I was just relating what was said. I wasn't trying to connect any dots," Gray said.
At the time of the conversation, Erving said he would simply be an afterthought should a crash occur, according to Gray. Erving was once the most famous NBA player in the world but considering who he rode with on that helicopter, he might not even be mentioned.
"Michael just said it kiddingly. It was just a throwaway line," Gray said, adding that he witnesses good weather that day and did not fear crashing.
Jim Gray and Kobe Bryant
As Bryant rose in NBA fame, Gray was there to cover him. Bryant grew up amidst Gray's coverage, and the two became close friends, reports Fox Wilmington. Gray said he knew Bryant was talented from early on. "He wanted to be the best, and he wanted to be excellent," Gray said.
Gray was the last to interview the Black Mamba in his Lakers' uniform on April 13, 2016. Bryant had scored 60 points against the Utah Jazz that day. He told Gray that at the age of 15, he had hoped, "At the end of my career I want people to think of me as a talented overachiever. I was blessed with talent, but I worked as if I had none."
At the time of Bryant's death, Gray said, "It was an honor to cover his career, and having been fortunate enough to have been close to him was one of the great joys in my life."