Michael Jordan Once Used 3 Simple Words To Explain His NBA Greatness
Michael Jordan's greatness isn't up for debate. From his supreme athleticism to his iron will to win, few players could hang with Air Jordan on the NBA hardwood. The acts of brilliance No. 23 displayed left fans, announcers, and even his opponents speechless at times.
While there are countless words people can use to explain MJ's greatness, the man himself preferred to keep things simple. On one occasion, it only took the six-time champion three words to describe his legendary talent.
Michael Jordan was a supreme athlete
RELATED: Michael Jordan Is Directly Connected to the GameStop Trading War and Has Been Bleeding Money for the Last Year
Many people know Michael Jordan for his six championship rings. However, his athleticism was one of his greatest skill sets. He still has one of the highest verticals in NBA history, leaping 46 inches in the air at the NBA combine.
There any plays that come to mind that highlight Jordan's phenomenal athletic ability. His acrobatic layup against the Los Angeles Lakers in the 1991 NBA Finals is a perfect example. MJ performed that mid-air move effortlessly, which is an ode to his exceptional hang time and body control.
His back-to-back victories in the 1997 and 1998 Slam Dunk Contests solidify Jordan's athletic greatness. MJ's physical gifts weren't limited to just offense, though. His quick-twitch reflexes and long limbs made it hard for players to get passes by him on defense.
Michael Jordan dazzled fans with his elite basketball skills for 15 seasons. In one game, he was so surprised at the move he pulled off that he could only use three words to explain what happened.
Michael Jordan used three words to explain his greatness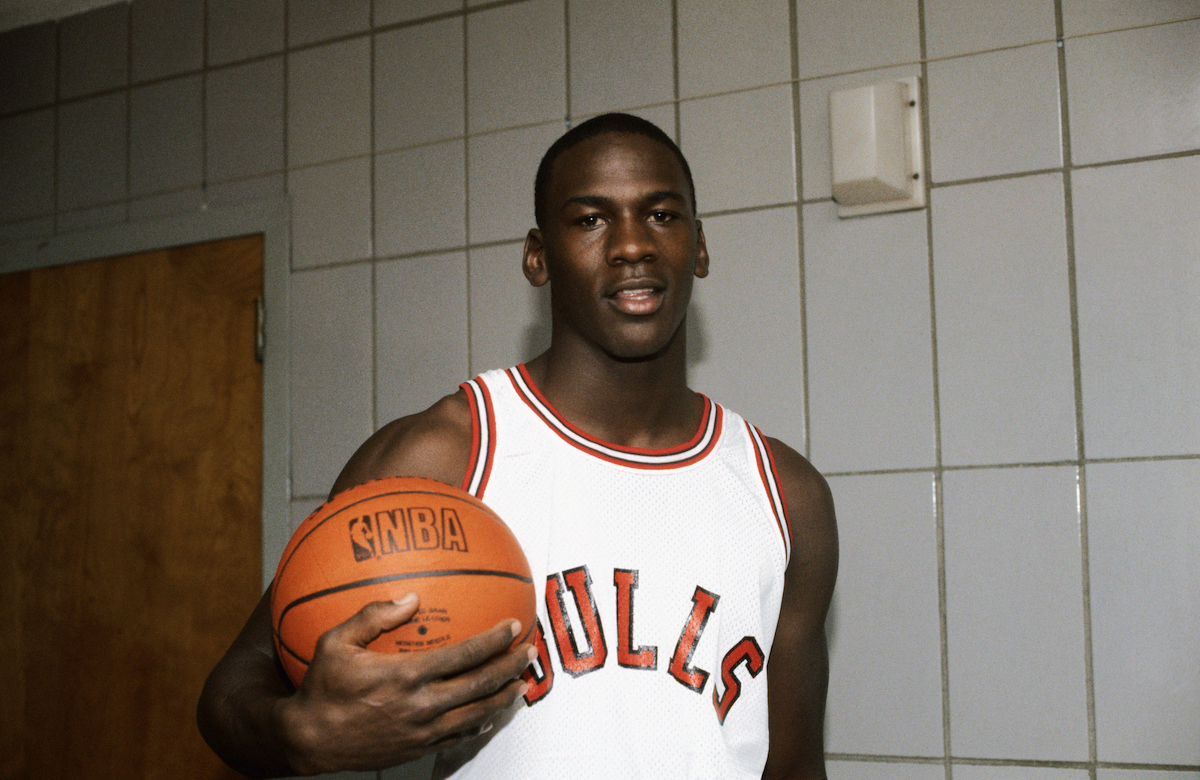 RELATED: Michael Jordan Cursed Out a Famous Rapper Before Demanding Him to Pay $15,000 For a Simple Favor
While Craig Ehlo witnessed Michael Jordan's greatness first-hand thanks to 'the Shot,' that isn't his only memory of MJ. In fact, the former Cleveland Cavaliers guard recalls another moment when His Airness showcased his legendary skills.
"Ehlo remembers Jordan once coming off a down screen in the triangle offense. Reading the play, Ehlo stepped out into the passing lane, only Jordan instinctively countered him by stepping back, where he caught the ball, changed direction, and hit a jump shot," Chris Ballard wrote in his book The Art of a Beautiful Game.
While running down the court, Ehlo was surprised that Jordan could get open.
"'How did you do that? I totally had you covered on that one,'" Ehlo asked Jordan. The six-time champion shrugged his shoulders and replied, 'I don't know, Craig. It just happened,'" said Ballard.
Michael Jordan was so great; even he amazed himself at times.
Can Michael Jordan's greatness be replicated?
RELATED: Michael Jordan Once Called Barack Obama a 'S—y Golfer' Before Getting Chirped in Return by the President
There are very few NBA players who can stack up with Michael Jordan when it comes to legacy and greatness. He's a perfect 6-0 in the NBA Finals never had to play in a Game 7 in the championship round. His impact on basketball helped catapult the league to where it is today. Could there ever be someone who comes close to replicating his legacy?
A couple of people have come close but have fallen short. The late Kobe Bryant is probably the closest, winning five championships and instilling his own "mamba mentality" into the game. He was the spitting image of Jordan from his post moves to his relentless pursuit of excellence. However, Bryant did lose in the Finals and has had his fair share of Game 7s in the championship round.
LeBron James has had a more significant legacy and impact than Jordan off the court given his recent social justice efforts. He's also become a legend on the court, but he struggles to compare to Jordan when looking at championships. James' lost in the Finals six times, and two of those were sweeps.
Michael Jordan is one of the NBA's greatest talents. Sometimes he would even surprise himself with his stellar moves. Many have tried to describe Jordan's greatness over the years, but he summed it up perfectly when talking to Craig Ehlo. It just happens.
Stats courtesy of Basketball Reference