Michael Jordan Once Used Only 3 Words to Remind a Former College Foe That Rivalries Never Die
Michael Jordan had rivalries with multiple teams and players throughout his legendary NBA career, and there's a good chance you have heard a significant amount about all of them.
His college rivalries, on the other hand, didn't receive nearly as much attention.
Before his days as a Chicago Bulls icon, Jordan was a superstar at the University of North Carolina. Since he and the Tar Heels found so much success during those years, natural rivalries between himself and opposing schools/players formed. 
However, it appears his hatred for in-state rival North Carolina State remained strong even years later.
North Carolina and North Carolina State both had success during Michael Jordan's college career
Michael Jordan began playing at North Carolina during the 1981-82 season, and the Tar Heels were one of the best teams in the country that year. They had a stacked roster with players like James Worthy, Sam Perkins, and, of course, MJ, which helped them go 32-2 and tie for the ACC regular-season championship. UNC then won the ACC Tournament before reaching the national championship game and beating Georgetown 63-62.
North Carolina then had a nice year again during Jordan's sophomore year, tying for the ACC regular-season championship for a second consecutive season. But that aforementioned in-state rival, NC State, beat them in the semifinals of the ACC tourney that year before going on to win the conference championship. NC State didn't stop there, though; the school went all the way to the national championship game and defeated Houston 54-52.
MJ then played in college for one more season in 1983-84, and North Carolina won the conference's regular-season title again. The team, however, lost to Duke in the ACC tourney's semifinals before losing to Indiana University in the Sweet 16.
MJ used three words to talk trash to a former North Carolina State player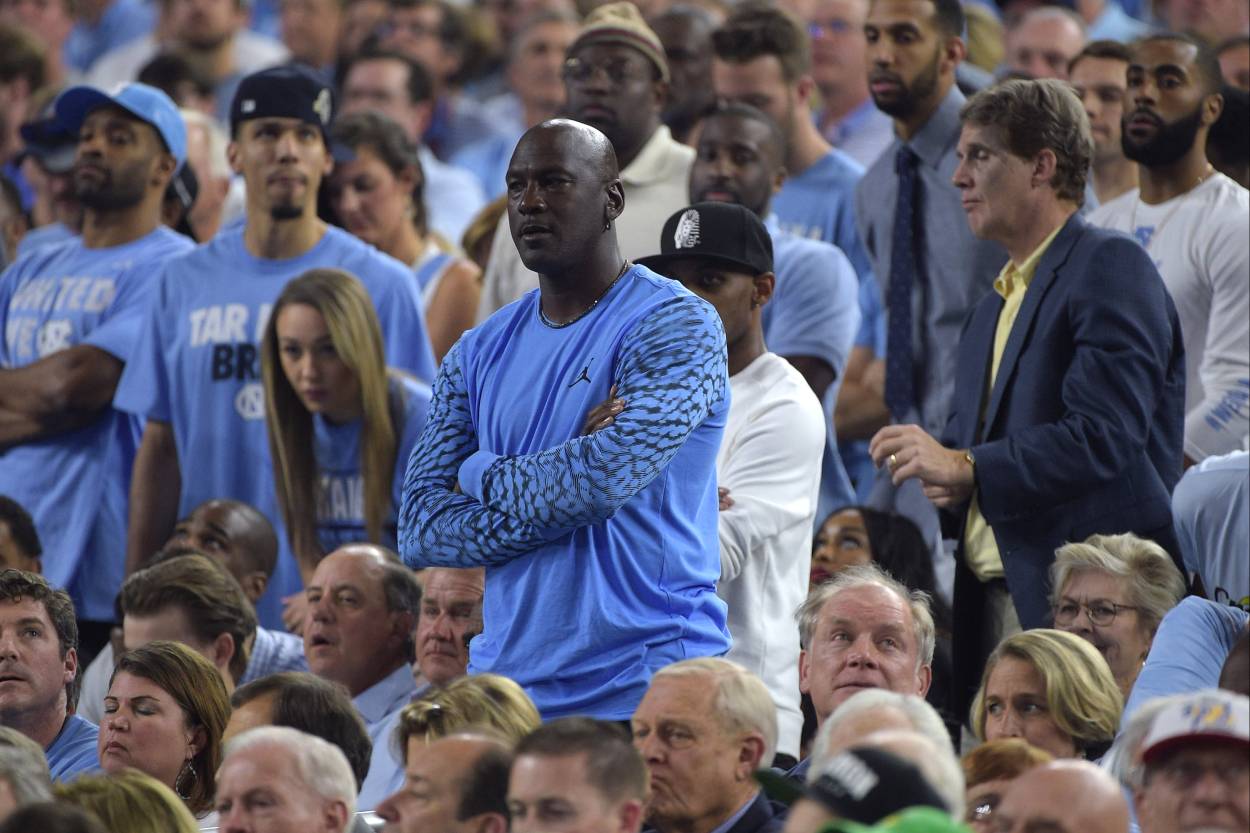 Given that North Carolina and North Carolina State won titles in back-to-back seasons and the fact that the Tar Heels lost to the Wolfpack in the 1983 conference tournament, Michael Jordan had plenty of reasons to hate his in-state rival. And a player from those teams revealed that MJ continued to have disdain for the program well after his college career.
Terry Gannon played on NC State from 1981-82 through 1984-85, so he was on those squads during Jordan's UNC days. Gannon, who is now a broadcaster, once revealed that Jordan talked trash to him years after they both played in the ACC.
"I'm leaving a (golf) clubhouse one time having played, and I'm walking to my car in the parking lot, and this car with tinted windows pulls up, and the window goes down, and there's this voice that I hear," Gannon recalled on an episode of The Dan Patrick Show in 2019.
So what did the voice say? Just three simple words: "NC State sucks."
"And I look up, and it's Michael, and he puts the window up," Gannon said. 
It's unclear just how long after Jordan's college career this took place (Gannon never said in the video, but Dan Patrick's YouTube channel says it had been almost 40 years after the fact). Either way, MJ's three words proved that college rivalries never die.
Michael Jordan was one of the greatest college basketball players of all time
During those years that he battled Gannon's NC State teams, Michael Jordan was one of the greatest college players in the country.
After averaging 13.5 points and 4.4 rebounds as a freshman, Jordan hit the game-winning shot in the national championship game for the Tar Heels that year. He then followed that up by earning consensus All-American honors in two consecutive seasons and winning the AP Player of the Year Award in 1983-84.
Overall, Jordan averaged 17.7 points and 5.0 rebounds at UNC, including his sophomore campaign when he posted 20.0 points and 5.5 rebounds per game.
Even as a kid, defenders had a difficult time stopping MJ.
Sure, everyone knows His Airness as being one of — if not the — greatest NBA players of all time, but the 1982 national champion was also one of the top college players to ever take the court.
Stats courtesy of Sports Reference and the ACC
RELATED: Michael Jordan's Star College Teammate Said He Had a 'Big Mouth' Before Even Playing 1 Game at UNC