Michael Jordan Abandoned Basketball for Baseball to Grapple With the Tragic Death of His Father
A mostly forgotten stint with the Washington Wizards aside, the basketball career of Michael Jordan is viewed as perfect and frequently discussed with awe. In most people's eyes, his only failure as an athlete came when he shocked the world to play baseball in the minor leagues. What onlookers didn't understand about Jordan's decision is that it was his method of processing a familial tragedy. His father, James Raymond Jordan Sr., was a huge baseball fan, and, in the wake of his tragic death, Jordan felt compelled to do something that would make his dad proud. 
The murder of James Raymond Jordan Sr. was jarring for family and fans alike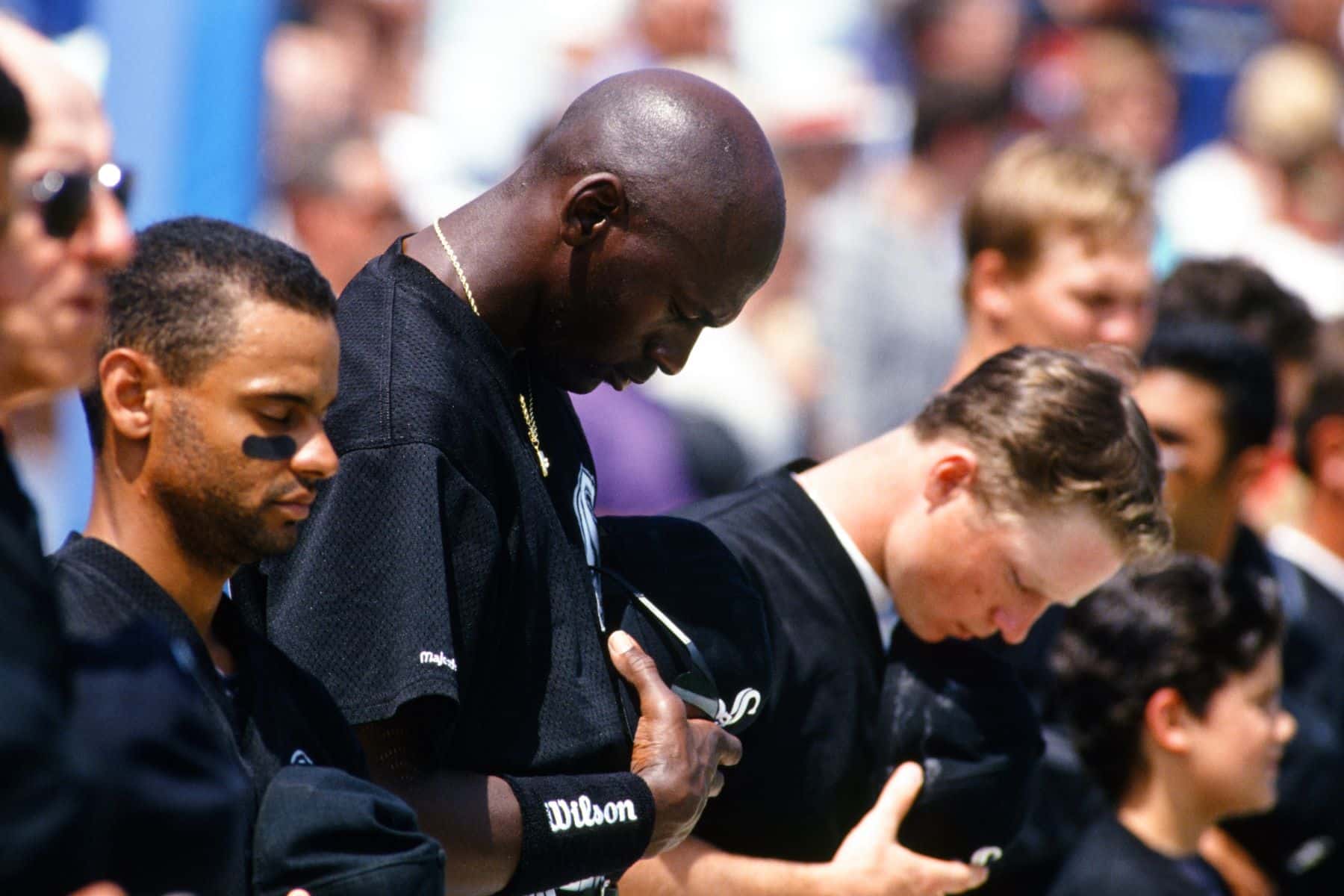 At the end of the 1992-93 season, Michael Jordan was on top of the sporting world. He had just led the Chicago Bulls to their third straight championship, winning Finals MVP in every season. However, behind the scenes, he struggled to cope with the intense attention that came with being a one-of-a-kind pop culture icon. 
Jordan's mental strength is legendary, but even he collapsed under the weight of unfathomable loss. According to the Chicago Tribune, on July 23, 1993, James Raymond Jordan Sr. pulled off U.S. Highway 74 after a long day of playing golf. He was shot and killed as he slept during a botched robbery attempt by Daniel Green and Larry Demery. Both men were convicted and sentenced to life in prison, but there are still some unanswered questions about how the trial made its decision, especially regarding Green's involvement in the crime. His defense team argued that, while helping hide Jordan Sr.'s body in a swamp, he had nothing to do with the murder itself and that the inconsistencies within the case should allow Green a pathway out of prison.
Jordan was already considering retirement before his dad's death, and the death of his father made it clear to him that he had to change his priorities in life. "It's time to be a little bit unselfish in terms of spending more time with my family, my wife, my kids, and just get back to a normal life, as close to it as I could," he told reporters at the time. 
Jordan's decision to play baseball was a tribute to his father's unseen dreams
Six months after leaving the NBA, Michael Jordan announced that he was ready to play again, this time in the minor leagues as a member of the Double-A Birmingham Barons. The move confused almost everyone who didn't know Jordan, but he saw changing sports as the best way to honor his late father.
James Raymond Jordan Sr. was a huge baseball fan and had suggested that his son switch sports earlier in his career. Fulfilling his dad's wish gave Jordan the motivation to play professional sports again. 
"It began as my father's idea," he said to the New York Times. "We had seen Bo Jackson and Deion Sanders try two sports and my father had said that he felt I could have made it in baseball, too. He said, 'You've got the skills.' He thought I had proved everything I could in basketball, and that I might want to give baseball a shot. I told him, 'No, I haven't done everything. I haven't won a championship.' Then I won it, and we talked about baseball on occasion, and then we won two more championships. And then he was killed."
Michael Jordan regards his time in the minor leagues more fondly than many fans do
Michael Jordan was better at baseball than he is given credit for. His stats were comparable to his fellow minor leaguers on the Barons, and he showed improvement throughout the season. 
Still, more than anything, the experience seemed to renew his passion for competition and being a part of a team. "Michael was playing for the right reasons," said Terry Francona, the then-manager of the Barons, to Sports Illustrated. "The whispers that he was there for not the right reasons kind of bothered me. I knew why he was playing baseball. I knew his intention. And it was pure. He made himself a member of the Birmingham Barons in every way. He won over everybody."
No matter what any detractors had to say, Jordan was better for stepping up to the plate. He didn't win a title, but he still won. In the book For the Love of the Game: My Story by Mark Vancil, Jordan reflected on his year in the minor leagues.
"How would I describe my baseball experience? I would describe it now the same way I described it then. Every moment was a warm one. I remember looking up in the sky from time to time and being amazed at how much my life had changed. I had no fear. Just a warm feeling. I can't describe the sense exactly, but now it seems like I was living a dream."
RELATED: Michael Jordan Gained a 'Stronger Passion' and Perspective for Basketball After a Season of Minor League Baseball