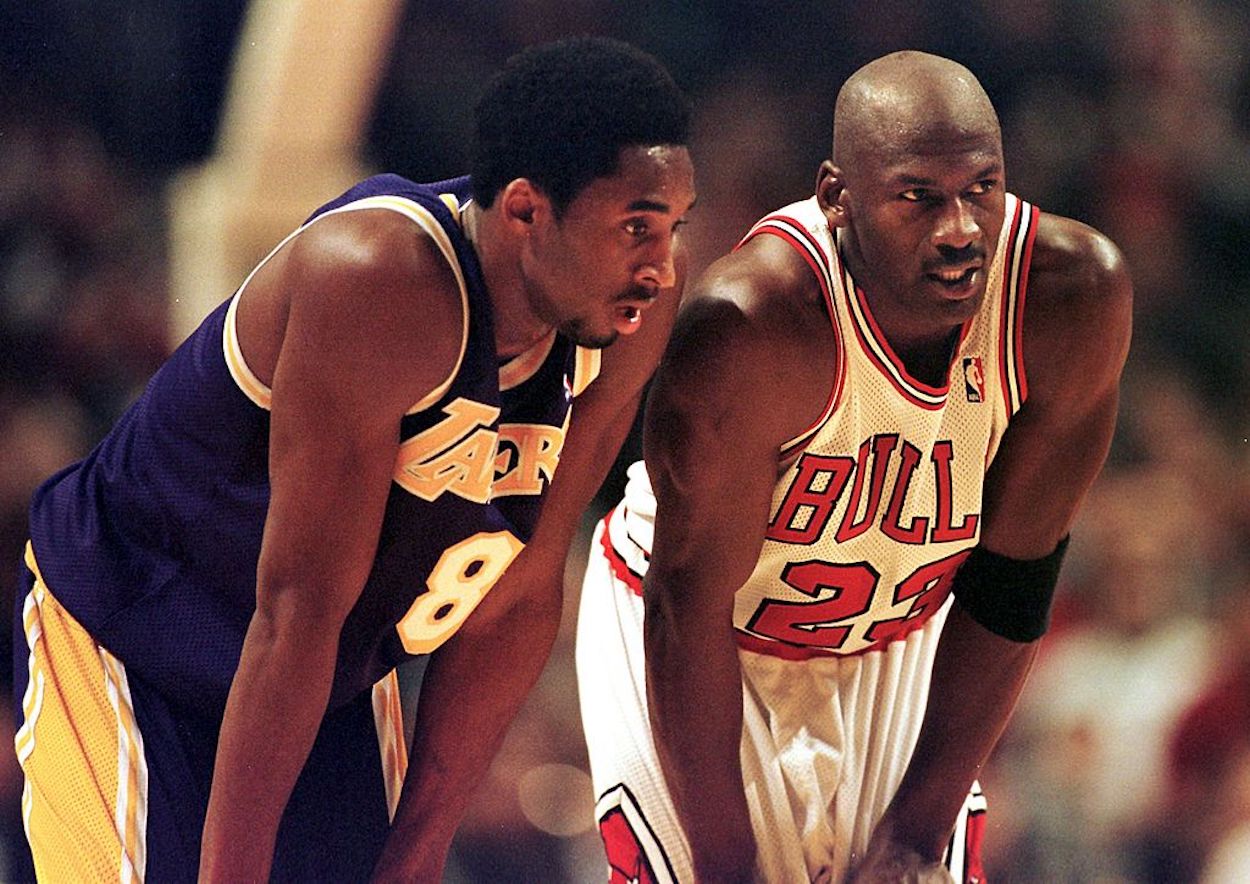 Michael Jordan Could Have Changed Basketball History When He Advised Kobe Bryant to Attend the University of North Carolina
While Kobe Bryant skipped college, things could have worked out differently if Michael Jordan had his way.
The sports world is full of "what ifs." When it comes to basketball, for example, it's hard not to wonder what would have happened if the guys who jumped straight to the pros plied their trade in college. Take, for example, the late, great Kobe Bryant. Just how different would things have been if he hit the NCAA hardwood?
While the commonly told story has always explained that Bryant would have headed to Duke University and joined Coach K's Blue Devils, Michael Jordan tried to flex his muscles and guide the teenager in the opposite direction. According to a recent LA Times piece, His Airness unsurprisingly advised Kobe to head to UNC instead.
Michael Jordan met a young Kobe Bryant on two separate occasions and encouraged him to join the Tar Heels
These days, just about every basketball fan knows that Kobe Bryant idolized Michael Jordan. Long before they were sharing the NBA spotlight, though, the two shared a couple of interactions.
As Mike Sielski shared in an excerpt of his book, The Rise, which ran in the LA Times, the pair first met when Kobe was 13 years old. Joe Bryant brought his son into the Bulls' locker room, and the teenager met His Airness. They shook hands, and MJ gave him a wristband.
When the pair next met, though, the circumstances were a bit different. In March 1996, Bryant was one of the hottest basketball prospects in the country. Philadelphia 76ers coach John Lucas had invited the teenager to a game, and, before tipoff, he got to head to the visitors' locker room and see MJ. The Bulls star greeted him by name, and they shook hands again.
At that point, Sielski explained, Jordan began to offer some advice. Most of it dipped into the realm of cliches, but one piece was a bit more individualized.
Unlike in their previous meeting, Jordan this time talked to Kobe at some length. Enjoy the game, he told him. With the pressure and hype that's going on, you can become easily distracted, and the game won't be enjoyable. Don't let people do that to you. Stay yourself. Have fun on the court, and everything will be fine. The last piece of advice Jordan gave him: Man, if it was up to me, you'd go to North Carolina. Go to Carolina.

Mike Sielski, as excerpted in the LA Times
While Jordan apparently mentioned UNC "three or four times," it was already too late. Kobe had decided to turn pro, hoping to play against His Airness.
If Kobe joined the Tar Heels, that could have had a butterfly effect on basketball history
As The Butterfly Effect famously taught us, a single action can change the course of history. At the risk of being somewhat dramatic, Kobe heading to Chapel Hill could have done just that.
On a collegiate level, Bryant would have joined Antawn Jamison and Vince Carter at UNC. While there are some obvious caveats — it's unclear how three young stars would have worked together and shared the ball — the talent would have been undeniable. Given that the Tar Heels did reach the 1997 and 1998 Final Fours, it's not a stretch to think that a young Kobe could have gotten them over the hump.
If we assume that UNC might have won that championship, even more hypotheticals open up. Maybe Carter and Jamison would have stayed in Chapel Hill for a third campaign, helping the program avoid slipping down the standings and suffering a historic upset at the hands of Weber State.
Taking things even further, Kobe probably would have entered the NBA as a more highly-touted prospect if he played a successful season or two at North Carolina. Not only would the teenager have climbed up the big board — even if he didn't dominate in college, the guard would have probably shown enough to make it into the top-10 — but the teams picking early in the first round would have been different. Had he hypothetically entered the 1997 NBA Draft, Bryant could have landed in Vancouver in place of Antonio Daniels; if he waited for the '98 Draft with Carter and Jamison, he might have joined the Sacramento Kings or his hometown Philadelphia 76ers.
If we want to push the hypothetical to its logical extreme, landing in any of those destinations would have potentially changed everything. Had Kobe joined the Grizzlies, for example, maybe they would have caught the attention of enough fans to avoid relocation. If he landed in Philly, maybe Allen Iverson would have replaced Shaquille O'Neal as Bryant's most famous running mate. With that being said, though, maybe the two guards would have been incompatible, leaving to things to end in disaster.
All of those hypotheticals, though, are just that: hypothetical. Kobe Bryant, showing an early glimpse of his legendary conviction, turned down both Mike Krzyzewski and Michael Jordan, choosing the NBA over college. From there, the rest is history.