Michael Jordan and Kevin Durant Would Have Been Terrible Teammates
The Last Dance documentary has recently captivated the world. It has also made people wonder how good Michael Jordan would be if he were in the NBA today. Even NBA general managers and coaches have recently discussed the topic. While there are plenty of players who would play well with Jordan, some executives think that one particular player would not work well with Jordan. That player is superstar Kevin Durant.
Michael Jordan is the greatest player of all-time
RELATED: Michael Jordan's Son Reveals the Good and the Bad of Being a Superstar's Child
From the year Michael Jordan entered the NBA, he instantly became one of the best players in the league. He earned the 1984-85 Rookie of the Year award and All-Star honors in his first season as he scored 28.2 points per game. That also went with 6.5 rebounds and 5.9 assists. 
Then, by Jordan's third season, he was one of the best players of all-time. From 1986-87 through 1992-93, Jordan led the NBA in points per game each season. He even averaged as much as 37.1 points per game in 1986-87. From 1990-91 through 1992-93, Jordan and the Chicago Bulls dominated the league too. They ultimately won three straight NBA championships in those seasons.
Jordan took an entire season off in 1993-94 and the majority of another in 1994-95. Obviously, he did not lead the league in scoring in those seasons, and the Bulls did not win any championships. However, from 1995-96 through 1997-98, Jordan led the NBA in points per game again. The Bulls also won three straight championships again.
Jordan then did not play for three seasons but played for the Washington Wizards for two seasons in 2001-02 and 2002-03. Here are Jordan's career accomplishments.
Hall of Famer 
14-time NBA All-Star
Six-time NBA champion
Five-time NBA MVP
1987-88 Defensive Player of the Year
Six-time NBA Finals MVP
32,292 career points (fifth all-time) 
30.1 career points per game (No. 1 all-time) 
He has not been as successful, but Kevin Durant has also been an all-time great player.
Kevin Durant is a great scorer in the NBA
RELATED: Kevin Durant Once Failed to Bench Press 185 Pounds Before He Became the NBA's Best Scorer
Like Michael Jordan, Durant had success immediately too. He won the 2007-08 Rookie of the Year award as he scored 20.3 points per game and pulled down 4.4 rebounds. By his third season, Durant also led the NBA in points per game as he averaged 30.1. Durant then led the NBA in points per game four out of five seasons from 2009-10 through 2013-14.
After nine seasons with the Seattle SuperSonics/Oklahoma City Thunder, Durant went to the Golden State Warriors. That is when he finally won his first two championships in 2016-17 and 2017-18. Durant has not played in the 2019-20 season due to injury. 
Here is a list of Durant's career accomplishments.
10-time NBA All-Star
2013-14 NBA MVP
Two-time NBA champion
Two-time Finals MVP
27 career points per game average (sixth all-time) 
So, how would Durant and Jordan do as teammates?
Jordan and Durant would have been terrible teammates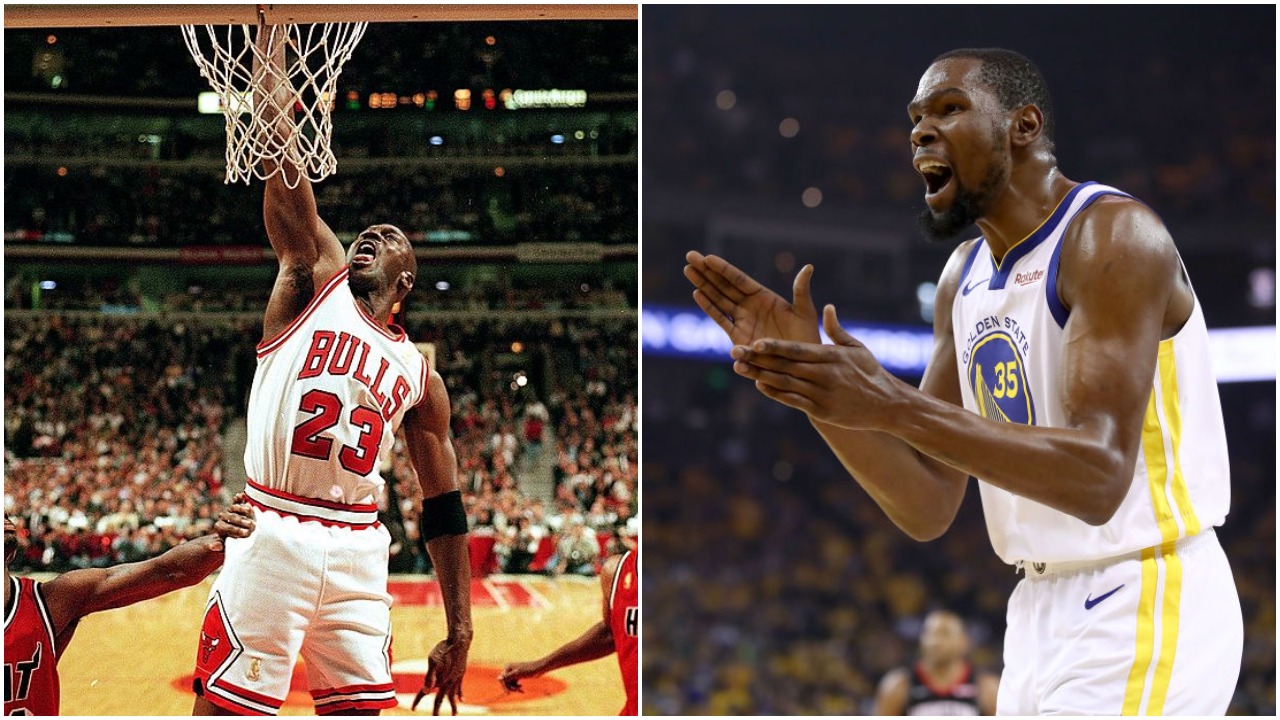 RELATED: The Chicago Bulls Became a Better Team During Michael Jordan's Retirement, According to Former Bulls Assistant Jim Cleamons
Bleacher Report's Ric Bucher recently talked to current NBA general managers and coaches about how Michael Jordan would look in today's NBA. 
Several executives said that Paul George and Anthony Davis would be ideal sidekicks for Jordan. "Their versatility, defensive tenacity and temperament to accept Jordan as the undisputed leader were the primary reasons," Bucher wrote. "Both are viewed as having alpha skill sets but not alpha attitudes."
However, there was a consensus on a guy who would not work well as Jordan's sidekick. That guy was Kevin Durant.
"There's only one guy who wouldn't willingly move over and be No. 2—KD," an Eastern Conference GM said, according to Bleacher Report. "He'd struggle playing with Michael. Too sensitive, and he'd want to shoot all the balls. If Michael yelled at him for missing too many shots, he wouldn't have liked it."
They probably have a point. Durant had problems succeeding with Russell Westbrook. It was also always weird when Durant was the best player on the Golden State Warriors, but it was still Steph Curry's team. It just doesn't seem like Durant's personality would be a good fit with Jordan's.
Michael Jordan and Kevin Durant are two of the best players and best scorers in NBA history. Being one of the greatest duos of all-time, though, would have been very difficult for the two NBA superstars. 
All stats courtesy of Basketball Reference