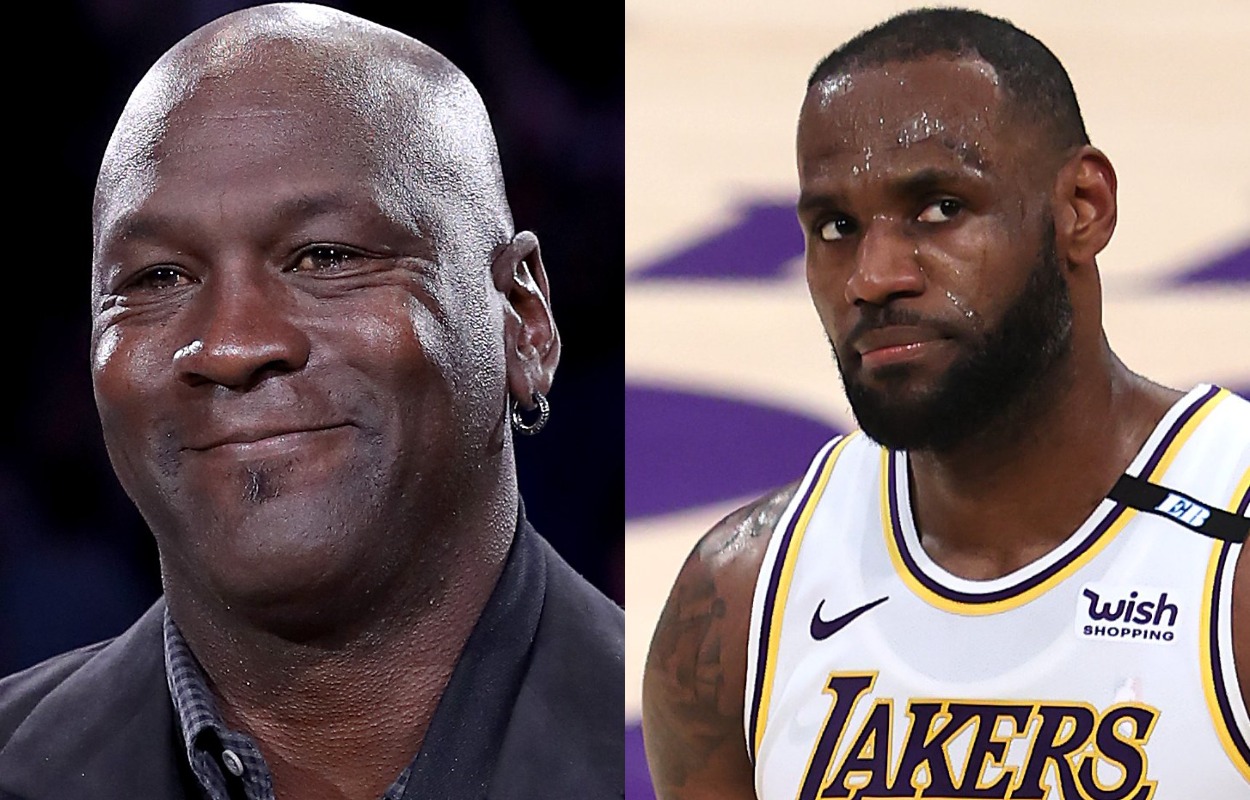 Michael Jordan Believes LeBron James 'May Be Me' in 20 Years, but Not Today
Michael Jordan made a bold admission about when he thinks LeBron James may be considered the greatest NBA player of all time.
The debate between who's better, Michael Jordan or LeBron James, is never going away. Everyone from Twitter users to TV talking heads like Stephen A. Smith has made that discussion a permanent fixture of the sports world.
James and Jordan haven't ever pretended that the conversation isn't out there. There is no ignoring the reality that James could be chasing Jordan until both are long gone. It's interesting, then, to hear Jordan's belief of when there may be a significant and meaningful answer.
Michael Jordan said LeBron James could be as revered as him in 20 years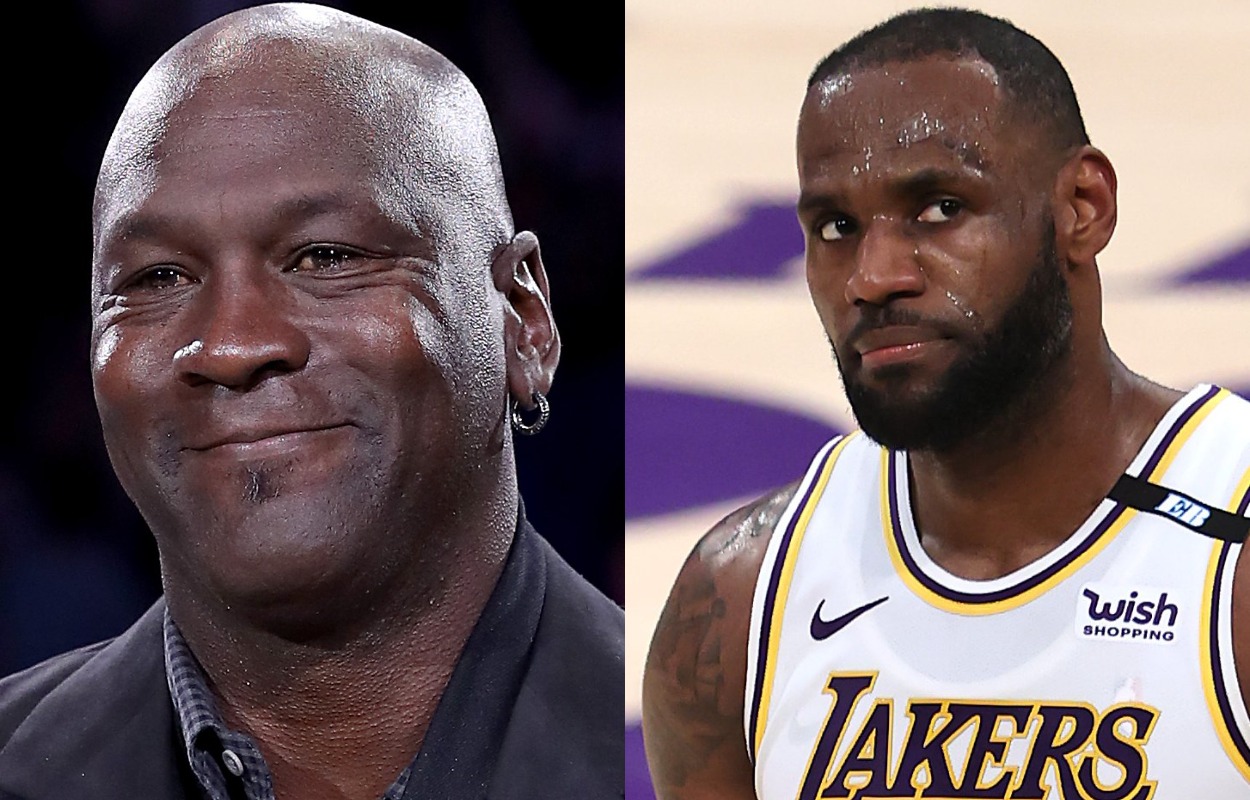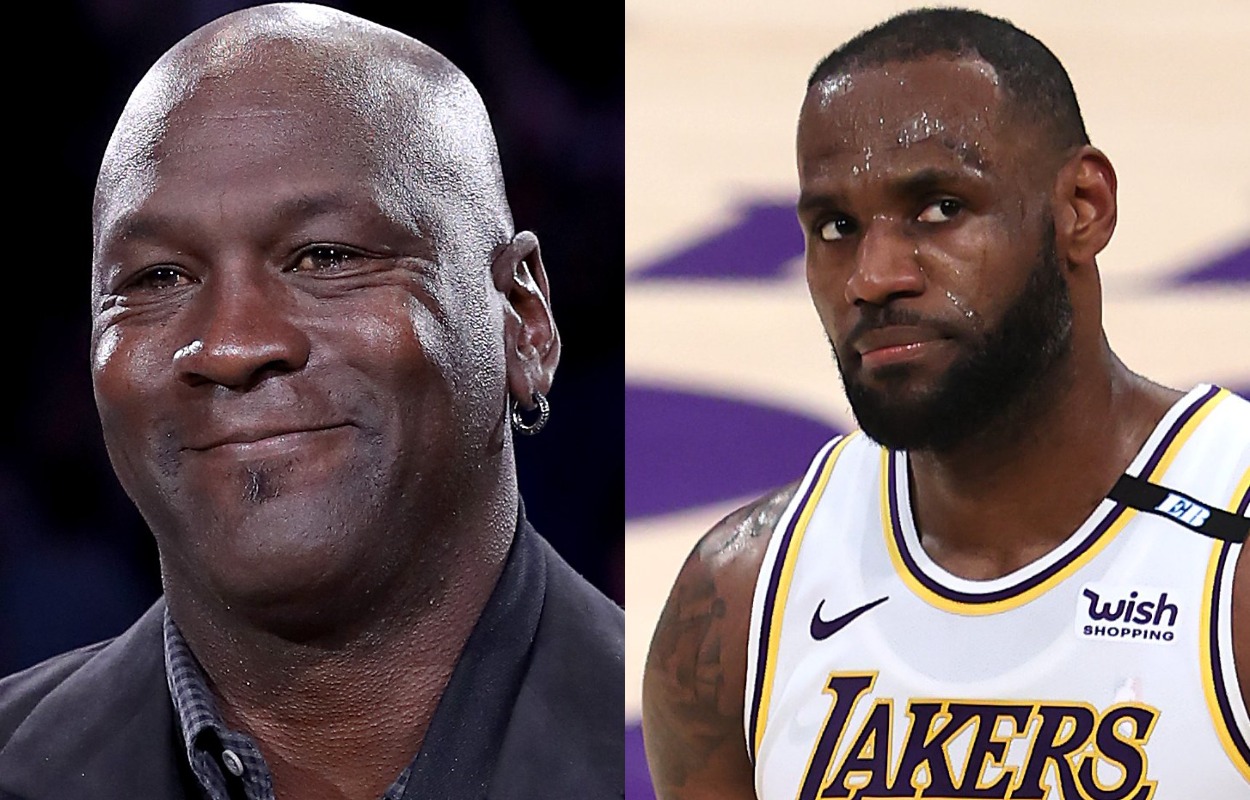 Some numbers and statistics don't lie, especially in surveys. So when the Harris Poll went out in 2009 and 2015 to ask Americans who they believed were the greatest athletes of all time, the results spoke for themselves.
Jordan topped the list in both years, with baseball legend Babe Ruth and boxing great Muhammad Ali right behind him. Tiger Woods finished second in 2009 but fell to eighth in 2015; Ruth and Ali each moved up a spot.
In a 2020 interview with Cigar Aficionado, Jordan and Marvin Shanken, the outlet's publisher, discussed those rankings. The six-time champion remarked that he was easily the youngest of those three and explained he felt recency bias played a role in him topping the list.
"So, in essence, it's all elevated on who is watching now. If you ask 20 years from now, I'm pretty sure LeBron may be me, you know, based on who's going to be making the voting. … If you ask me, I can never give you an opinion about things like that because as an athlete, all you want to do is be the best athlete you can do."

Michael Jordan
Jordan's estimated timeframe makes sense. Many of those surveyed in 2040 will have grown up watching James and may have been too young to see Jordan in his prime with the Chicago Bulls.
Jordan's commentary might have finally answered the question about determining who's better
Perhaps the worst part about the James and Jordan debate is that there is no end in sight. The majority of people are already locked into their side and cast their non-existent vote.
That's what makes Jordan's commentary so fascinating. In a way, the final answer might not come through advanced stats or how many rings James, who has four, has when he finally retires. It might instead fall to the people making their thoughts heard through a reputable survey.
With that said, think about who ranked immediately behind Jordan in 2015. Ruth became the first superstar athlete and almost feels like a myth now. His called shot in the 1932 World Series is something out of a fantasy novel, not an actual game.
Ali was a legend in the ring who also made a global impact as an activist and philanthropist. He represented the era of change in America, and Ruth embodied the Roaring Twenties and a nation devoting eyes, ears, and dollars to sports.
Even if the Harris Poll is conducted in 2070, those three still may rank in the top-five despite the vast majority of voters never seeing them compete. Similarly, it will be interesting to see where James ranks if they do the survey again anytime soon. The Los Angeles Lakers star finished seventh in 2015 behind that trio, Serena Williams, Peyton Manning, and Joe Montana.
The debate between James and Jordan will still never end
Hopefully, the day comes where the debate between James and Jordan becomes fairly amicable instead of serving as a tired topic on First Take and Undisputed.
Have you ever noticed how basketball is the only sport where this debate still happens daily? Tom Brady is all but officially the greatest quarterback in NFL history. The best player in league history is far more subjective because of different positions and eras, but that's at least handled far more respectfully.
Although some may still nominate Bobby Orr, Wayne Gretzky is widely considered the best player in NHL history. If Baseball-Reference's Wins Above Replacement metric is used, Ruth is the greatest player in MLB history (183.1 WAR), but that, like football, is a complicated debate because of eras, integration, and other factors.
But it's 2021, and we're still discussing if James has topped Jordan yet. Perhaps going forward, we should only allow the Harris Poll or the critical ratings on their Space Jam movies to determine the answer. 
All stats courtesy of Baseball-Reference.