Michael Jordan Gets Blasted by Current NBA Big Man Who Says He Hasn't Done Anything for the Black Community: 'At Least LeBron James Is Going out There'
Despite his greatness on the basketball court, NBA legend Michael Jordan received criticism for years after allegedly saying that "Republicans buy sneakers, too." He also stayed away from politics and any advocacy that would have kept fans from wanting to purchase his shoes.
However, Jordan has since explained those comments, and he has donated millions to the Black community. But that isn't enough for Enes Kanter as the current NBA big man recently went on CNN and blasted the basketball legend.
Michael Jordan has donated millions to the Black community
Amid an intense 1990 U.S. Senate race in Michael Jordan's home state of North Carolina, Harvey Gantt, a Black Democratic candidate running against Jesse Helms, a white Republican who had previously made multiple racially insensitive comments, sought Michael Jordan's endorsement. Jordan declined to give him one but still contributed to his campaign.
In 1995, journalist Sam Smith touched on the election in his book Second Coming, and he wrote that Jordan told a friend that "Republicans buy shoes, too," per The Undefeated. (With many accounts claiming Jordan said "sneakers," it's unclear if he said that or "shoes.")
MJ explained his comments in 2020 during ESPN's The Last Dance docuseries, saying he made it "in jest on a bus" and that he "never thought" of himself "as an activist."
"I thought of myself as a basketball player," Jordan said, per The Undefeated. "I wasn't a politician. I was playing my sport. I was focused on my craft."
Despite the controversial comment and his reluctance to engage in politics throughout his career, Jordan is the founder of the James R. Jordan Foundation, which he launched in 1989 to help educate children, per Yahoo. His Jordan Brand also announced in 2020 that it would "donate $100 million over 10 years to directly impact the fight against systemic racism."
Enes Kanter said 'Michael Jordan has not done anything for the Black community'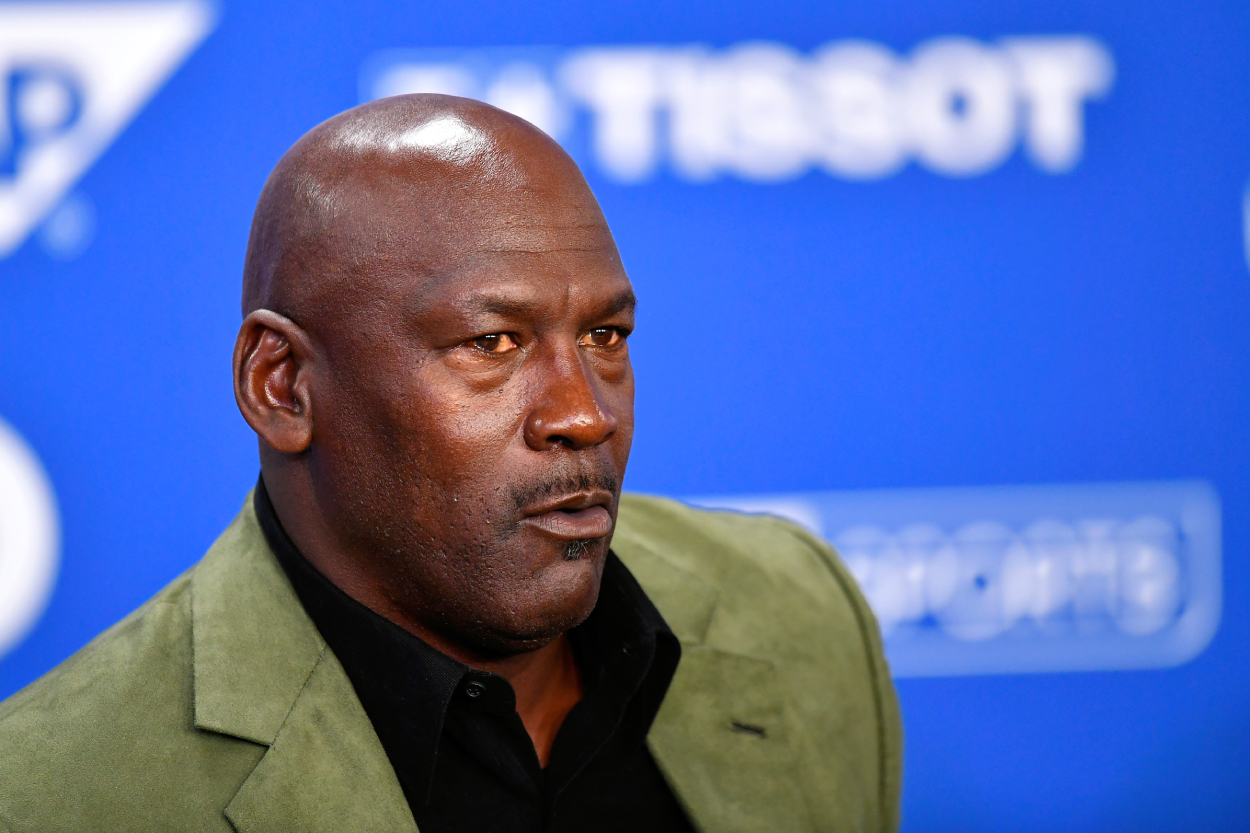 Current NBA big man Enes Kanter recently appeared on CNN Newsroom With Pamela Brown, and he had a lot to say about Michael Jordan's advocacy, or lack thereof, for the Black community.
"Not many people are talking about Michael Jordan," Kanter said on the Nov. 21 episode, per Yahoo. "Michael Jordan hasn't done anything, nothing, for the Black community in America besides just, you know, giving them money."
Kanter, who currently plays for the Boston Celtics, then gave credit to NBA superstar LeBron James, who he has been critical of in the past.
"I feel like we need to call out these athletes," he said, per Yahoo. "At least LeBron James is going out there and being the voice of all those people who are oppressed in America. Michael Jordan has not done anything for the Black community because he cares too much about his shoe sales all over the world and America, and I feel like we need to call out these athletes and not be scared about who they are."
It's unclear whether Jordan has heard Kanter's comments yet, or if he even plans to respond to them. But this isn't the first time the center has criticized an NBA legend for political stances.
Enes Kanter has also criticized LeBron James
Kanter's comments about Jordan were actually somewhat surprising because of the fact that he typically takes aim at LeBron James.
The No. 3 overall pick in the 2011 NBA Draft has taken issue with James' silence on alleged human rights violations in China, a country with strong NBA and Nike ties. When the Celtics recently took on the Los Angeles Lakers, Kanter even wore shoes with a picture of what appeared to be Chinese President Xi Jinping putting a crown on James' head.
Kanter also attacked James' COVID-19 vaccine stance after the four-time NBA MVP said he wouldn't tell others what to do with their bodies despite being vaccinated himself.
All in all, Kanter has proved he certainly won't just "shut up and dribble," and he will call on anyone — even NBA legends — to use their platforms for advocacy.