Michael Jordan's Bulls Success Potentially Had an Indirect Impact on Joey Votto's Cincinnati Reds Career: 'Jordan Was My Guy'
Michael Jordan's career with the Chicago Bulls was legendary for many reasons. He became one of the greatest athletes to ever exist, and fans watched him become a six-time NBA champion with the Bulls after initially failing in the postseason year after year. However, Jordan's accomplishments in Chicago also potentially had an indirect impact on one of the greatest MLB players of the last 15 years: Cincinnati Reds star Joey Votto.
Votto has spent his entire career with one team and has consistently tried — but failed — to win a championship for the city that drafted him. While we, of course, know MJ eventually played for the Washington Wizards, his decision to run it back with the Bulls during his prime may have indirectly led to Votto staying in Cincinnati all these years.
Joey Votto has spent his entire career with the Cincinnati Reds
The Reds drafted Joey Votto in the second round of the 2002 MLB Draft, and he eventually made his major league debut in 2007.
Since then, Votto has become one of the greatest Reds of all time, which says a lot considering their storied history. 
He has earned six All-Star selections, won National League MVP in 2010, a Gold Glove in 2011, and has led the NL in on-base percentage seven times. For his career, Votto is hitting over .300 and has recorded more than 300 home runs to go with 1,000-plus RBIs.
However, what's perhaps most impressive about Votto's career is that he has never been in the news for wanting out of Cincinnati, although he has only reached the playoffs four times and has yet to win a postseason series.
But he wants to win a title — desperately.
"When I'm done, selfishly, I really don't want to come back and celebrate my career. I want to come back and celebrate a championship," Votto said before the 2021 season, per MLB.com. "I'm really uncomfortable with any sort of personal adulation. … I feel much more comfortable sharing things, and I desperately want to come back and be able to celebrate a championship with the city, with a team, a shared moment."
Michael Jordan's Bulls success may have indirectly impacted Joey Votto's choice to stay in Cincy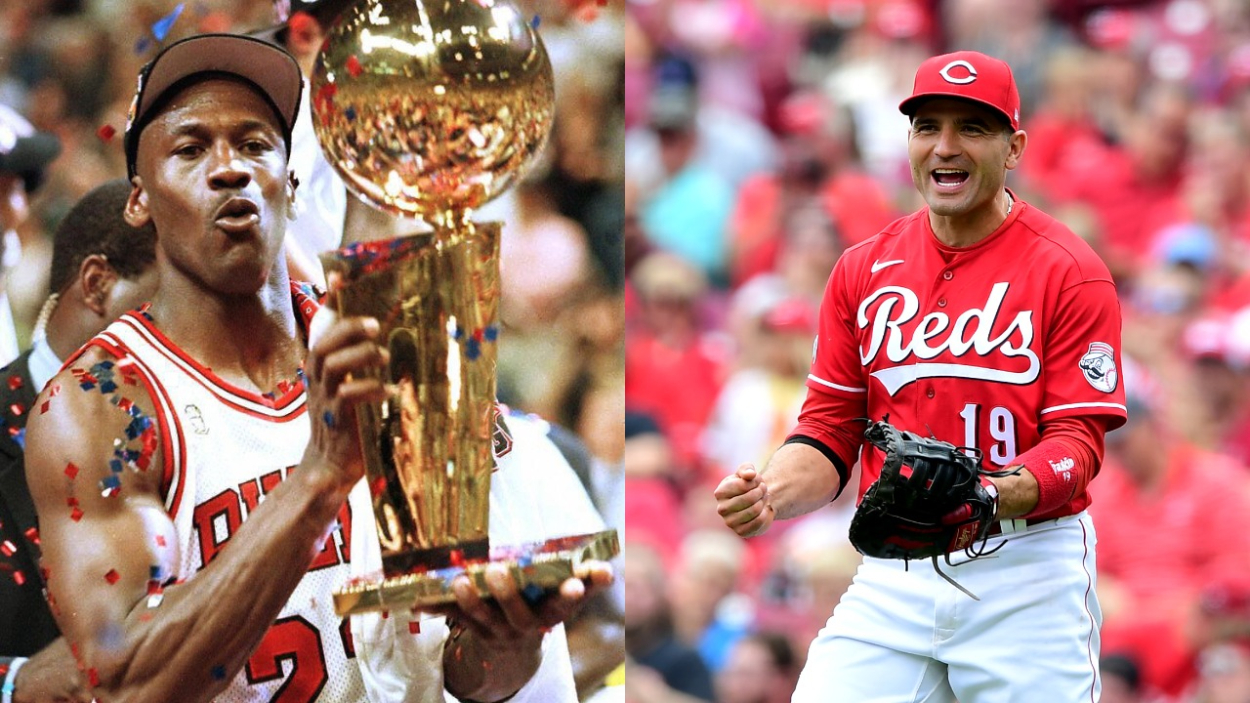 Votto recently went on a streak where he hit at least one home run in seven straight games, which is a Reds franchise record. He also hit nine total during that period.
Following the conclusion of his seven-game tear, Votto appeared on The Dan Patrick Show, and he discussed his love for another sport — basketball. But he also revealed his disdain for one thing: players switching teams.
"Big basketball fan," Votto, who was born and went to high school in Toronto, Canada, said on the Aug. 4 episode. "I took a little bit of pause, I won't get into specifics why I took a pause, but there were some players that moved to specific teams that I felt like really ruined the league for a second. Now that Giannis owns the league (he appreciates it more again)."
Patrick then asked how he felt about Kawhi Leonard leaving the Toronto Raptors, Votto's favorite team.
"Oh boy, I didn't like that he left the Spurs. I don't like when the Thunder got broken up," he said. "I guess I'm a bit of a throwback. Jordan was my guy as a teen, as a younger person. Staying with the same organization is something I'm very fond of. So, this is a topic I have to watch what I say."
No, we can't say Michael Jordan's success with the Bulls 100% played a role in Votto's career, and, as mentioned earlier, MJ eventually played for the Washington Wizards. But he won six championships with the franchise that drafted him and spent his entire prime in Chicago, which was apparently enough to capture Votto's admiration.
Now, similar to Jordan, Votto wants to win a championship for the city that welcomed him to the big leagues; he wants to win a World Series for Cincinnati.
The Reds star addressed his Hall of Fame status
Votto's loyalty may result in him winning a World Series title with the only team he knows, but it could also result in him never winning a championship.
Whenever his career is over, though, he will still be considered a baseball legend either way.
In addition to his 1,984 career hits and 316 home runs, Votto is 25th in MLB history in on-base percentage (.417) and 34th in on-base plus slugging percentage (.936). He has also been solid in the field as his 1,644 assists at first base are sixth all-time.
"Do I think I am (a Hall of Famer)?" Votto said to Dan Patrick. "… Probably not yet, no. I think I've heard that you have to get to at least 2,000 hits, and I haven't gotten there yet, so I don't think I'm there yet."
Votto may think his Hall of Fame status is up in the air, but a World Series championship with the Reds would certainly cement his spot in Cooperstown. Maybe, he can eventually take after Jordan and win a title with the city that drafted him.
Stats courtesy of Baseball Reference