Michael Jordan's Charlotte Hornets Could See Playoff Success Again After Winning the 2021 NBA Draft
Technically, the Charlotte Hornets made the playoffs last season. They finished 33-39, good for 10th in the Eastern Conference, which gave them a shot in the league's new play-in tournament. They promptly lost to the ninth-seeded Indiana Pacers and went home.
Regardless, it was an exciting season for a fan base that's been desperate for any signs of life.
The light at the end of the tunnel is coming closer, though, as the Hornets are one of the biggest winners of the 2021 NBA Draft. Charlotte made its own selection at No. 11 and then traded back into the first round to pick again at No. 19, grabbing two young players who fit the franchise's timeline and will mesh perfectly with the Hornets' young core.
The Charlotte Hornets made two of the best decisions in the 2021 NBA Draft
Charlotte came into draft night with the 11th pick in the first round. The Hornets stayed put at that spot and selected University of Connecticut guard James Bouknight, who was skyrocketing up draft boards. Bouknight was considered a possibility at No. 6 the night before the draft by NBA.com.
Bouknight comes into the league as a pure scorer after averaging 19 points per game last season at UConn. He can blow by defenders with an explosive first step and has a giant bag of tricks at his disposal to finish near the rim. He needs to become more consistent with his jump shot and can become a black hole at times when he has the ball, but at 20 years old he has an advanced ability to put the ball in the basket.
Charlotte then traded a future first-round pick to the New York Knicks to move back into the first round and select Texas's Kai Jones at No. 19. Jones grew up in the Bahamas and didn't start playing basketball until he was 15 years old, so "potential" is an oft-used term for him. But he's an elite athlete and moves fluidly at 6-foot-10, which gives him a chance to be an exceptional defender across multiple positions. He averaged only 8.8 points per game last year with the Longhorns, but his jump shot looks smooth, and he has a chance to be a future star.
For now, though, Jones' best skills are shot-blocking and rim running, two things that will come in handy in Charlotte.
James Bouknight and Kai Jones are perfect fits for the Hornets' current roster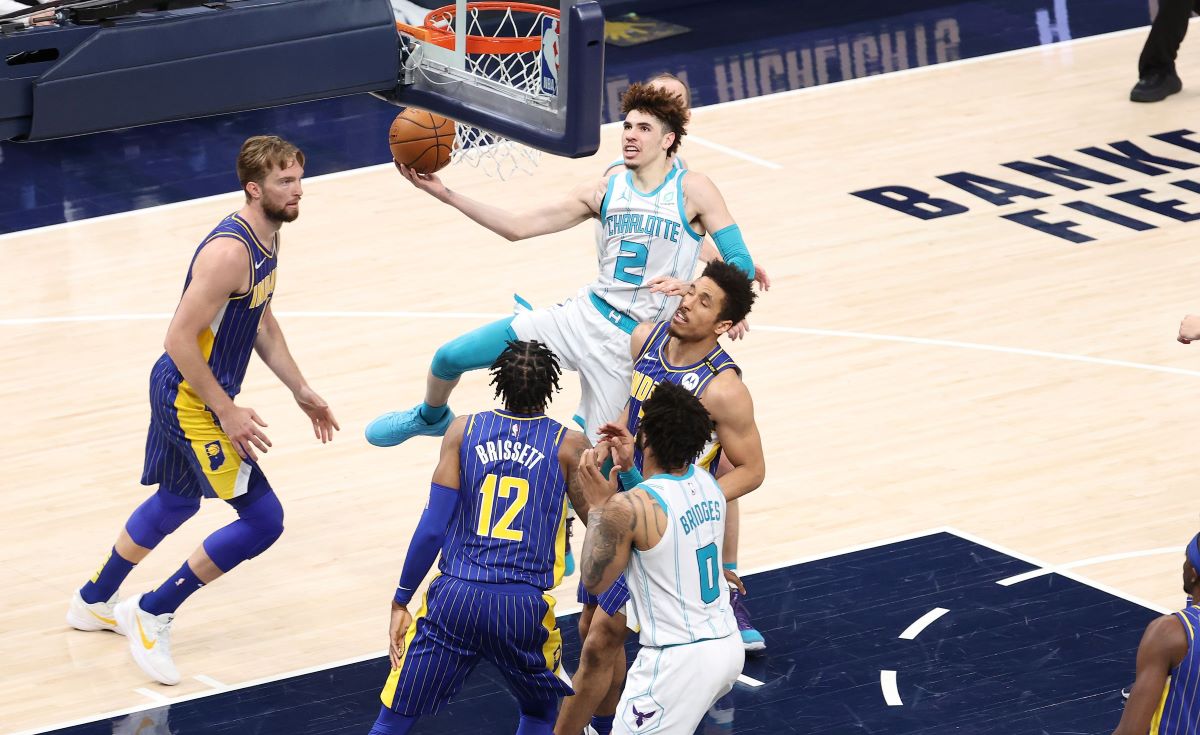 It's clear Charlotte is building around last year's Rookie of the Year and franchise cornerstone LaMelo Ball. The silky, unselfish playmaker fills stat sheets and consistently makes highlight-reel plays. He averaged more than 6 assists per game last season, and that total should only climb after the additions of Bouknight and Jones.
The Hornets' top scorer last season was Terry Rozier, a good player but not a great scorer. Charlotte also brought in Gordon Hayward as a free agent, but Hayward has always been more of a playmaker than a true scorer. Bouknight should provide a scoring spark to a team that finished 22nd in the league in offensive rating. Jones may average double figures simply using his athleticism in pick-and-rolls as Ball lobs him passes above the rim.
The Hornets' draft decisions set them up perfectly for a 2022 playoff run
Charlotte still hasn't won a playoff series since the 2001-02 season, according to RealGM.
But with Bouknight sliding to Charlotte's pick at No. 11 and the front office's decision to trade a future first-round pick to bring in Jones, who could have been the pick at No. 11 anyway, was a dream scenario for the franchise. Adding two high-upside players who fit the team's current trajectory and will slide in perfectly alongside Ball — who has already gotten the approval of Michael Jordan after one season — should put the Hornets solidly in the playoff discussion next season.
After winning the draft, maybe Charlotte can win something else, like, maybe its first playoff series in two decades.
Stats courtesy of Basketball-Reference
RELATED: NBA Draft 2021: Winners and Losers