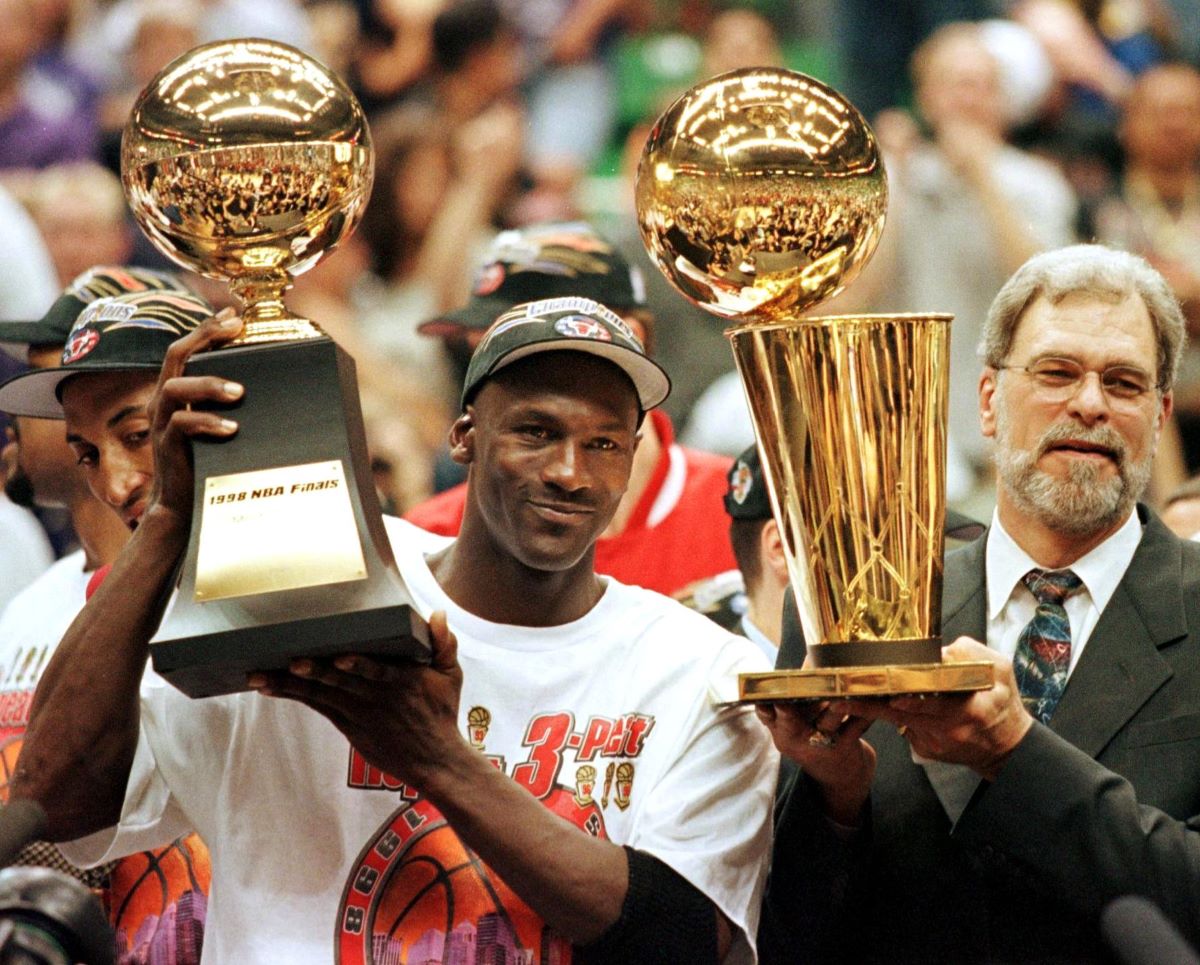 Michael Jordan Credited Phil Jackson for Helping Him Calm His Body and Emotions During Pressure-Filled Games: 'These Are Things Phil Has Taught Me, and I'll Tell You, It All Works'
Phil Jackson helped Michael Jordan in so many ways during their time together on the Bulls.
Michael Jordan and Phil Jackson will forever be linked to each other. They are widely regarded as the best player-coach duo in NBA history after having memorable success with the Chicago Bulls in the '90s.
Jackson played such a vital role in Jordan becoming arguably the greatest player of all time. The superstar shooting guard never took anything for granted, so much so that he credited the Zen Master for helping him calm his body and emotions during all the pressure-filled games he played in.
Phil Jackson helped Michael Jordan stay calm
There's a reason Jordan didn't want to play for the Bulls if Jackson wasn't the head coach. The five-time MVP had a special connection with the legendary tactician and learned how to take his game to another level by easing his body and emotions.
"That is something I've learned from Phil. Calming the body," Jordan told ESPN in April 1998. "No matter how much pressure there is in a game, I think to myself: It's still just a game. I don't meditate, but I know what he's getting at. He's teaching about peacefulness and living in the moment, but not losing the aggressive attitude. Not being reckless, but strategic. What I do is I challenge myself in big games. I try to find a quiet center within me because there's so much hype out there, and I don't want to fall into it. I don't want to rush. I'll start off rebounding or getting everybody else involved until I get an easy shot, a layup, or a free throw or something, then boom, I'm off and running. I will have controlled my emotions and not gotten over-hyped or lost my focus. These are things Phil has taught me. And I'll tell you, it all works, in big games more so than anything. It works when I'm sick, like in the Finals against Utah last year. I try not to focus on the sickness, just on being part of the situation. I am the situation. I have a game within a game. I will not expend great energy until I can find out where I fit in the scheme. That is a game in itself. It keeps me sharp."
Jordan and Jackson developed a remarkable bond in Chicago. However, it's easy to forget that the former initially wasn't a fan of the latter.
Michael Jordan: I wasn't a Phil Jackson fan when he first came in
In Episode 4 of The Last Dance docuseries, Jordan admitted that he wasn't a fan of Jackson at first. The scoring machine didn't like the fact that Jackson's triangle offense took the ball out of his hands.
"I wasn't a Phil Jackson fan, you know, when he first came in," Jordan said. "He was coming in to take the ball out of my hands. Doug (Collins) put the ball in my hands. Everybody has an opportunity to touch the ball, but I didn't want Bill Cartwright to have the ball with five seconds left. That's not equal-opportunity offense. That's fu—– bulls—."
Jackson's first year as head coach of the Bulls was in 1989-90. Jordan led the league in scoring at 33.6 points per game on 24.0 shots a night. Despite saying that Jackson took the ball out of his hands, His Airness averaged more points per game and field goal attempts per game in 1989-90 than he did in Doug Collins' final year as coach in 1988-89.
The Bulls reached the Eastern Conference Finals in Jackson's first season. They took the Detroit Pistons to seven games but lost Game 7 on the road. However, Jordan regrouped in the summer of 1990, and the rest is history.
Bulls won six championships during MJ-Phil era
Jordan and Jackson not only won six titles together with the Bulls, but they also went 6-0 in the Finals. Chicago defeated the Los Angeles Lakers in 1991, the Portland Trail Blazers in 1992, the Phoenix Suns in 1993, the Seattle SuperSonics in 1996, and the Utah Jazz in 1997 and 1998.
Jordan appeared in 585 games with Jackson as the Bulls' head coach. He averaged 30.8 points, won seven scoring titles, four regular-season MVPs, and six Finals MVPs. Meanwhile, Jackson won 545 games in nine seasons in Chicago. He also won the 1995-96 Coach of the Year Award after guiding the Bulls to 72 wins.
Both Jordan and Jackson are in the Naismith Memorial Basketball Hall of Fame. The former is the NBA's all-time leader in points per game and player efficiency rating, while the latter is a 13-time champion. He won two titles as a player with the New York Knicks and 11 as a coach with the Bulls and Lakers.