Michael Jordan's Dad Respected MJ's Former Coach so Much He Built Him a Special Gift: 'I Was Just Blown Away'
Michael Jordan built numerous strong relationships throughout his legendary career, but his bond with former North Carolina head coach Roy Williams is among his most notable.
Williams is, of course, one of the greatest coaches in college basketball history, but while he was only an assistant during MJ's time at UNC, the two still formed a meaningful relationship. In fact, Williams also became close with Jordan's dad, James Jordan, and James respected him so much he built him a special gift.
Roy Williams was close with Michael Jordan's dad
Michael Jordan played under Dean Smith at North Carolina, but he may not have become a Tar Heel had it not been for one of Smith's assistants, Roy Williams.
"I just saw him on a Sunday afternoon, and I thought, 'Oh my gosh. This may be the best 6-foot-4-inch high school player I've ever seen,'" Williams said on a recent episode of In Depth with Graham Bensinger.
Before and during the years the NBA legend played at North Carolina, Williams became friends with Jordan's dad, the late James Jordan. And the two formed a close bond that Williams seems to still cherish to this day.
"Michael's dad was great … hard-working guy; loyal to the core," Williams said to Bensinger. "And his mom was great, too. Deloris was special. But James Jordan was a hero of mine."
Michael Jordan's dad built Roy Williams a wood stove
The respect went both ways for James Jordan and Roy Williams.
In fact, the former UNC assistant, who later won three national titles as the school's head coach, said James even built him not one but two wood stoves.
"I was still the part-time assistant, wasn't making very much money, but we had bought a house," Williams said to Bensinger. "January 24 of Michael's senior year in high school, I had talked to Mr. Jordan and told him I was gonna buy a wood stove."
One night, James then called Williams and told him he had him a stove.
"We came in, it was heavy, we get it out of the truck and put it in and start it, and it works," Williams said.
After getting it set up, the coach said he asked his wife, Wanda, for the checkbook, but James wouldn't take his money.
"He said, 'If you write me a check, I'm taking it out and putting it in my truck,'" Williams recalled. "He says, 'I made this for you; I built this.' … I was just blown away."
That wasn't the only time James built Williams a stove, though; he made another when the coach moved into a new home.
"Mr. Jordan came over and measured it again and built me a second one," Williams said.
Michael Jordan and Roy Williams certainly built a bond through basketball, but it appears their friendship goes beyond the court as well.
MJ has discussed how much his former coach means to him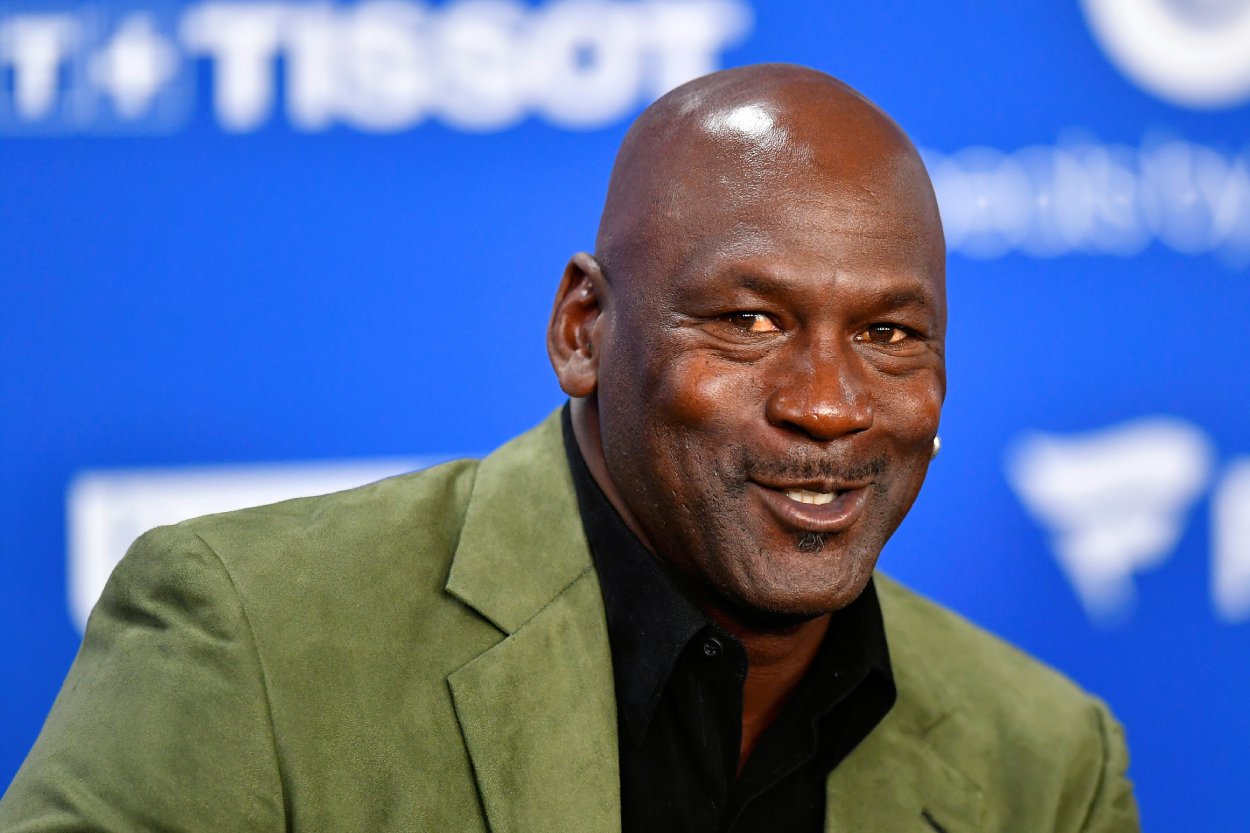 Michael Jordan knew how close Williams and his dad were before his father died. And the Chicago Bulls legend later revealed how much that meant to him when Williams announced his retirement in April 2021.
"I'm sad that he's leaving because he has meant so much to basketball," Jordan said to The Charlotte Observer, per CBS Sports. "He and my father formed an unbelievable bond that meant so much to me."
Michael Jordan certainly formed many close relationships during his playing career, but it appears the one with Roy Williams is his most endearing.