Michael Jordan Destroyed an NBA Champion During a Pickup Game: 'He Reminded Me That I Was on His Team'
As great as he was as a player, Michael Jordan was also a Hall of Fame trash-talker. Even in retirement, Jordan could dominate the conversation so well even other notable talkers decided to shut it down.
Jordan is governor of the Charlotte Hornets, purchasing a majority share of the franchise in 2010 after joining the club as a minority shareholder in 2005. But he is also a player that needed three tries to get retirement right. In retirement, Jordan's trademark competitiveness still shone through in pickup games against NBA players.
After all, he does not like to lose, and he hates to be embarrassed.
No shortage of Michael Jordan trash-talk tales
As an NBA player, Michael Jordan was legendary. But just as memorable were the things he told opponents before, during, and after dismantling opponents. It wasn't something that came later in his career, either.
During the playoffs in his second season, Jordan told a golf partner from the Boston Celtics that he would do some things to defensive stalwart Dennis Johnson the next day. Then His Airness delivered one of his most iconic performances, a 63-point eruption.
But non-NBA level players weren't exempt from third-degree burns from triggering Jordan's supernova-like competitive fire. It didn't even matter if you worked for him.
That was a lesson learned the hard way by one longtime NBA player.
Stephen Jackson lived through the Jordan experience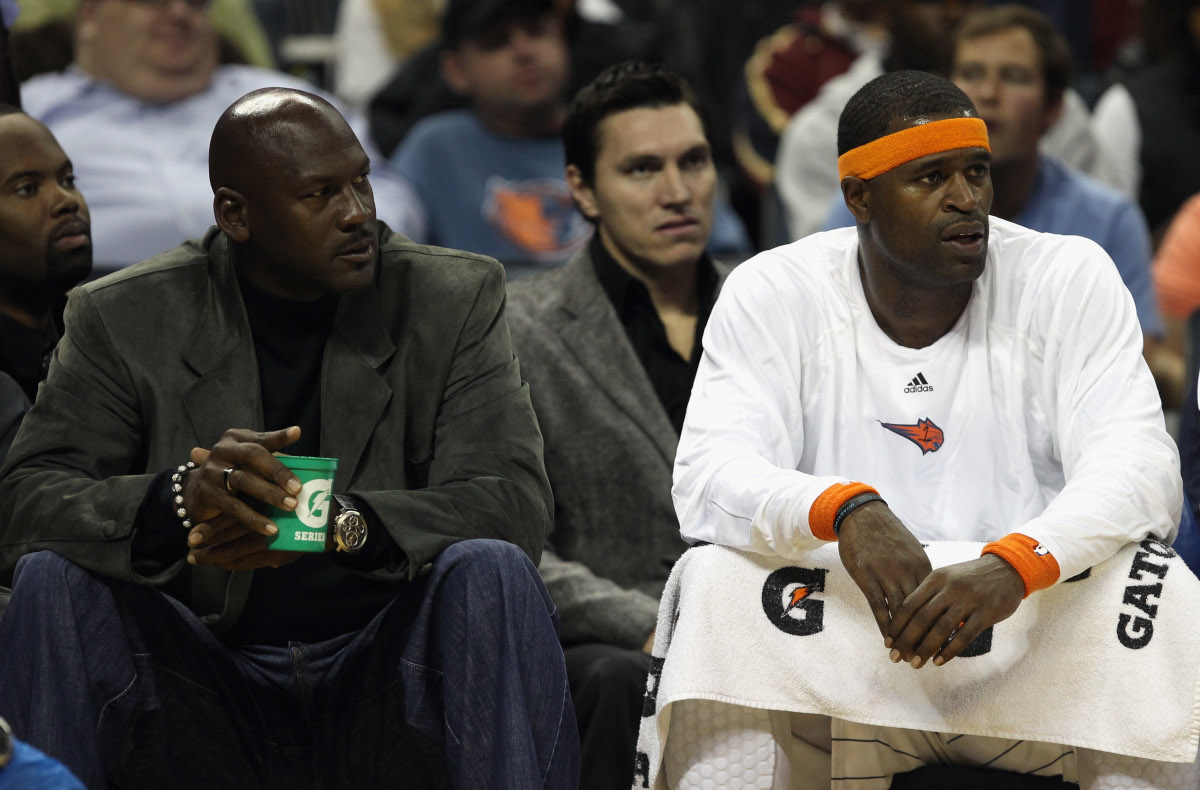 Early in the 2009–10 season, the then-Charlotte Bobcats acquired veteran Stephen Jackson from the Golden State Warriors. Ageless coach Larry Brown was in his second season with Charlotte, and the Bobcats were aggressively pursuing the franchise's first playoff berth since its return to the NBA in 2004.
Jackson wasn't in Charlotte for long; he was never anywhere for long — he played for eight teams in 14 years, after all. But he was there long enough to have a memorable exchange with Michael Jordan.
Despite being in his late 40s at the time, Jordan couldn't resist the urge to get back on the court in pickup games against his players. Jackson remembered one of those games because of MJ's infamous mouth working overtime and talked about it during a September 2017 appearance on ESPN's The Jump.
"He didn't go by anybody; he really wasn't dominant. But he was talking all the trash in the world. So, you know me, I'm trash-talking (from) the year in the Big 3, so obviously, I did trash talk back to him, which was a mistake because if I didn't know anything about all Michael Jordan's accomplishments, I knew that day.

"OK, he told me about all the championships, everything he's done (for the) sport (like) points scored. And he reminded me I was on his team. At that point, I felt that trash-talking was won by him. You're right, I'm on your team, and you do pay my check."

Stephen Jackson
Jackson laughingly wondered if that was the incident that cost him his shoe endorsement.
Michael Jordan hasn't stopped talking
Now 58, Michael Jordan hasn't shied away from boasting. That shone through during 2020's The Last Dance documentary series. You can take the player out of the game, but in his case, you can't take the competitiveness out of the player. He looks for activities to help him defuse it, but it's always there.
That sometimes plays out in his relationships. A decades-long friendship with Dream Team cohort Charles Barkley ended over criticism of Jordan's work in the front office.
During his third NBA iteration with the Washington Wizards, Jordan wasn't shy about making promises and keeping them. But he didn't think that competitiveness was his biggest asset. Instead, Jordan believed it was his knowledge of the game that made the difference for him.
It has been nearly 20 years since he played his final NBA game, and the debate rages over who is the GOAT. There is only one answer for a generation's worth of fans, and it's Michael Jordan.
Like Sportscasting on Facebook. Follow us on Twitter @sportscasting19.