Michael Jordan and Recently-Retired Announcer Dick Stockton Formed a Friendship Over an Unexpected Product
NBA legend Michael Jordan and longtime sports announcer Dick Stockton had far more in common than one would think.
Both obviously had NBA ties — Jordan played for the Bulls and the Wizards, and Stockton called many of his games as a national play-by-play for CBS and TNT. But off the court, the two forged a bond that had nothing to do with basketball.
Michael Jordan and Dick Stockton bonded over cigars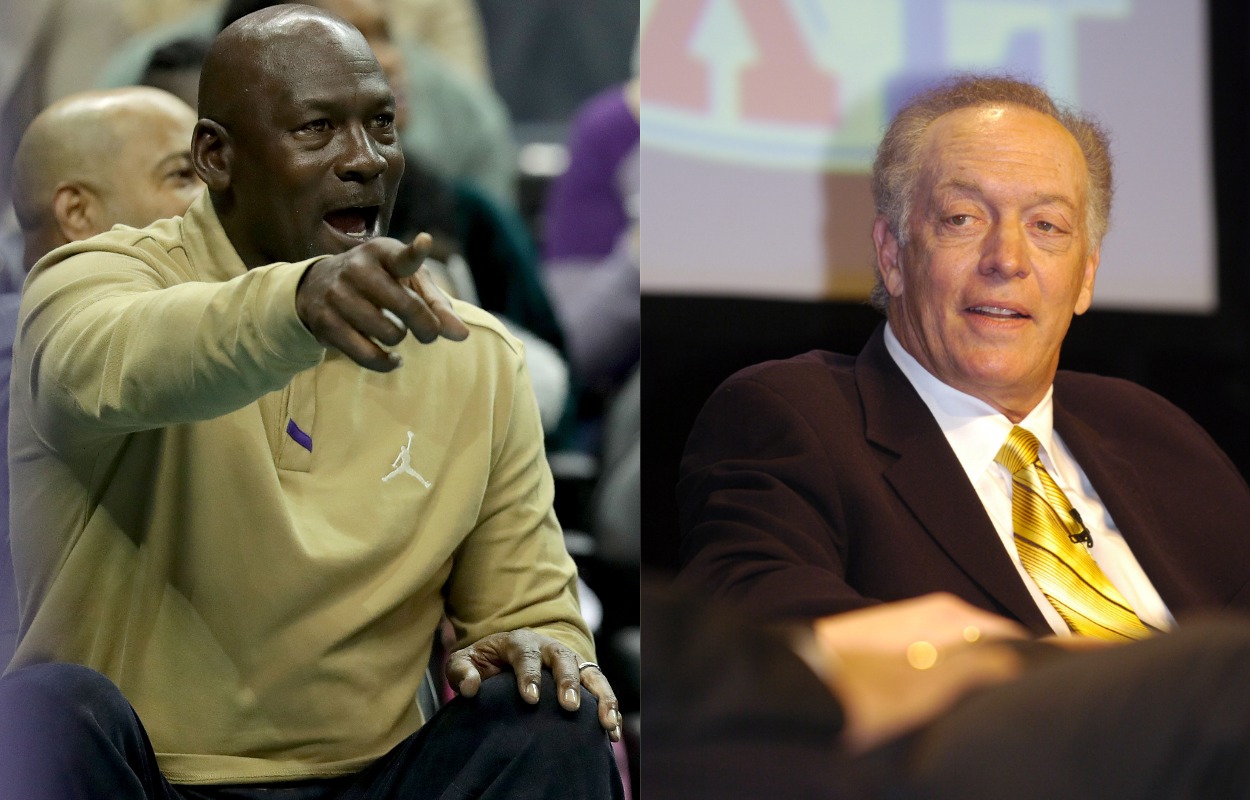 RELATED: Michael Jordan's Cigar Habit Played a Surprising Role in His NBA Success
Michael Jordan had plenty of teammates, but he also still carries an extensive list of enemies.
Jordan was a ruthless trash talker who feuded with teammates and opponents alike. If Jordan went on the warpath, anyone qualified to be the wrath of his anger and fury.
That didn't mean Jordan couldn't have a soft spot for some people. Longtime NBA announcer Dick Stockton, who called no shortage of Jordan's games when Stockton worked at CBS and TNT, got along fine with Jordan.
In a 2020 story on his official website, Stockton wrote about The Last Dance — ESPN's docu-series about Jordan and the Chicago Bulls — and his personal experiences with the six-time NBA champion.
"I had a wonderful relationship with Jordan in my time broadcasting NBA games for CBS and TNT. We had a ritual of exchanging cigars in the locker room prior to the game."
That would do it, then. Jordan is known for his love of cigars, and someone like Stockton — who clearly appreciated a quality stogie — would be an OK character in the former's book.
Stockton spent many years calling Jordan's games
RELATED: Michael Jordan Is a $1.6 Billion Celebrity but Showed No Shame When Asking for Another Star's Autograph
Younger sports fans may only know Dick Stockton for his work on Fox, where he served as an NFL announcer from 1994 through last season.
Older generations will remember Stockton's time as an NBA play-by-play voice for both CBS (1981-90) and TNT (1995-2015). While at CBS, Stockton was the NBA Finals' lead television play-by-play voice, a role currently held by Mike Breen.
Working on a national network meant Stockton called many of Michael Jordan's games, especially in the postseason. Unfortunately for Stockton, he worked his final NBA Finals in 1990, right before CBS lost the rights to NBC.
A year later, Jordan played in the NBA Finals for the first time and emerged victorious over Magic Johnson and the Lakers.
Dick Stockton recently retired at age 78
RELATED: Jim Nantz Will Make More Than Triple Lamar Jackson's Salary Next NFL Season
Dick Stockton and Michael Jordan can smoke all of the cigars that they want in retirement.
Stockton, who turns 79 in November, recently retired after over five decades in broadcasting. He remained active at Fox last year, even amid the coronavirus pandemic.
Stockton spent his final season for Fox as an additional play-by-play voice who could slide in with various partners. Last November, for example, Stockton worked a Bears-Titans game with Greg Jennings and Laura Okmin. A month earlier, Stockton called a Seahawks victory over the Dolphins with Brady Quinn and Sara Walsh.
Stockton's final year as a full-time NFL announcer for Fox came in 2019 when he partnered with former Denver Broncos offensive lineman Mark Schlereth and sideline reporter Jennifer Hale.
Like Sportscasting on Facebook. Follow us on Twitter @sportscasting19.