Michael Jordan Earned Over $93 Million in the NBA but Preferred a Specific Experience He Had Playing Baseball
Michael Jordan had a brilliant NBA career, but he preferred one specific part of his baseball career to that of his time in basketball.
No one can ever say that Michael Jordan didn't try following his dreams when he spent a year playing baseball for the Chicago White Sox.
Technically, Jordan spent that year playing for the Birmingham Barons, a minor-league team in the White Sox system. And although Jordan had a far better basketball career than he did in baseball, there was one specific part of life on the diamond that he preferred to his regular job.
Michael Jordan loved the camaraderie of baseball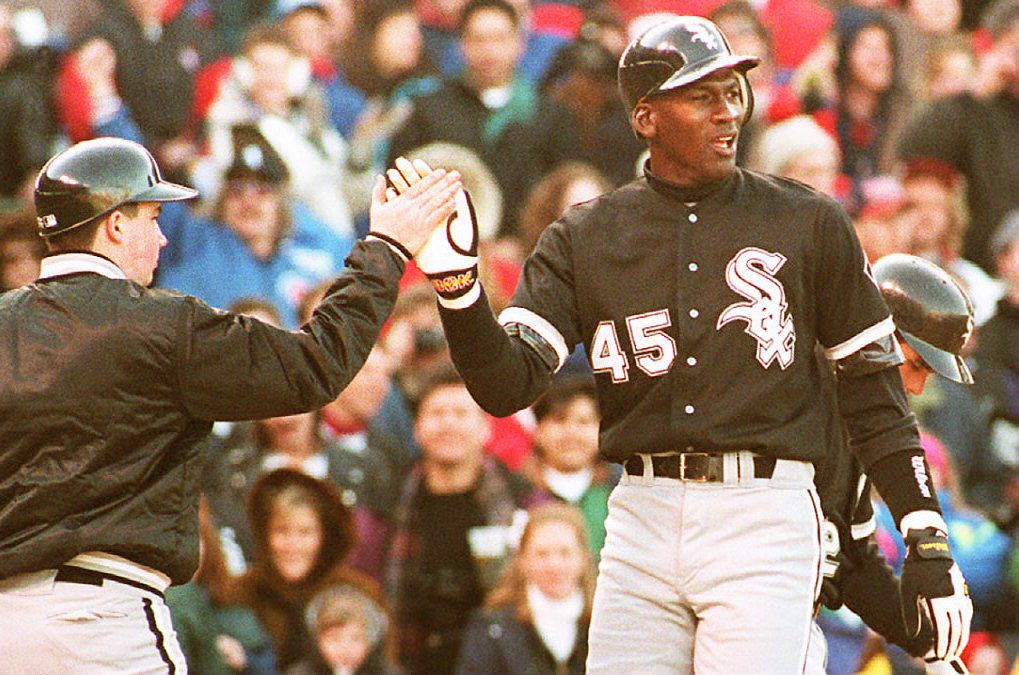 For several months in 1994, Michael Jordan rode the bus and barely hit above .200 in baseball's minor leagues.
Jordan only lasted a year in the minors before returning to the Chicago Bulls in the spring of 1995. Major League Baseball had an ongoing labor war between the players and owners, one that ended the 1994 season with several months remaining. Jordan, already in his 30s, saw resuming his basketball career as his best possible option.
Still, Jordan looked back fondly on his time in baseball. In a 1997 interview with Playboy, Jordan explained how he still missed baseball's locker room experience despite winning championships with the Bulls after his return.
"I still think baseball is the greatest fun, the best camaraderie you can have. When a basketball game is over, it's zip-zip, 12 guys out the door in different directions. The camaraderie in baseball, at least in the minors, was unbelievable—10 or 12 players hanging out together every night. I still keep in touch with some of those guys."

Michael Jordan
Jordan may have passed the winning charm onto his manager, Terry Francona. A former first baseman and outfielder in the majors, Francona later won two World Series titles with the Boston Red Sox.
Jordan had a better baseball career than people will admit
It is still easy to make jokes about Michael Jordan, arguably the greatest player in NBA history, only hitting .202 in the minor leagues.
One has to realize, though, that Jordan hadn't played baseball since high school. The fact that he hit over .200 in the minor leagues, often going against pitchers who would later reach the majors, is worth commending.
Jordan had three home runs, 51 RBIs, and stole 30 bases in 48 tries across 127 games for the Barons. Unfortunately for Jordan, he made 11 errors and struck out 114 times in 436 at-bats.
Michael Jordan made the right choice returning to the NBA
Even if Michael Jordan stuck with baseball, he had almost certainly done enough with the Chicago Bulls when he first retired to later warrant induction into the Naismith Memorial Basketball Hall of Fame.
It seems safe to say that Jordan definitely made the right choice returning to basketball. Jordan won three more championships with the Bulls and firmly established himself as, arguably, the greatest basketball player ever to take the court.
Jordan also played two seasons with the Wizards — and like his baseball career, that stint went better than people will ever admit. Everything worked perfectly out for Jordan in the end.
Like Sportscasting on Facebook. Follow us on Twitter @sportscasting19.