Michael Jordan Embarrassed a Former NBA Player by Ruining Their Signature Move and Calling It 'Fake' Straight to Their Face: 'I Knew You Was About to Do That'
Given that Michael Jordan is widely recognized as the greatest basketball player ever, his out-of-this-world skillset led to him embarrassing a large number of players throughout his years on the Chicago Bulls.
Many of those retired athletes still remember the exact moments Jordan made them look bad, too, especially since he was so prominent during that era of the NBA. Among those former hoopers is Walt Williams. In fact, during a preseason game when Williams was just a rookie, Jordan ruined the youngster's opportunity to show off his best move and then turned around and called it "fake" straight to his face.
Michael Jordan was already in his prime with the Bulls when Walt Williams was a rookie
In 1992, Michael Jordan had already won two consecutive championships with the Bulls. He had also led the league in scoring in six consecutive seasons and was easily the NBA's best player.
Walt Williams, though, was an NBA rookie with the Sacramento Kings after going to them with the No. 7 overall pick in the 1992 NBA Draft out of Maryland.
Williams had just posted 26.8 points and 5.6 rebounds per game during his 1991-92 college season and then got off to a nice start in his pro career. The 6-foot-8 small forward averaged 17.0 points and 4.5 rebounds in his first year with the Kings, which helped him earn All-Rookie honors.
Prior to all his success that season, though, Williams met Jordan and the Bulls in the preseason, and MJ gave him a moment he will never forget.
MJ ruined the rookie's signature crossover during a preseason game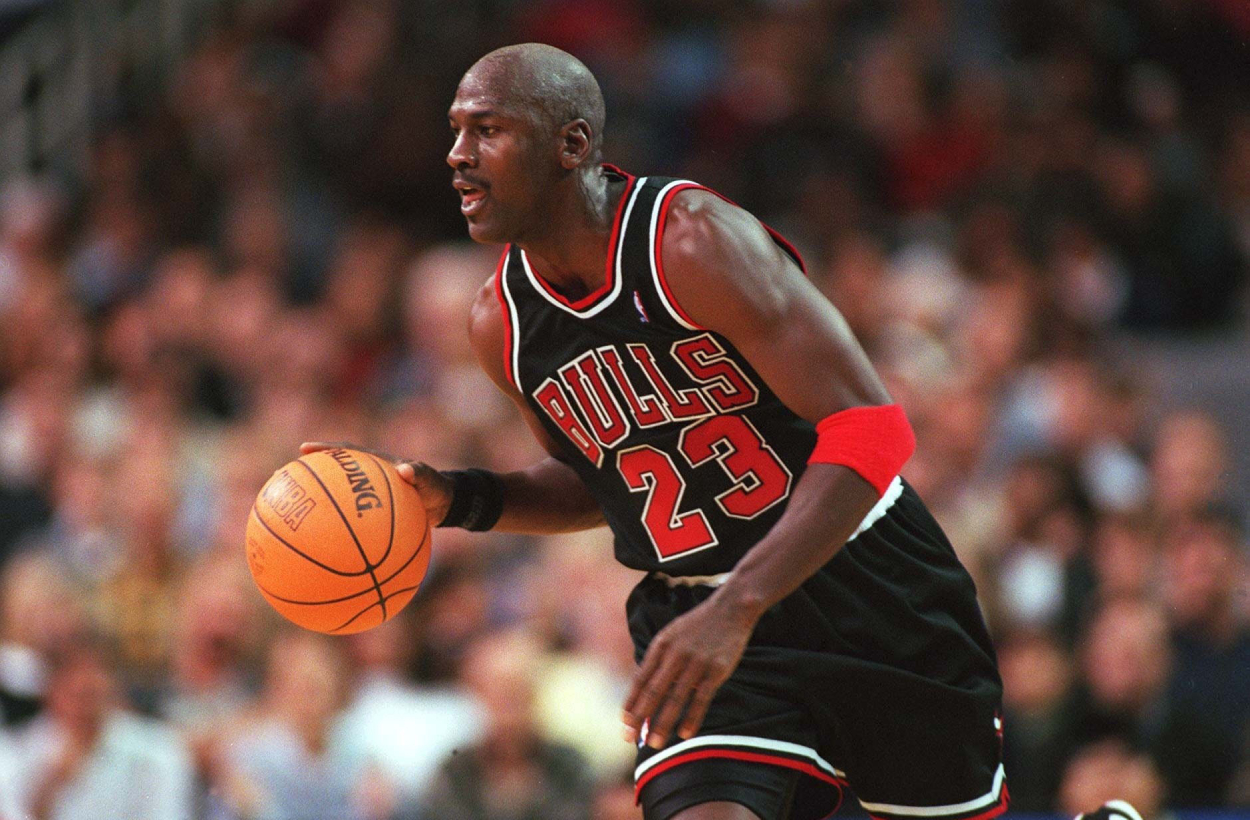 Many players were on the wrong end of incredible Jordan plays throughout his career, and Williams was one of them. In a conversation with the NBC Sports Wizards Talk podcast in 2020, he discussed the time MJ essentially gave him a "welcome to the NBA moment." He also recently retold the story to Basketball Network.
"It was our last preseason game. … We were playing the Bulls and I flew into town and had the game that day, so I didn't know any plays or anything like that," Williams, who had just joined the team that same day, said to NBC Sports. "But I got my opportunity to play against him. I matched up against Scottie Pippen in that game, actually."
Williams then said he ran a pick-and-roll with teammate Mitch Richmond, who Jordan was defending. He was supposed to pass it to Richmond off the screen.
But when MJ switched with Scottie Pippen, Williams realized the biggest star in basketball was defending him. 
"I just had this flash in my head like, 'Oh my goodness, Jordan is guarding me. I could tell my boys I got a bucket on Jordan,'" Williams said, per NBC Sports. "So, I waved Mitch off. I waved Mitch off because I wanted to work this iso against Jordan. So, back in them days, back in my day, I had a nice [crossover]. … That footwork was nice. So, I set Jordan up with it."
That signature move, however, didn't go as planned. 
"He stuck his hand in between and stole it and did the emblem on me on a dunk on the other end," Williams said, per NBC Sports.
The embarrassment didn't end there.
Michael Jordan furthered the humiliation with savage trash talk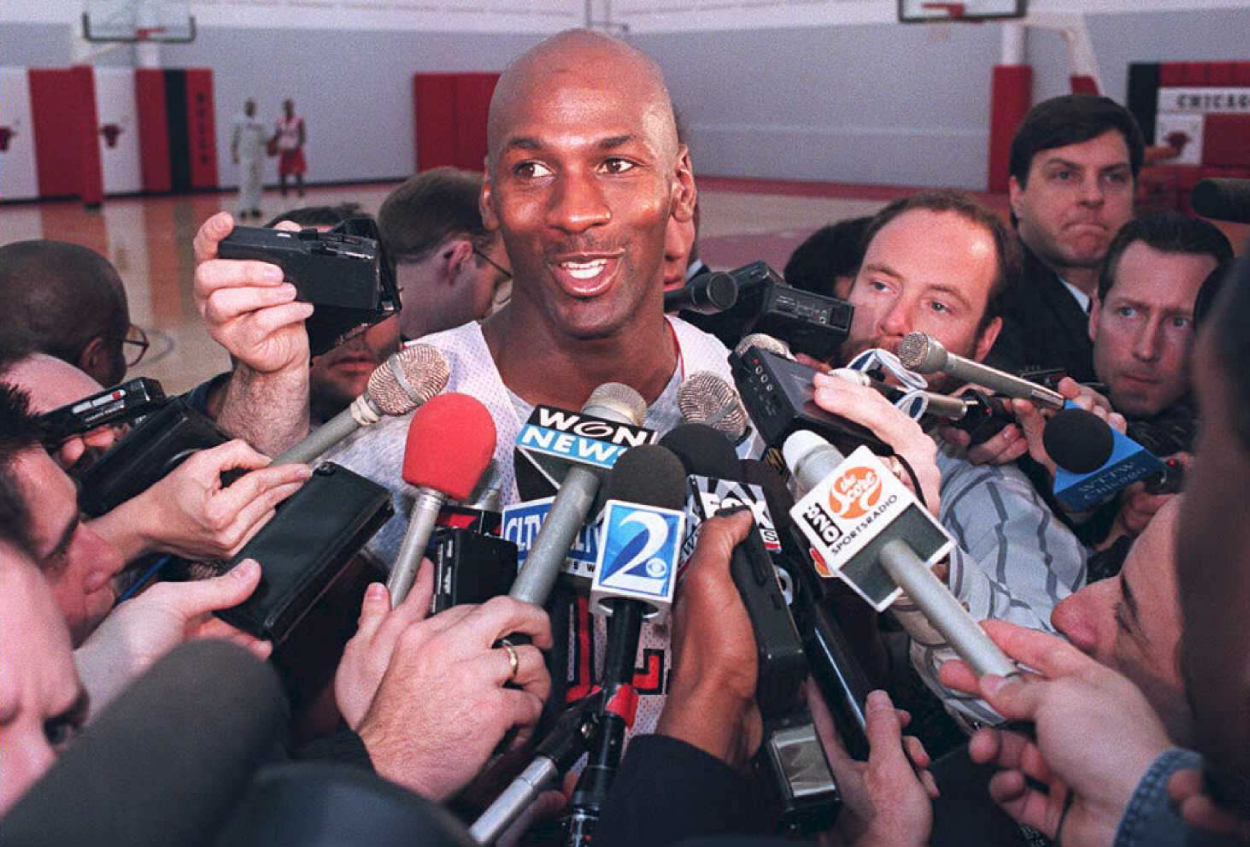 If getting your signature move ruined by Jordan wasn't embarrassing enough, the six-time NBA champ also continued the humiliation by sending some brutal trash talk the rookie's way.
"He turned around and looked at me and said, 'Hey man, we watch film up here. I knew you was about to do that fake crossover,'" Williams said, per NBC Sports. "That's when I learned my lesson about it's a different level in how you gotta play in the NBA."
Williams — who went on to play in the NBA for 11 years — certainly wasn't the first or last player to get embarrassed by the Bulls legend. But he definitely got a rude awakening about life in the NBA, especially during MJ's era. It was only a preseason game and Williams had yet to even play for the Kings. What film did Jordan watch? His college tape?
Hopefully, the former Terrapins star never tested that crossover on MJ again after that. It likely would have resulted in the same outcome.
Stats courtesy of Basketball Reference
RELATED: Michael Jordan Has Talked to His Specific Friend Almost Every Day for 30-Plus Years: 'We Have a Lot of Fun'