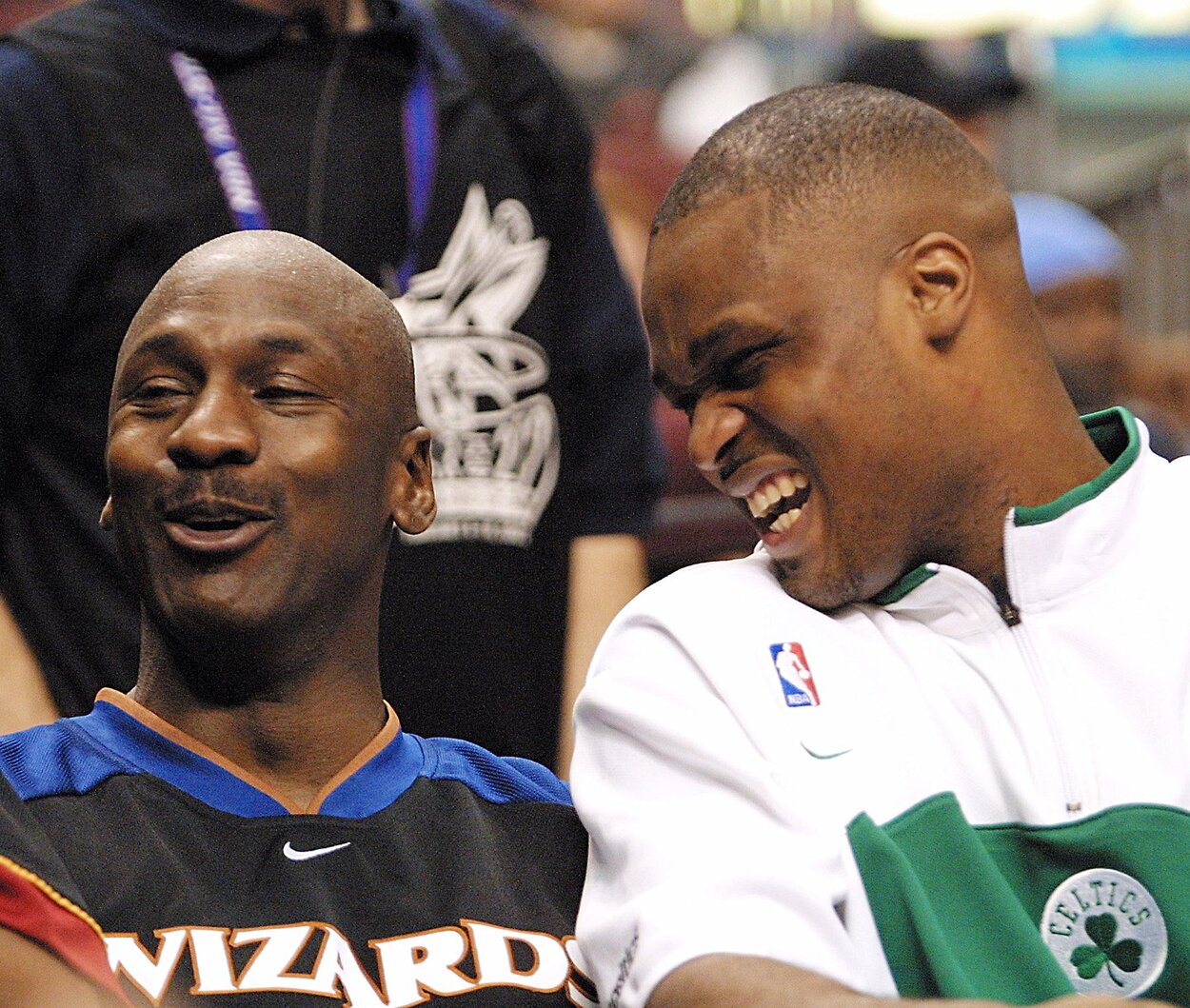 Michael Jordan Would Likely Prefer You Forget His Epic Failure From the 2002 All-Star Game
Michael Jordan played in the 2002 NBA All-Star Game, and he'd likely prefer that you forget he even showed up to the arena that night.
As exciting as the idea of Michael Jordan playing for the Washington Wizards may have sounded, NBA fans likely felt let down by the early weeks of 2002.
Jordan, who returned to the NBA in the fall of 2001, played far better in Washington than people will admit, even if he wasn't the explosive player that he was in Chicago. Those who attended the 2002 NBA All-Star Game saw just how old Jordan, who was about to turn 39, had become.
Michael Jordan missed a dunk in the 2002 NBA All-Star Game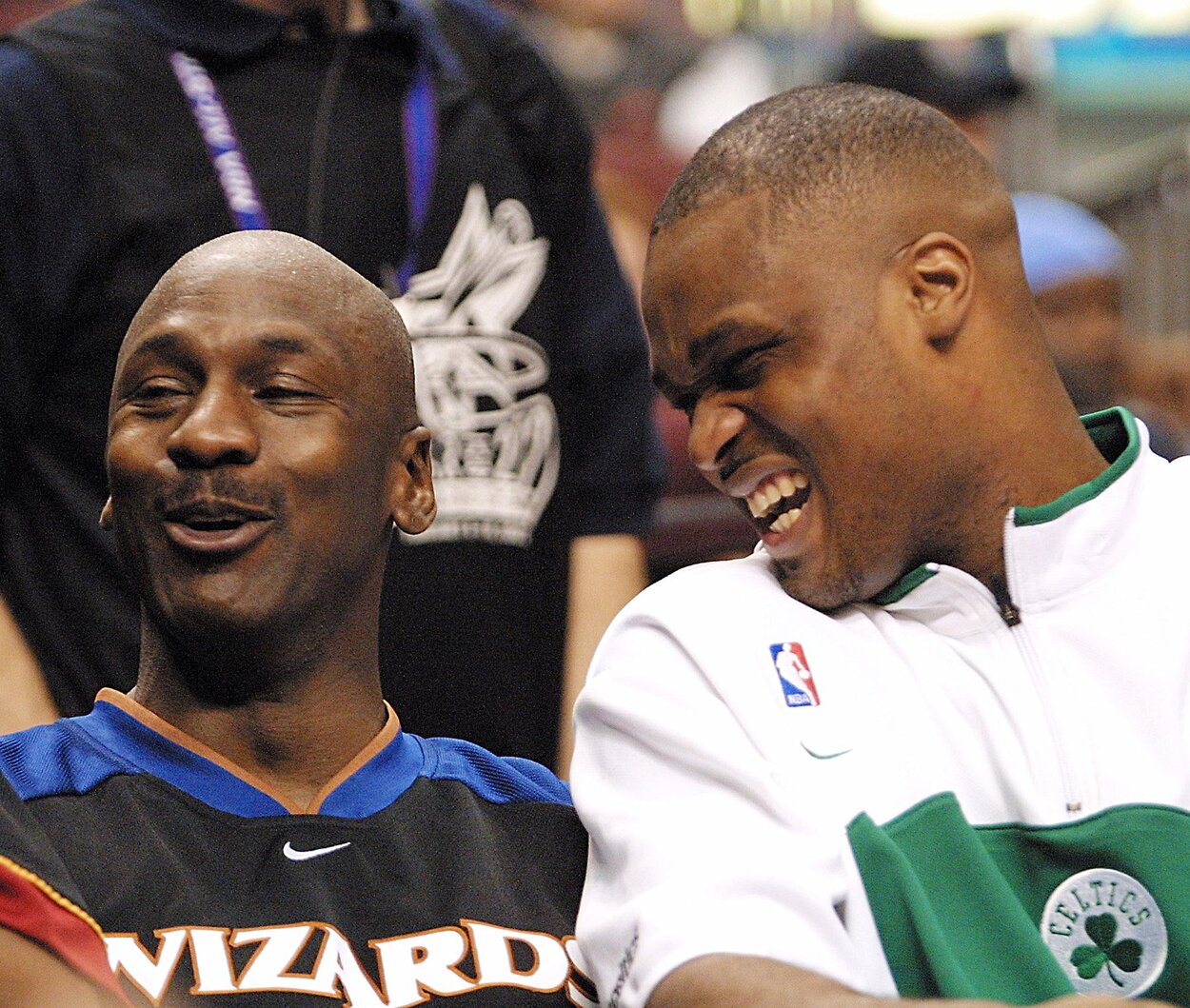 After spending three seasons in retirement, Michael Jordan returned to basketball for the 2001-02 season.
Because the NBA All-Star Game is a popularity contest, Jordan was among the players elected to a starting position. The Eastern Conference's starting five included Jordan, Nets star point guard Jason Kidd, and the iconic Allen Iverson, among others.
All eyes were naturally on Jordan, who was playing in his 13th All-Star Game. Jordan came into the game averaging 25.1 points, 6.2 rebounds, and 5.3 assists on the Wizards.
Jordan got his chance to shine in the first quarter, receiving the ball without a defender in sight. He leaped into the air, and fans prepared to celebrate yet another iconic Jordan dunk.
Unfortunately for Jordan, he missed the dunk. The ball clanked off the side of the rim and landed out of bounds. Footage exists on YouTube of Marv Albert, calling the game for TNT, reacting in shock as the ball rolled away and the cameras caught Jordan grinning.
Jordan had an overall game to forget that year
Kobe Bryant took over the 2002 NBA All-Star Game, scoring 31 points and winning MVP honors.
Bryant's excellent performance allowed Jordan's underwhelming outing to go under the radar. Jordan finished the night with eight points, four rebounds, three assists, and two steals in 22 minutes. He only made four of his 13 shots.
The Western Conference won, 135-120, at First Union Center in Philadelphia. That disappointing night in the City of Brotherly Love wasn't Jordan's final All-Star Game, however.
Jordan played better in the 2003 All-Star Game
Amid his final season in the NBA, it made sense that Jordan would once again earn starting honors in the 2003 NBA All-Star Game.
Jordan played better than he did the year before, scoring 20 points and grabbing five rebounds in 36 minutes. He added two assists and two steals, although he only shot 9-of-27 from the field.
The Western Conference won, 155-145, in double overtime. Yes, a meaningless exhibition game in the middle of February went two overtime periods. There are no ties in the All-Star Game, not when there is money and viewers at stake.
That was it for Jordan, and he played in his final NBA game two months later. Unless, of course, he wants to come out of retirement and play alongside LaMelo Ball on the Charlotte Hornets one day.
Like Sportscasting on Facebook. Follow us on Twitter @sportscasting19.