Michael Jordan's 'Exposed' Actions Led to a Popular Actor Liking Him a Lot Less
Basketball fans got to see another side of Michael Jordan when The Last Dance aired in 2020. The doc showed us how Jordan became one of the greatest NBA players of all time and why the Chicago Bulls were such a successful team during the MJ era. However, for one actor, seeing Jordan in the popular series made him start liking the NBA GOAT a lot less. That actor is Remember the Titans and The Wire star Wood Harris.
NBA fans adored Michael Jordan and the Chicago Bulls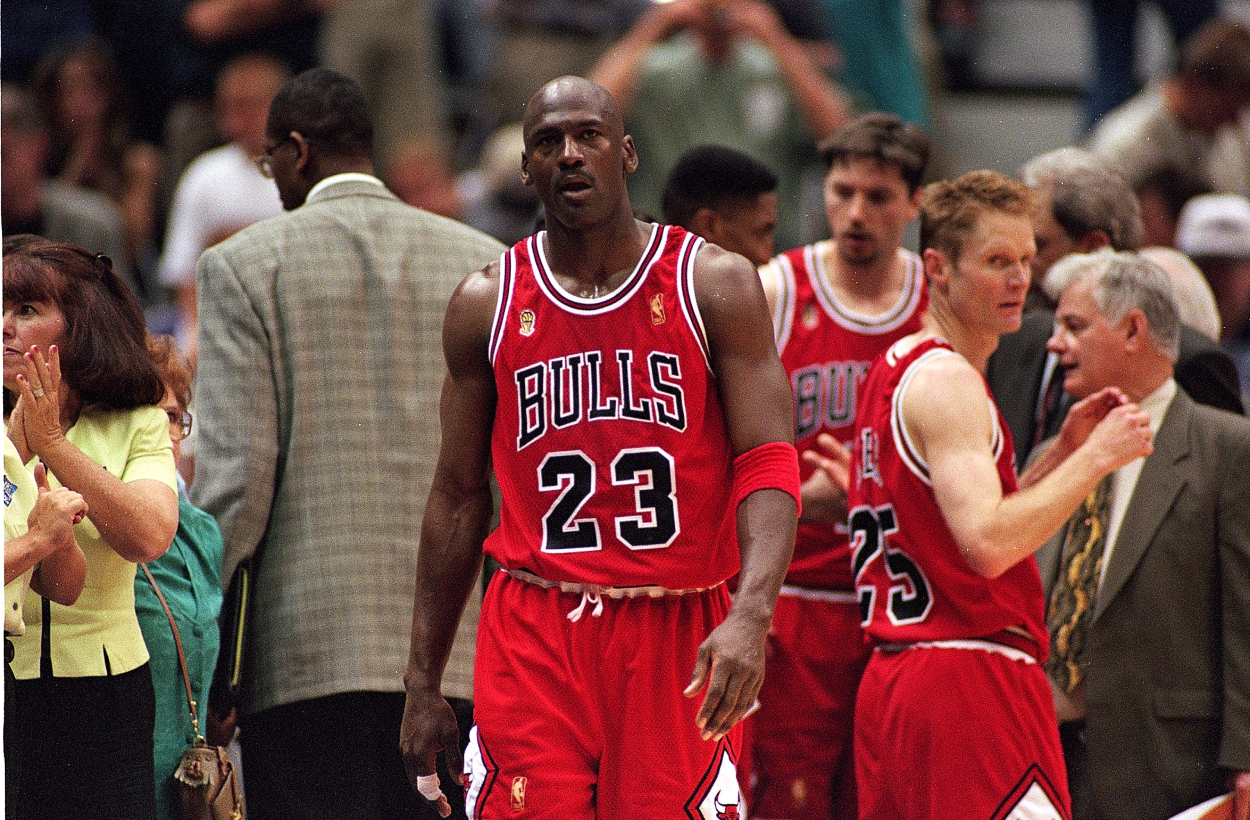 Michael Jordan's NBA career with the Chicago Bulls led to him being adored by not just the entire country — but also the whole world. Jordan proved to be one of the greatest basketball players of all time during his career.
MJ led the Bulls to six NBA championships, as Chicago won two separate three-peats during the years he played with them. He also earned 14 All-Star selections, five NBA MVPs, and he won the Defensive Player of the Year award in 1987-88. Jordan went on to score 32,292 career points, which is fifth in NBA history, and his 2,514 steals are third. Additionally, his 30.1 career points-per-game average is the best in league history.
Jordan's unreal talent and incredible accomplishments led to fans loving him. It has proven in the sales of his Jordan Brand over the years, too. Forbes estimates that Nike has paid Jordan over $1 billion since signing him in 1984. His Jordan Brand also has an estimated worth of over $10 billion.
However, while many fans love Michael Jordan, actor Wood Harris — who even admits to still loving him as well — realized that he likes MJ a lot less after watching The Last Dance.
Michael Jordan's actions in 'The Last Dance' made Wood Harris like him less
You may recognize Wood Harris from when he played Julius Campbell in Remember the Titans. He also played Avon Barksdale in The Wire and has been Damon Cross in Empire. Recently, Harris appeared on Jemele Hill's podcast, Jemele Hill is Unbothered. He ultimately revealed that he likes Michael Jordan a lot less after watching The Last Dance, too.
"I feel like Michael Jordan was exposed to be not as I thought back in the days," Harris said on the April 5 episode. "If you just remember the era, the Michael Jordan era, he wasn't a talker. He spoke efficiently, and he still does, he still does, but I feel like The Last Dance kind of let us see him in the locker room a little bit. And I just didn't like some of that. I didn't like it. I didn't like seeing him kind of be [an] a**hole."
Harris then recalled the story of when Common, the now-famous rapper, was a ball boy for the Chicago Bulls. A kid ultimately asked him if he could get Michael Jordan's autograph for him, and Common said that he would do it. However, when he asked Jordan to sign something for the kid, Jordan told Common to sign it himself.
"As a celebrity, I feel like I just would never do that," Harris said. "… Why would I have somebody else sign my name? It takes two seconds to do — and you know it's going to kids."
He then revealed how he ultimately feels about Michael Jordan after watching The Last Dance.
"I ain't lose no love because I can't lose the love for Michael Jordan, but I lost some of my like," Harris said. "… I still love Michael Jordan because I don't know how you're supposed to un-love what you saw, what you experienced from Michael Jordan with the city of Chicago. Everything we got out of it was a lot. But some of the stories and what we saw, it took some of my like away, and that's alright, I don't think he cares."
Well, that's interesting. Not many people have said that they disliked what they saw from Michael Jordan in The Last Dance. However, Harris wasn't the only one who had negative feelings after the documentary aired.
Scottie Pippen also had issues with 'The Last Dance'
Scottie Pippen is someone who was a little closer to the situation than Harris. Pippen actually told Michael Jordan that he wasn't "too pleased" with his portrayal in The Last Dance, too. This came after we saw MJ say during the doc that it was "selfish" of Pippen to delay his surgery and request a trade. We also saw Scottie refuse to go onto the court during the playoffs in 1994.
"I don't think it was that accurate in terms of really defining what was accomplished in one of the greatest eras of basketball, but also by two of the greatest players – and one could even put that aside and say the greatest team of all time," Pippen said, according to The Guardian. "… Yeah. I told him I wasn't too pleased with it. He accepted it. He said, 'hey, you're right.' That was pretty much it."
Michael Jordan is one of the greatest athletes of all time. Even heroes, though, have their critics.
Stats courtesy of Basketball Reference