Michael Jordan's Famous Attribute Is Something Trevor Lawrence Hopes to Never Have: 'That's Unhealthy'
Most star athletes would love to become the "next Michael Jordan" of their particular sport. Former Clemson QB Trevor Lawrence is a guy that could maybe do just that in the NFL if he does, in fact, live up to all the hype that has surrounded him for years. However, Jordan's famous attribute is something that Lawrence has no interest in having.
Michael Jordan is known for turning slights into extra motivation
Michael Jordan is an ultra-competitive human, and it showed throughout his NBA career. Sure, his talent helped him win five NBA MVPs, six NBA championships, and six NBA Finals MVPs. However, the manufactured chips that he put on his shoulders also helped him have a lot of success.
According to CBS Sports, Jordan discussed several of these instances in The Last Dance. One came in a game against the Bullets, as LaBradford Smith dropped 37 points on Jordan and the Bulls. Then, after the game, it had been reported that Smith went up to Jordan and said, "Nice game, Mike." Jordan took offense to that. So, he decided that he wanted to drop 37 on Smith and the Bullets the next night, but just in the first half.
Jordan ultimately dropped 36 in the first two quarters of that next game, and the Bulls got the win. However, more than 10 years later, it came out that Smith never said anything to Jordan, and Jordan just made everything up for extra motivation.
Another famous instance came during the 1996 NBA Finals when Jordan ran into George Karl — who was coaching the Bulls' opponent in the series, the SuperSonics — while out at dinner. Karl, however, decided to ignore Jordan since they were going against each other in the Finals. MJ ultimately took that "personal" and led the Bulls to a win in the series.
While these stories somewhat add to Michael Jordan's legacy, you won't see Trevor Lawrence doing anything like this.
Trevor Lawrence doesn't have a chip on his shoulder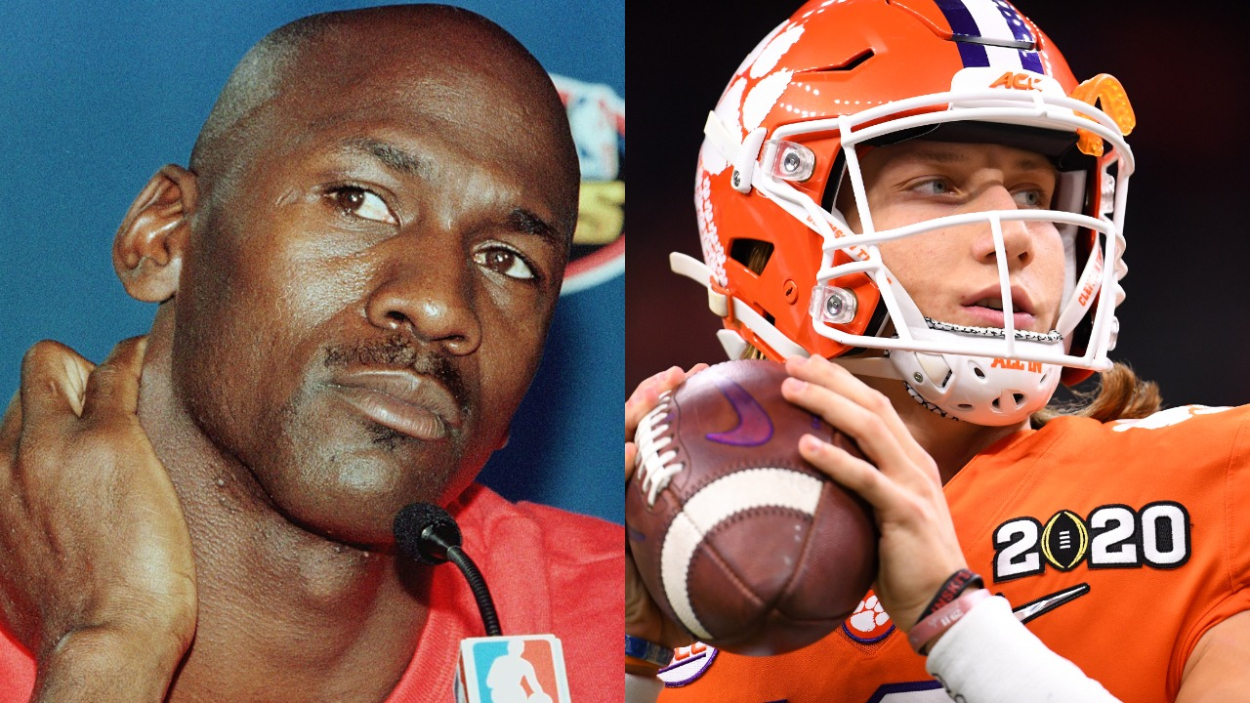 Trevor Lawrence is coming off a legendary college career with the Clemson Tigers and is now getting ready for the 2021 NFL draft. However, while many NFL quarterbacks have turned slights into motivation (Tom Brady going in the sixth round, or Aaron Rodgers sliding in his draft), Lawrence doesn't have a chip on his shoulder. He doesn't want to have one either.
"It's not like I need this for my life to be OK," Lawrence said, according to Sports Illustrated. "I want to do it because I want to be the best I can be. I want to maximize my potential. Who wouldn't want to? You kind of waste it if you don't."
He continued: "It's hard to explain that because I want people to know that I'm passionate about what I do and it's really important to me, but … I don't have this huge chip on my shoulder, that everyone's out to get me and I'm trying to prove everybody wrong."
Lawrence also added that he can't manufacture that chip, nor does he want to.
"I think people mistake that for being a competitor. … I think that's unhealthy to a certain extent, just always thinking that you've got to prove somebody wrong, you've got to do more, you've got to be better," he said, per SI.
Compared to other sports stars, this is definitely a significant change of pace. However, whether he has a chip on his shoulder or not, Trevor Lawrence has the potential to become an NFL legend.
Trevor Lawrence's career at Clemson made him a top NFL draft prospect
Trevor Lawrence is potentially the most hyped NFL draft prospect since Andrew Luck. His career at Clemson proved that he can become a special player.
In his first year at Clemson in 2018, Lawrence had a great year statistically. He threw for 3,280 yards, 30 touchdowns, and four interceptions. Lawrence also led the Tigers to a win in the national championship game that year.
Trevor Lawrence then continued to play well over the next two years, and Clemson continued to win. He threw for 3,665 yards, 36 touchdowns, and eight interceptions in 2019, and the Tigers went back to the national championship game. Then, in a 2020 season that was shortened due to COVID-19, Lawrence continued to impress with 3,153 yards, 24 touchdowns, and five interceptions. The Tigers also made it back to the College Football Playoff for the third time in three seasons with Lawrence.
Soon, Trevor Lawrence will officially become the No. 1 overall pick in the 2021 NFL draft with the Jacksonville Jaguars. He has a chance to have a Hall of Fame career, too. However, don't expect him to have a similar chip on his shoulder as to the ones that many Pro Football Hall of Famers typically had.
Stats courtesy of Basketball Reference and Sports Reference