Michael Jordan Is Loved by Many, but a Famous Rapper Once Called Him a 'Scumbag' and Compared Him to Donald Trump
Michael Jordan's NBA career with the Chicago Bulls made him beloved by many. So much so that some people would do quite literally anything for his shoes. This is in addition to the fact that the entire country even watched a documentary about his career more than two decades after it took place. However, there is one celebrity who doesn't think Jordan is that great of a person. That celebrity is rapper Vince Staples.
Michael Jordan's NBA career with the Bulls made him beloved by many
RELATED: Comedian Kevin Hart Once Pissed Michael Jordan off at His Own Event After Roasting Him About a Specific Facial Feature
Michael Jordan's NBA career has been unmatched. Jordan took the NBA by storm in 1984-85 when he earned the Rookie of the Year award. He then went on to lead the NBA in scoring in 10 different seasons, which helped him earn 14 All-Star selections and five NBA MVP awards. Jordan was also the 1987-88 Defensive Player of the Year. 
However, when people argue about Jordan being the GOAT, they look at his championships. Michael Jordan went 6-0 in the NBA Finals with the Chicago Bulls, and he completed two separate three-peats.
All of Jordan's accolades, of course, put him in the Hall of Fame, but they also made him one of the most famous basketball players of all time. In fact, some fans will do, quite literally, anything for his shoes. According to Forbes, Nike has paid Jordan over an estimated $1 billion since signing him in 1984, and Jordan Brand's revenue for the fiscal year ending in May 2019 was $3.1 billion. The brand is also worth more than an estimated $10 billion.
If that isn't enough proof that fans love Jordan, though, his documentary, The Last Dance, averaged over 5.6 million viewers per episode during the five weeks that it aired, according to Yahoo Sports.
So, indeed, Michael Jordan's legendary NBA career with the Bulls made him beloved by many. But a rapper once shared some interesting opinions about him.
Vince Staples called the Bulls legend a 'scumbag'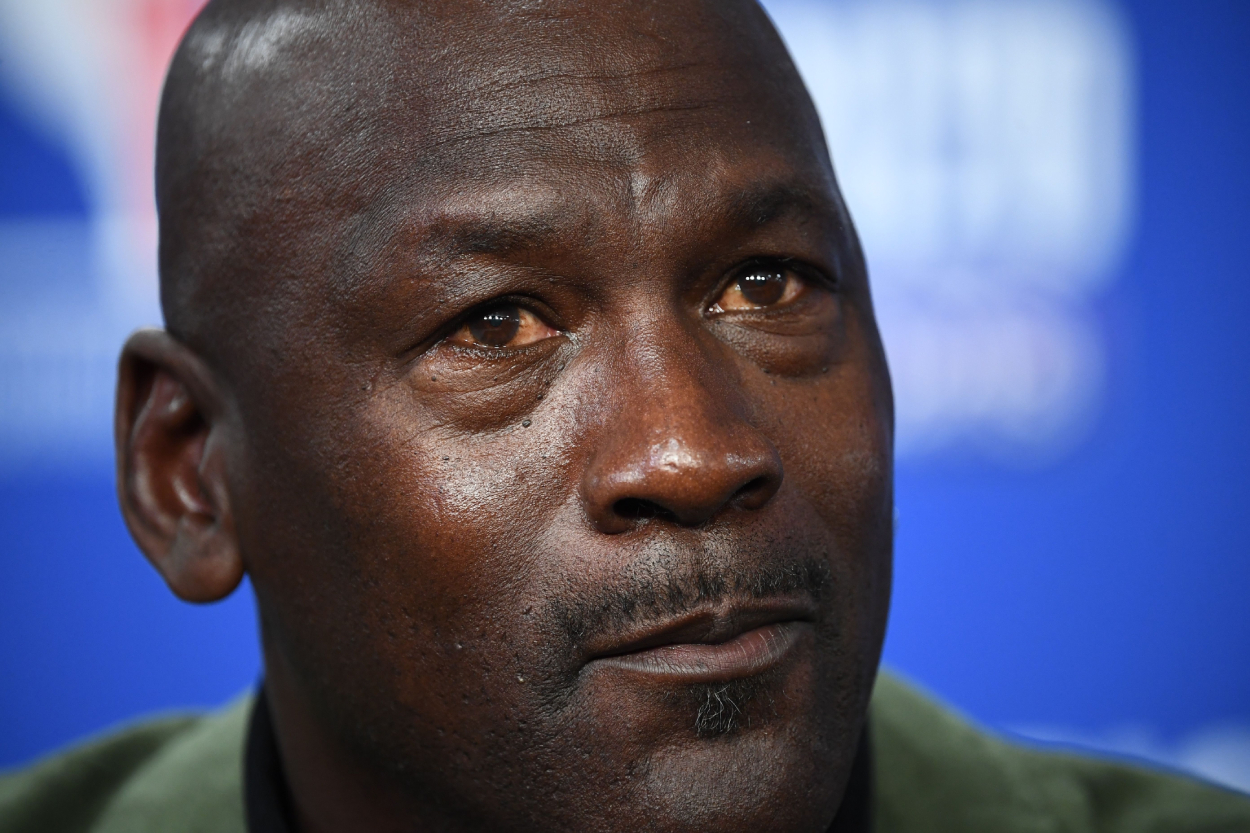 RELATED: Michael Jordan Is a $1.6 Billion Celebrity but Showed No Shame When Asking for Another Star's Autograph
In 2015, rapper Vince Staples did a video with GQ where he looked at the magazine's past covers. When it got to Jordan's 1998 cover, Staples made some interesting comments.
"Michael Jordan's such a scumbag. I love him. Michael Jordan and Donald Trump are the same kind of person. Michael Jordan, Donald Trump — they are the epitome of bad people in America becoming successful," Staples said.
Staples said this somewhat jokingly, but it seemed like he meant it. This was before Donald Trump's presidency, though, where his reputation around America ultimately took an even larger a hit.
However, these comments aren't the only ones Staples has made about Jordan. In a video with The Fader in 2016, Staples explained the remarks he made to GQ.
"I love Donald Trump and Michael Jordan; some of my favorite people," he said. "Both just mean, mean people with a horrible sense of fashion. They're so evil. Michael Jordan is like the evil boss at the end of every video game. He's a piece of s***. Everyone knows Michael Jordan's mean, though. So, I think that's the best thing about him is he doesn't pretend he's nice. He's got a couple charities, so it evens out."
It's unclear why Staples has these opinions of Jordan, but it's pretty clear that he seems to think that the NBA legend is a bad person. He is not the only who has called out MJ before, though, as former NBA player Stephon Marbury took to Twitter in 2015 to discuss his issue with the violence surrounding people wanting Jordan's shoes.
Whether you agree with the sentiment that Jordan is a bad person or not, though, it appears that he has tried changing that perception, to some degree, in recent years.
Michael Jordan went from staying out of politics to going against Donald Trump
RELATED: Michael Jordan's 36-Hour Gambling Spree Nearly Lost Him and a Partner $1 Million and Delayed His Return to the NBA
Some of Michael Jordan's biggest critics have complained about his unwillingness to discuss specific political issues in the past, especially ones where his influence could have made a difference. According to USA Today, in the book Second Coming, he said: "Republicans buy shoes, too."
In recent years, though, Jordan has voiced his opinions a little more. 
"Those who exercise the right to peacefully express themselves should not be demonized or ostracized," he said when discussing NFL players kneeling during the national anthem, according to USA Today. 
Additionally, after former president Donald Trump tweeted, "Lebron James was just interviewed by the dumbest man on television, Don Lemon. He made Lebron look smart, which isn't easy to do. I like Mike," Jordan showed his support for LeBron James.
"I support LJ," he said to NBC News, according to USA Today. "He's doing an amazing job for his community."
Then, in 2020, Jordan and Jordan Brand committed $100 million over 10 years to protect and improve "the lives of Black people through actions dedicated towards racial equality, social justice, and education," per Twitter.
So, while some people may have a justified reason for thinking Michael Jordan is a bad person, he has ultimately done a lot to change that perception in recent years. Maybe Vince Staples has changed his tune.
Stats courtesy of Basketball Reference