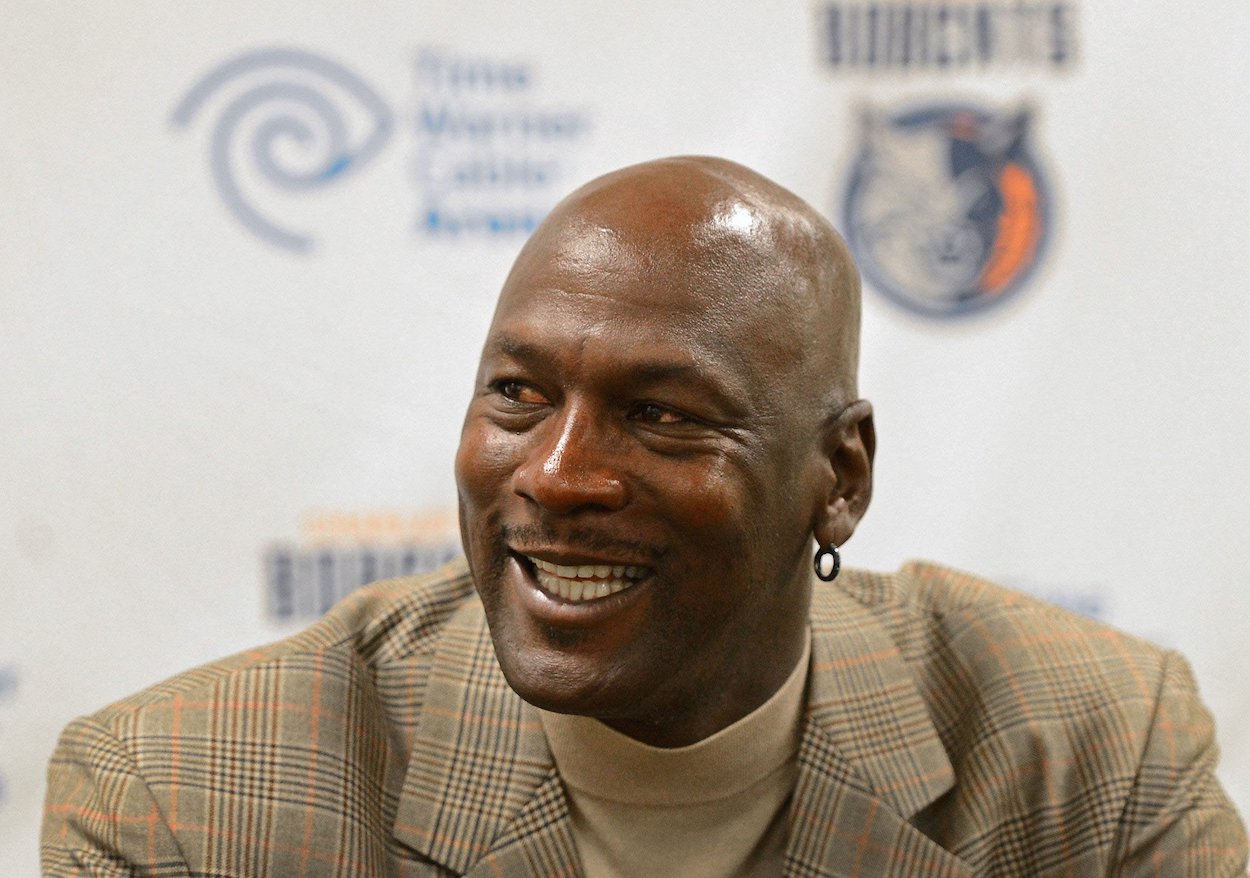 Michael Jordan Flexed His $1.6 Billion Net Worth on a Former Employee After Losing a $100 Bet
Michael Jordan impressed former Charlotte Bobcats player Adam Morrison when he pulled "8-10 grand" out of his pocket after losing a bet.
Since officially retiring from the NBA in 2003, Michael Jordan has gone on to have great success in the business world. Jordan's net worth has ballooned to $1.6 billion in 2021, making him the richest former athlete in the world. And apparently, MJ isn't afraid of carrying large sums of that money around.
Adam Morrison, the former Gonzaga star who spent two and a half seasons playing for Jordan's Charlotte Bobcats (now Hornets), got a taste of his boss's wealthy lifestyle after besting him in a $100 bet.
Michael Jordan drafted Adam Morrison in 2006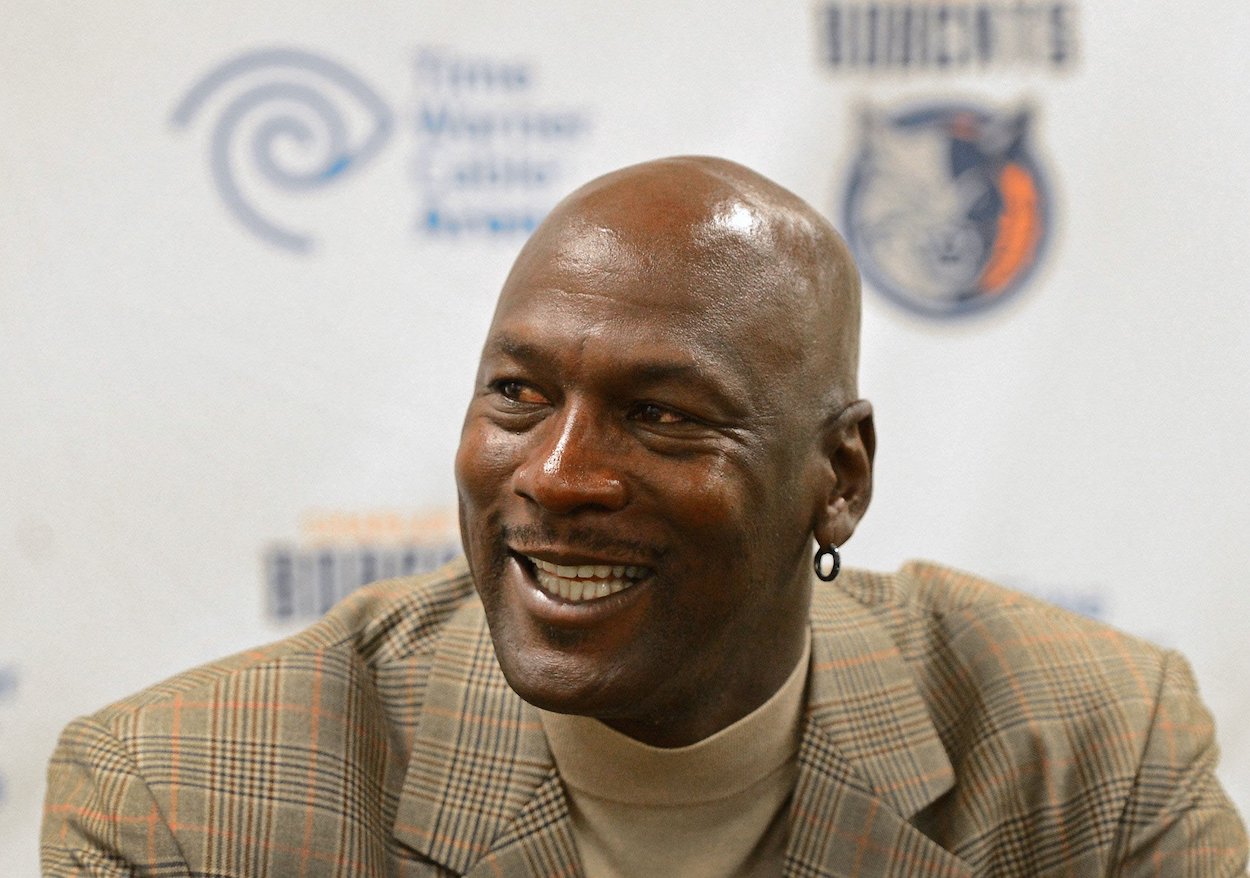 There's little debate regarding Michael Jordan's NBA career. He is widely considered the greatest basketball player to ever play the game, and his resume backs that up. But his career as an NBA executive hasn't been nearly as successful as his career as a player.
Jordan joined the Charlotte Bobcats in 2006 as a member of the team's ownership group and its Managing Member of Basketball Operations. Four years later, he became a majority owner of the franchise.
Since becoming a majority owner, Jordan has led the Bobcats/Hornets to the postseason just twice. During that span, he's made some questionable moves as a main decision-maker for the franchise. One of his most famous moves was selecting Adam Morrison out of Gonzaga with the third overall pick in the 2006 NBA draft.
Morrison had a decent rookie year for the Bobcats, but a knee injury in year two derailed his career moving forward. He only managed to play 44 more games for Charlotte and was traded in the middle of his third season. A year later, he was out of the league.
That's not exactly the return on investment you hope for in a No. 3 draft pick.
Morrison said Jordan had an "unmatched" presence as an owner
Imagine being a 22-year-old finally realizing your lifelong NBA dreams, and your first boss in the league just happens to be Michael Jordan. That was exactly the case for Adam Morrison in 2006. He spoke to the Battle For L.A. Podcast last year and explained what it was like to be around MJ in Charlotte.
"Being around Mike was, I've been around obviously celebrities and pro athletes, I was one, and playing for the Lakers you are around people that are larger than life and Mike by far takes the cake as far as aura and the way people act around him," Morrison said. "Just like his being, I guess you could say is unmatched."
Jordan flexed his $1.6 billion net worth after losing a $100 bet to Morrison
During the same podcast, Morrison told a story about winning $100 off Jordan in a college basketball bet. When he approached MJ for his winnings, the Chicago Bulls legend paid it out in the most baller way possible.
"We used to have an unwritten rule in the league, and most teams did it," Morrison told the Battle For L.A. Podcast. "If your team played each other in basketball or football, it was an automatic $100 bet. So Gonzaga played [North] Carolina in the [Madison Square] Garden after my rookie year, and we won, and so I saw him at the Christmas party and was like, 'Hey, you owe me $100!' And I was kind of like joking, and he was like, 'Oh yeah! No problem.' And he pulled out like 8-10 grand out of his pocket."
Michael Jordan walks around with 10 grand in his pocket? Of course he does.