Michael Jordan Gained a 'Stronger Passion' and Perspective for Basketball After a Season of Minor League Baseball
Unless they still enjoy the first Space Jam, sports fans understandably want to forget about every at-bat of Michael Jordan's baseball career.
Jordan left the Chicago Bulls behind and famously spent the summer of 1994 playing outfield for the Birmingham Barons, a minor-league affiliate of the Chicago White Sox. But for all of his strikeouts and long bus rides, the NBA legend also obtained a valuable lesson along the way.
Michael Jordan said he gained passion and perspective for basketball after playing baseball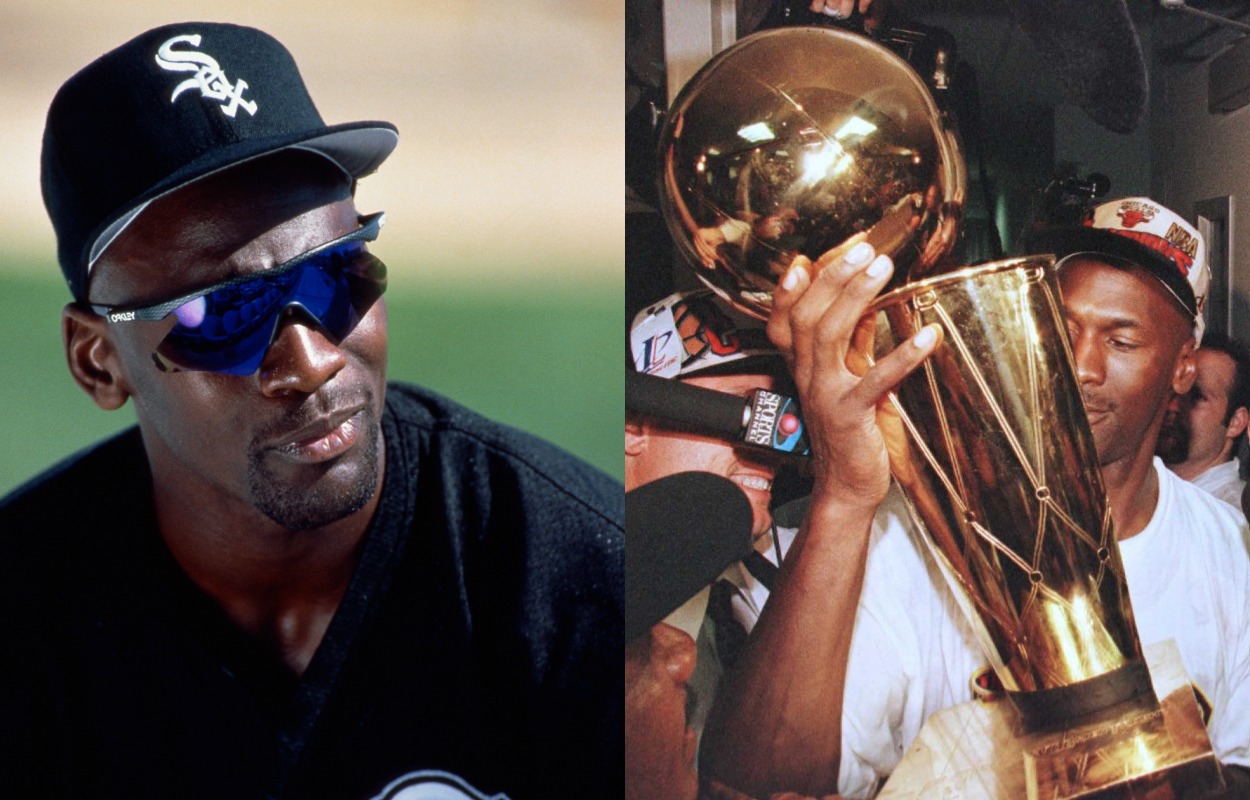 By the time Jordan left basketball after the 1992-93 season, he'd established himself as someone who usually earned over $2 million per year in base salary.
Remember, the NBA players who earned around $3 million in the early 1990s were among the sport's highest-paid players at that time. Things weren't like how they are today, where the perennial MVP candidates earn over $30 million per year.
All of this is relevant because Jordan, a highly paid NBA superstar, played minor league baseball with teammates who often relied on a team stipend. During a 2020 interview with Cigar Aficionado, the six-time NBA champion reflected on how those experiences and bus rides gave him a greater perspective and passion for basketball.
"I was able to understand the love that these minor league baseball players have making $1,500 a month, which is nothing, but for them, it was big. To me, to see that helped me put things in perspective to understand the platform that I was on in '93, [so] when I went back to it in '95 and '96, I appreciated even greater. So when we won those championships … those things mattered to me far greater than what I did in '91, '92, '93."

Michael Jordan
Although Jordan only hit .202 in the minors, it's clear the true reward came in what he learned along the way.
Would Jordan have continued playing baseball if not for the 1994 MLB lockout?
For years, there has been an intriguing what-if surrounding the end of Jordan's baseball career. The idea has been that Jordan, who fiercely represented the NBA players against the owners later in the 1990s, gave up on baseball in large part because he refused to cross the picket line ahead of the 1995 MLB season.
However, his comments to Cigar Aficionado may give a glimpse into what he really thought at that time. If Jordan truly had a newfound passion and perspective for basketball, then he would have wanted to take advantage while he still could. Even if baseball had no lockout or labor issues at that time, one has to think he'd still have ended up on the Bulls' roster later that spring.
It was never about money for Jordan, who had endorsement deals with every company from Nike to Gatorade. He already had three NBA titles to his name and almost certainly would have entered the Naismith Memorial Basketball Hall of Fame based on everything he did in his first nine seasons with the Bulls.
So was it the lockout that served as the final trigger to push Jordan back, or was it that passion and perspective? Was it both or neither? Only Jordan might have the final answer … though we're tempted to now believe it was both.
Only time will tell if Tim Tebow uses the same examples for why he returned to football
Much like Jordan returned to basketball after a stint in the minor league, former Denver Broncos quarterback and New York Mets outfielder Tim Tebow is doing the same.
Tebow signed with the Jacksonville Jaguars earlier this year and will play tight end this summer. The 2010 first-round selection famously resisted switching positions for years and insisted he could still play well at quarterback.
It will be interesting to see if, down the line, Tebow makes similar comments about finding that passion and perspective when he played in the minor leagues. If so, one should also ask when he had those realizations, because Tebow played three full seasons of minor league baseball. He also would have played a fourth if not for the coronavirus pandemic's impact on the 2020 baseball campaign.
Who would have guessed that Jordan and Tebow, two of the most iconic athletes of their respective generations, would be linked together through bus rides and small baseball stadiums? Sports still tend towards being funny that way.
Like Sportscasting on Facebook. Follow us on Twitter @sportscasting19.