Michael Jordan Gave the OK for a Hornets Rookie to Wear His Famous No. 23: 'Felt It Was a Great Way to Honor Him'
When people think of Michael Jordan and his legendary NBA career, they likely think of the Chicago Bulls, all the titles he won while in Chicago, and maybe his Air Jordan shoes. But they also probably think of the number he famously wore throughout his career, No. 23. MJ became an icon in those digits, and many players have worn them over the years since with the hopes of accomplishing just a fraction of what he did on the court.
However, it's hard to imagine too many people trying to wear 23 while playing on Jordan's team. In fact, since MJ became the Charlotte Hornets' governor in 2010, essentially no one really has — until now.
Jordan recently gave the OK for Hornets rookie Kai Jones to don the number he made famous. Now, Jones wants to honor MJ as best as he can.
Michael Jordan's 23 has become iconic
During the years Michael Jordan rose to fame for his high-flying play on the basketball court, his No. 23 almost always took flight with him.
Jordan first won a national championship at the University of North Carolina while wearing the number. He also later became a two-time consensus All-American and the 1983-84 AP Player of the Year.
The Naismith Memorial Basketball Hall of Famer then went to the Chicago Bulls with the No. 3 overall pick in the 1984 NBA Draft, and 23 followed him to the pros.
While wearing it, Jordan became a five-time NBA MVP, a 10-time league scoring champ, and a six-time NBA champion, and he won six Finals MVPs.
However, His Airness didn't always wear the number. He randomly wore No. 12 during one game in 1990 for reasons that aren't 100% clear, per Sports Illustrated, and he briefly wore No. 45 to have a new beginning following his father's death and his retirement to play pro baseball. But both of those eras were short-lived as pretty much all his success came while wearing 23.
Jordan's number is retired with North Carolina and the Bulls. The Miami Heat also retired 23 for MJ's contributions to the game.
Hornets rookie Kai Jones got the OK from Michael Jordan to wear No. 23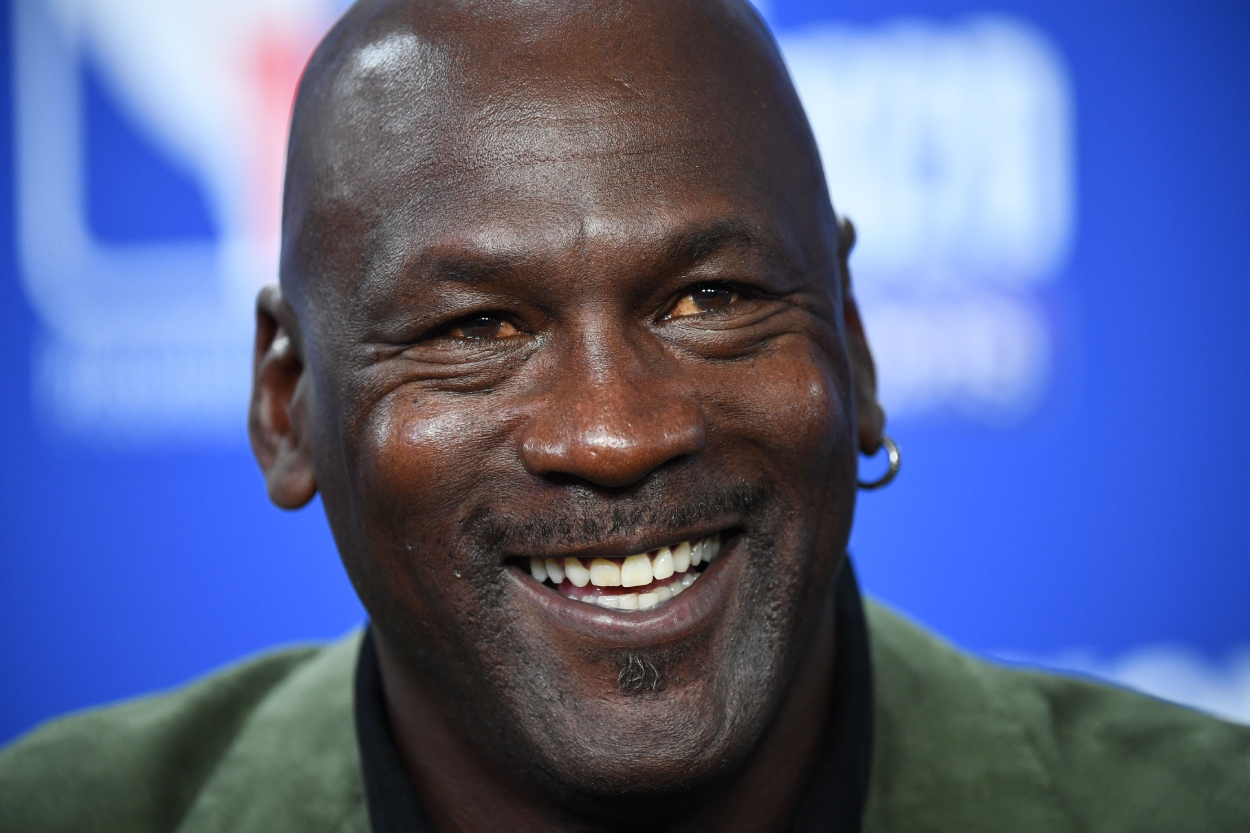 Michael Jordan bought the Charlotte Hornets — previously known as the Charlotte Bobcats — in 2010, and only one player has worn 23 since his purchase of the team.
However, it just so happened to be during the 2009-10 campaign, as Stephen Graham started wearing it in Charlotte before MJ officially became the governor. Graham finished the season with it before playing with the New Jersey Nets the following year. No one has worn it since.
But now, rookie Kai Jones will.
"When I was deciding on it, (the Hornets) spoke to him and cleared it with him," the Texas product told The Charlotte Observer.
Jones, who went to the New York Knicks with the No. 19 pick before getting traded to the Hornets, said he wanted to wear his college number, 22, but Vernon Carey Jr. already has it. He also wanted 13, but it's retired for Bobby Phills. So, he said, "Why not 23?"
And he now wants to honor the man who made those digits so famous.
Kai Jones wants to honor MJ with his No. 23 jersey
When talking about the number, Jones — who was the Big 12 Sixth Man of the Year last season — said his decision to wear it was partially due to MJ's impact on his game.
"It's a legendary number and I feel like Michael Jordan had a huge impact on the way I played the game," the Hornets rookie said, per The Charlotte Observer. "Especially over the pandemic. That's when I really decided to take my game to another level."
He later added: "I also felt it was a great way to honor him. Trying to be the best you can possibly be. It's a reminder that — I feel like Jordan maxed out in the league. He developed every aspect of his game. He won championships, MVPs. He's an inspiration. So I'm trying to be the best I can be."
Jones also said he feels no added pressure when wearing the GOAT's number.
"In the NBA, you've got to go out and perform regardless," he said, per The Charlotte Observer. "If I had worn 0, there would have been pressure. It doesn't matter, I've still got to go out and perform whether I'm wearing 23, 22, 0, or 5."
Hopefully, the 6-foot-11 big man can become a valuable piece to the Hornets' future while wearing the iconic 23. If not, he may have to settle for MJ's not-as-glorious 12 or 45 so that he doesn't disrespect His Airness.
Stats courtesy of Basketball Reference and Sports Reference