Michael Jordan Gets Huge Endorsement From Another NBA Legend: 'Michael Jordan Is the Most Skilled Player I've Ever Seen'
Michael Jordan played his last NBA game more than 18 years ago, but he still fascinates NBA fans as much as any current star. His competitive nature, his tenacity, and his athleticism are legendary. Then there's his sharp tongue. But even among the game's most elite players, the compliments for Jordan continue to pour in. The Logo himself, Hall of Famer Jerry West, added his name to the list again recently.
West was a skilled player in his own right. West is the only losing player ever named Finals MVP and made 12 All-NBA teams in 14 seasons. He's one of only seven players to lead the NBA in scoring and assists. But for his money, Jordan stands at a different level.
Jerry West appreciates greatness
Now 82, Jerry West is still active in the NBA as a consultant for the Los Angeles Clippers. The LA Lakers legend isn't shy about offering his opinion on the game, whether he agrees or not.
As general manager, he took over the Laker dynasty in the 1980s and retired after assembling the three-peat squad from 2000–02 in LA. Then he made the Memphis Grizzlies relevant for the first time in the franchise's history as their GM. West assisted the Golden State Warriors dynasty as a consultant, as well.
West once claimed LeBron James was the most intelligent player he ever saw. West has been part of the NBA landscape for more than 60 years; he played with Elgin Baylor and Wilt Chamberlain and battled the Bill Russell dynasty. The NBA will wink and nod and claim its logo isn't West; the design obviously came from West's upright ballhandling style.
He was a generation before Michael Jordan on the court but fought battles against MJ for years as an executive, including once in the NBA Finals. West's Lakers lost in 1991 to Jordan's Chicago Bulls, the first jewel in Jordan's six-pointed crown of championships.
That isn't to say West isn't necessarily correct in his observations. But the odds are minuscule that he's wrong, that's all.
West says Michael Jordan's skills were second to none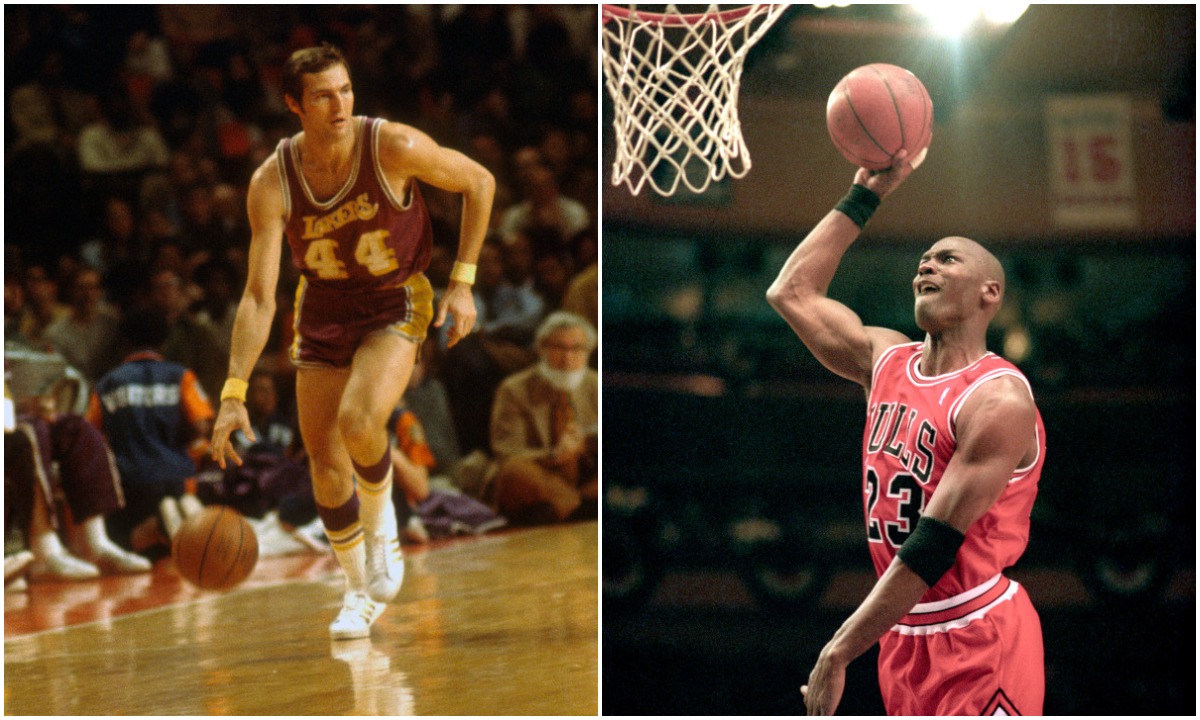 During a recent appearance on the Getcha Popcorn Ready with T.O. and Hatch podcast, Jerry West told hosts Terrell Owens and Matthew Hatchette that Michael Jordan was at another level as a player:
"He's the most skilled player I've ever seen."

Jerry West
West detailed some of the reasons why particularly noting Jordan's all-around excellence.
"This guy has done more spectacular things than any basketball player I've ever seen; I've ever seen," West said. "The thing that people don't realize is some of the stuff he could do. He was the best defensive player in the league, and he was the best offensive player."
West and Jordan are longtime friends, and one of the things the Laker legend appreciates most is that the younger star is still the same person he's ever been.
"I really like Michael Jordan, and he and I are friendly. And he never changes," West said. "He just doesn't change. He's the same guy all the time."
West has one moment from Jordan's career of highlights that stands out to him.
Jerry West marveled at a Michael Jordan dunk against the Knicks
During the podcast appearance, Jerry West raved about the athleticism displayed by Michael Jordan. But there was a particular play West said he'll never forget:
"Some guys jump quickly; some guys have to wind up. Yeah, Michael Jordan was like a cat. There's a play in particular that's very interesting to me. They were playing against the New York Knicks:
"He caught the ball on the baseline, and he started this way, and he turned around; he dunks it over in such a little short area. I mean, this area, he was only jumping this way; some guys need a little bit more room, right? He knocked this ball over him."

Jerry West
It's not a surprise West is such an admirer of Jordan's two-way greatness. In his 14-year NBA career, West averaged 27.0 points per game and was named to an All-Defensive team five times. If that seems unimpressive, consider the NBA didn't begin naming All-Defensive squads until 1968–69. Those five awards came over the last six seasons of West's career.
In the only season they were an official statistic during West's career, he averaged 2.6 steals per game. In 1973–74, West's final season, he was limited to 31 games and a career-low 31.2 minutes per game because of a back injury.
Jerry West displayed an extraordinary variety of skills during his Hall of Fame career. Yet for his money, it is Michael Jordan who is the most skilled player in NBA history. A strong endorsement from a man who's seen it all.
Statistics courtesy of Basketball Reference.
RELATED: Michael Jordan Wanted to Retire in 1992 and Play Baseball but Couldn't Because of Magic Johnson and Larry Bird: 'Bird and Magic Never Won 3 in a Row'