Michael Jordan Had 1 of the Best Defenders in NBA History Convinced He Was Unstoppable Just 3 Games Into His Career: 'I Don't Think There's Anybody That Could Defend Michael'
Michael Jordan headed to the NBA and the Chicago Bulls after a standout career at North Carolina. There were expectations placed on him, to be sure, but not Michael Jordan level expectations. Even as a rookie, though, MJ quickly proved to the league he was destined for greatness. He even showed out against one of the best defenders in NBA history just three games into his career.
Sidney Moncrief was a two-time NBA Defensive Player of the Year with the Milwaukee Bucks in the 1980s and became a Hall of Famer. But even with all his clout, he had to admit no one could guard Jordan as soon as His Airness stepped foot on an NBA floor.
Sidney Moncrief was one of league's best defenders when Jordan arrived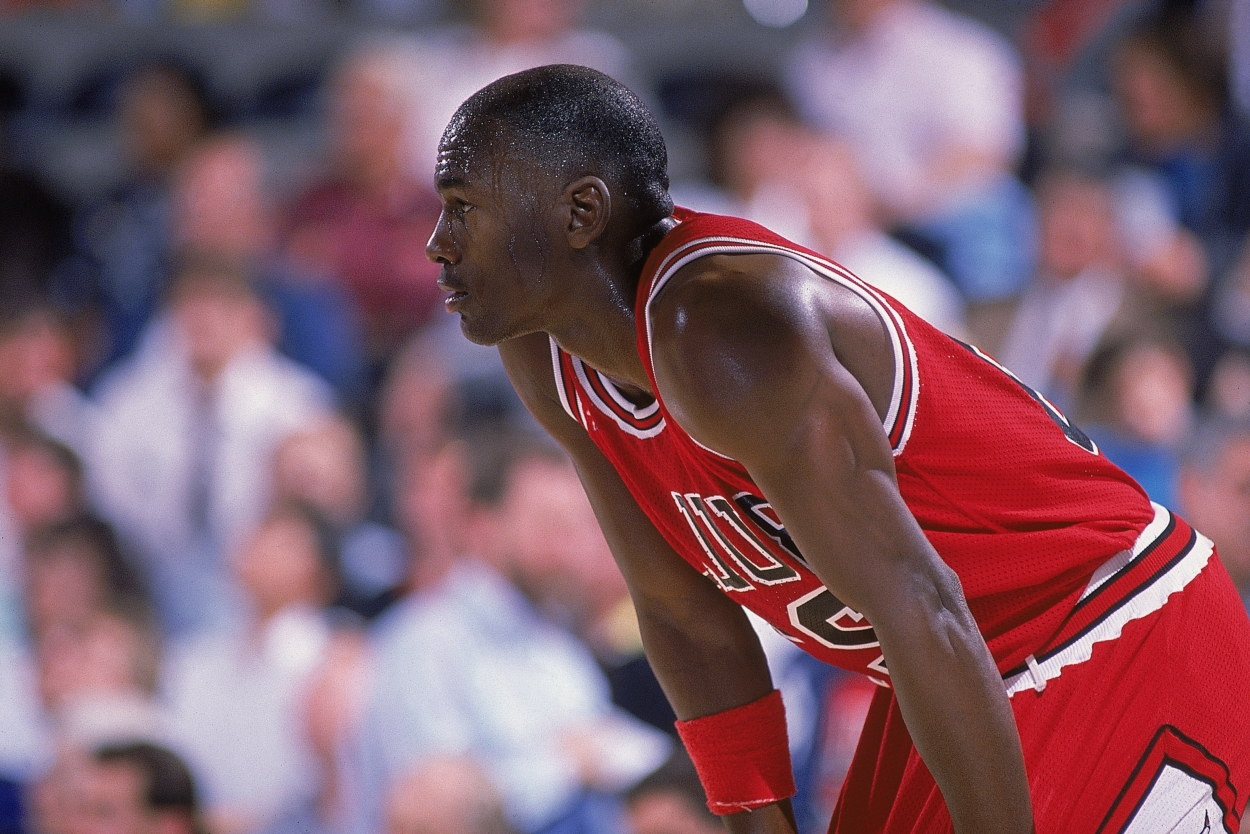 Moncrief played 11 seasons in the NBA and was known as one of the league's premier stoppers. He scored better than 20 points per game in four different seasons during his Hall of Fame career, but he was mainly known as the Bucks' best defender on a Milwaukee team that remains one of the most underrated of the 80s.
The Bucks made the playoffs eight years in a row from 1983-84 through 1990-91. The team advanced to the Eastern Conference Finals three times — all with Moncrief as a starter. Milwaukee just couldn't get past the Moses Malone-Julius Erving 76ers or the Larry Bird Celtics.
Moncrief was named the NBA Defensive Payer of the Year in back-to-back seasons in 1982-83 and 1983-84 prior to Jordan's rookie campaign. But it didn't take long for the Milwaukee guard to realize he had no answer for Jordan, even fresh off being recognized as the league's greatest defender.
Moncrief admitted Jordan was unstoppable in just his third NBA game
In the first episode of ESPN's The Last Dance documentary, Jordan explained how he felt he "earned his stripes" in his third career game against Moncrief and the Bucks. Chicago trailed by nine heading into the fourth quarter. While his teammates were basically mailing in a game in which they were trailing to one of the league's best teams, the rookie wasn't having any of it.
MJ was already proving his famed Michael Jordan competitiveness, telling his teammates there was still another quarter to play. He then proceeded to go off in the final frame, eventually ending up with a game-high 37 points to go along with five assists, six steals, and a pair of blocks on 54.2% shooting.
Moncrief realized right away even he had no answers for a rookie Jordan.
"I kind of thought I knew his potential because I had played against the best players in the NBA so far. The Magics and the Birds and Dr. J and Kareem. Some great players. Then all of a sudden, this rookie comes into the NBA, and I watched the way he moved on the court and his instincts. I'm like, 'Wow, that's going to be scary.' Every time we went to trap him, he would split, go down the lane, make a really difficult shot. He was so explosive. I don't think there's anybody that could defend Michael."

Moncrief during The Last Dance on defending Jordan
It was immediately clear Michael Jordan was already becoming one of the best scorers in the league.
MJ proved to be unstoppable over the next 14 seasons
Jordan injured his foot and missed most of his sophomore campaign. But he returned with a vengeance in 1986-87, winning his first of 10 scoring titles and the first of six straight.
Moncrief and the Bucks beat MJ and the Bulls in the first round of that season's playoffs. Milwaukee reached the conference finals the following season before getting swept by one of the best teams in NBA history — Bird and the '86 Celtics.
Chicago, meanwhile, went on to make the playoffs in the ensuing 13 seasons. Jordan only got better before winning his first title in 1991, and the rest is G.O.A.T history.
It was even evident to one of the NBA's greatest defenders, though, that Michael Jordan was going to become Michael Jordan just three games into His Airness's career.
All statistics courtesy of Basketball-Reference and playoff records courtesy of Real GM.
RELATED: Michael Jordan Took Pity on Everyone Who Had to Compete With Larry Bird in the 1988 3-Point Contest: 'I Tell You, It's Hard to Shoot After Bird'