Michael Jordan Hasn't Played a Game in 18 Years, but He Still Rules the Basketball Kingdom as Evidenced by a $1.47 Million Pair of Shoes
The name "Michael Jordan" brings a number of visuals to the forefront — MJ holding his first Larry O'Brien Trophy, the famous hands-on-knees stance, the sweatband on his forearm, the No. 23 on the back of his Chicago Bulls jersey.
"Jordan" is synonymous with "winning." Perhaps second to that, though, MJ is synonymous with footwear. His first signature shoe was sold in 1985, and as recent evidence confirms, his kicks are still going strong in 2021.
Michael Jordan is still widely considered the GOAT
Jordan's status as the greatest basketball player to ever lace 'em up remains, for most, unquestioned.
The University of North Carolina product won six NBA championships, pulling off three-peats on two separate occasions. Jordan won 10 scoring titles, five MVP awards, and the 1984-85 Rookie of the Year.
His competitiveness is infamous, storied, and still unrivaled. He played all 82 games in nine different seasons, including his age 39 campaign with the Washington Wizards in 2003.
MJ's work ethic and drive carried him to NBA heights that haven't been matched since. But perhaps there was another factor at work that made Jordan so great.
It's gotta be the shoes, right?
A pair of used Jordans sold for nearly $1.5 million, proving MJ is still king of the basketball world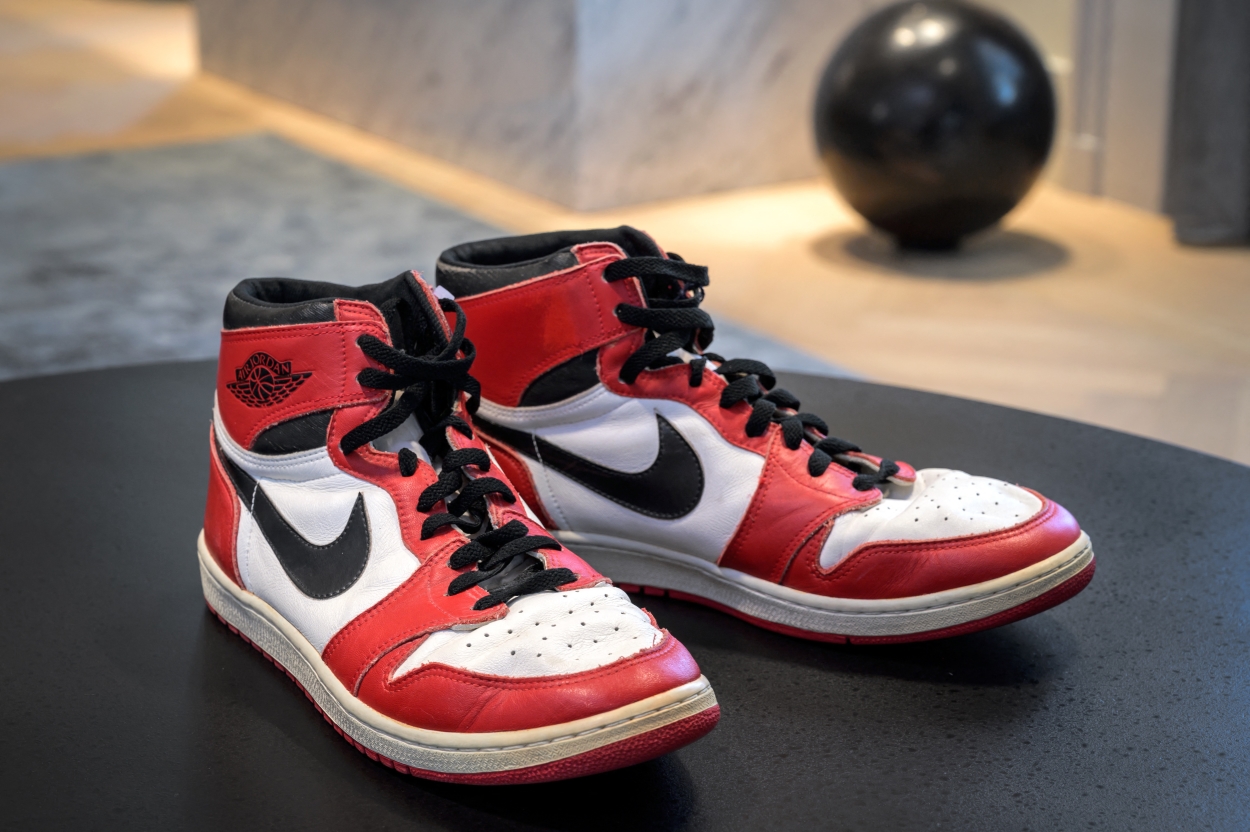 Jordan's sneakers are nearly as famous as the legend himself. New versions of his signature Air Jordans are still released regularly. But anything retro always rules the day.
In this case, retro rules the day to the tune of almost $1.5 million.
A pair of 1984 Nike Air Ships — Jordan's earliest known regular-season game-worn shoes, according to NBCNews — sold for $1.47 million at an auction at Sotheby's Auction House. The price tag is a record for game-worn shoes in any sport, according to BBC News.
The kicks, bought by collector Nick Fiorella, are signed and were worn during MJ's fifth game in the NBA.
Dozens of other NBA greats have had their own signature shoe lines — Kobe Bryant, LeBron James, and Allen Iverson are among the most popular. But no one else's have ever been sold for as much as Jordan's were (and chances are never will be).
36 years after the first pair of Jordans were released, His Airness and his shoes still dominate the NBA
MJ's first signature shoe, the original Air Jordans, was released to the public in 1985. According to MVOrganizing, 25 other signature Jordans have been released since.
The Hall of Famer was the first to popularize his own brand, and it began with the shoes. Other NBA stars have built their own respective brands, clothing lines, shoes, etc., but Jordan paved the way.
He's still around the league as the majority governor of the Charlotte Hornets. He still frequents the NBA news cycle. He retired from basketball (for the third and final time) in 2003, but the Jordan mythology lives on.
The fact that a used pair of his shoes is worth almost one and a half million dollars is just another feather in the GOAT's cap.
Like Sportscasting on Facebook. Follow us on Twitter @sportscasting19.
RELATED: A Young Michael Jordan Was Furious With the Chicago Bulls When They Traded for an NBA Legend: 'I Have No Comment. Just Say I Am Unhappy'