Michael Jordan Hasn't Played Basketball in Years but Still Gets Nervous About 1 Superstition
Thanks to his purchase of the Charlotte Hornets in 2010, NBA legend Michael Jordan has been able to stay involved in basketball throughout retirement. Jordan has essentially gone from one of the most dominant players of all time to a league executive. However, although MJ is no longer around the basketball side of things, he still gets pretty nervous about one superstition.
Michael Jordan bought the Hornets in 2010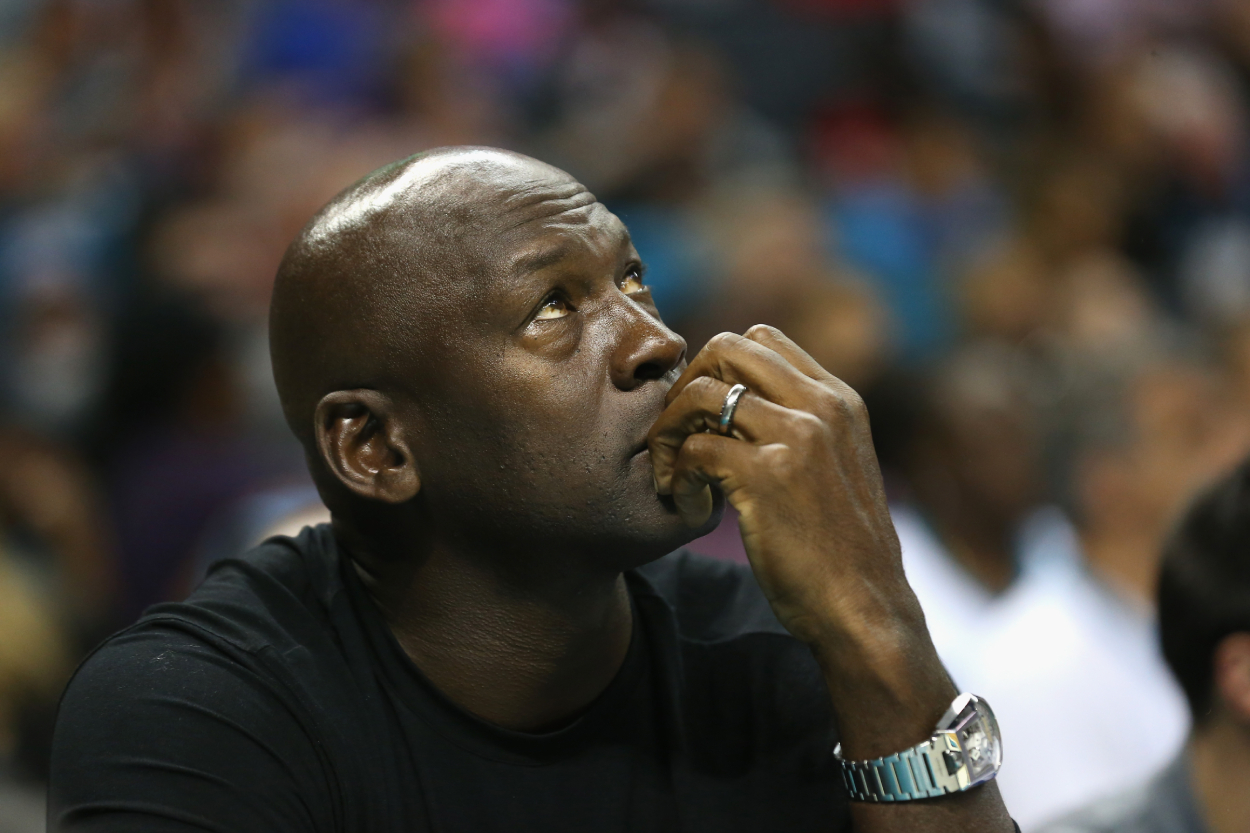 RELATED: Michael Jordan Has Only Kind of Met Superstar Actor Michael B. Jordan: 'I Don't Even Think He Knew Who I Was'
According to NBC Sports, Jordan bought the Charlotte Hornets, who were called the Charlotte Bobcats at the time, in March 2010 for $175 million.
However, MJ's success on the court has not translated to his ownership. Counting the 2009-10 season (the year he bought the team), the Hornets have only made the playoffs three times. They lost in the first round each of those time and haven't been back to the postseason since 2015-16.
The 2020-21 team, though, might be one of Jordan's most exciting squads yet. Charlotte is 30-32 through 62 games so far and is fighting for the eighth seed in the Eastern Conference. The Hornets have had two nice scorers in Terry Rozier (20.3 points per game) and Gordon Hayward (19.6 points per game). They have also had a nice young guard in Devonte' Graham (14.6 points per game and 5.4 assists), and one of the most exciting rookies in the league — LaMelo Ball. In 41 games, Ball has averaged 15.9 points, 6.1 assists, and 5.9 rebounds.
For the first time under Jordan's ownership, the Hornets seem to have a bright future and it's in large part due to their young talent.
MJ still gets nervous about a specific superstition
RELATED: Michael Jordan Is Actually so Good at Golf That a Pro Recently Said Playing With Him Is 'Beneficial' for Their Game
Although Michael Jordan hasn't played in the NBA since 2003, he still gets nervous about a particular superstition: broadcaster jinxes.
This superstition has been around for years, and it isn't limited to MJ. Whenever a play-by-play basketball broadcaster says something along the lines of "this player has made 22 consecutive free throw attempts," the said player then typically misses their next free throw. Or, in football, if the announcer says, "this kicker has never missed a 30-yard field goal attempt in his career," the kicker will then most likely miss their next 30-yard try. Additionally, baseball takes it to another level. The announcers must never address a pitcher's no-hitter or perfect game until after the last pitch is thrown.
It seems that Jordan believes in these types of superstitions.
"I've known Michael since the 90s; I used to be the sideline reporter for the Chicago Bulls back in the 90s when he was still playing. So, I've known him for a little bit," Hornets play-by-play man Eric Collins said on the April 28 episode of SportsNation. "He believes in superstition to a certain extent. The whole free-throw jinx, the announcer free-throw jinx, I think he thinks that could be a thing."
Collins continued: "So, every once in a while, I'll mention the fact that Terry Rozier has made 19 consecutive free throws or 'the Hornets as a team are perfect at the line so far through the first three quarters.' And he will find me in the hallway and say, 'Hey, you know what, stop jinxing my free-throw shooters.' And I'll say, 'Hey, Mike, I could have said that all night long and twice on Sunday when you were playing, and you never would have missed."
So, what does Jordan say to that? His reply to Collins is the most MJ answer of all time.
"He looks back at me, and he said, 'They're not me. My team is not me,'" Collins added.
As an owner, Jordan needs any advantage he can get, but that comes after no superstition could stop him as a player.
Michael Jordan didn't need to worry about superstitions as an NBA player
RELATED: Michael Jordan's 'Exposed' Actions Led to a Popular Actor Liking Him a Lot Less
Before becoming a league exec, nothing could stop Jordan in his playing days — no player or superstition.
Jordan not only earned 14 All-Star selections in his career, but he led the league in scoring in 10 different seasons and eventually won five league MVP awards. This was in addition to MJ leading the Chicago Bulls to six NBA championships and two separate three-peats. He also won the NBA Finals MVP award in each of those championship rounds.
Jordan ultimately finished his career with 32,292 career points, which is fifth all-time. He also recorded 2,514 steals (third all-time), and his 30.1 points-per-game career average is still No. 1 all-time.
He may not be the greatest team owner in the world in terms of winning, but Jordan is still an NBA legend.
Stats courtesy of Basketball Reference