Michael Jordan May Finally Have the Answer to 1 of His Biggest Failings Thanks to Young Stars LaMelo Ball and Miles Bridges
Now in their 32nd NBA season, the Charlotte Hornets have tasted precious little success. The franchise has just 10 playoff appearances all-time and has won just four series, all in the first round. But with their 111–95 road win over the Brooklyn Nets on Oct. 24, Michael Jordan's team did something it had never done before. The Hornets are 3–0 to open a season for the first time.
It's a modest accomplishment, to be sure. But just by winning its first two games, Charlotte posted its first 2–0 start since 2016–17 and just the fifth in franchise history. Reigning NBA Rookie of the Year LaMelo Ball has been outstanding, averaging 22.0 points, 6.0 assists, 5.7 rebounds, and 2.3 steals while hitting 50.9% overall, dropping 9-of-18 from deep, and making all three of his free throws.
As good as Ball has been, Miles Bridges has been scorching hot
Michael Jordan has been the majority owner of the Charlotte Hornets since 2010, and he may come to regret the decision not to extend the rookie contract of young forward Miles Bridges.
Entering this season, Bridges had career averages of 10.8 points and 5.1 boards per game while shooting 46.1% overall and 35.4% from 3-point land. The fourth-year man from Michigan State is playing through three games like a guy who will get paid a massive bag as a restricted free agent next summer.
How well is Bridges playing so far? Try 25.0 points, 8.0 rebounds, 2.7 steals, and 2.0 blocks in 34.3 minutes per game. In the win over Brooklyn, he scored 32 points, and he had 30 in Charlotte's Oct. 22 victory at Cleveland. Those are the fourth and fifth 30-point outings of his career, by the way.
This season, Bridges is excelling as a small-ball 4 for the Hornets, shooting 54.2% overall and dropping 8-of-18 from 3-point range. He's been much more assertive taking the ball to the rack, as well, with 16 free-throw attempts already. Last season, he averaged only 1.7 foul shots a game.
Charlotte acquired Bridges in a draft-night trade in 2018 after he went 12th overall to the Los Angeles Clippers. The Hornets added second-round picks in 2020 and 2021 and gave up 11th-overall selection Shai Gilgeous-Alexander. With Ball balling out and Bridges emerging as a top scoring threat, Charlotte doesn't seem to miss SGA.
Michael Jordan's Charlotte Hornets are a nice mix of youth and experience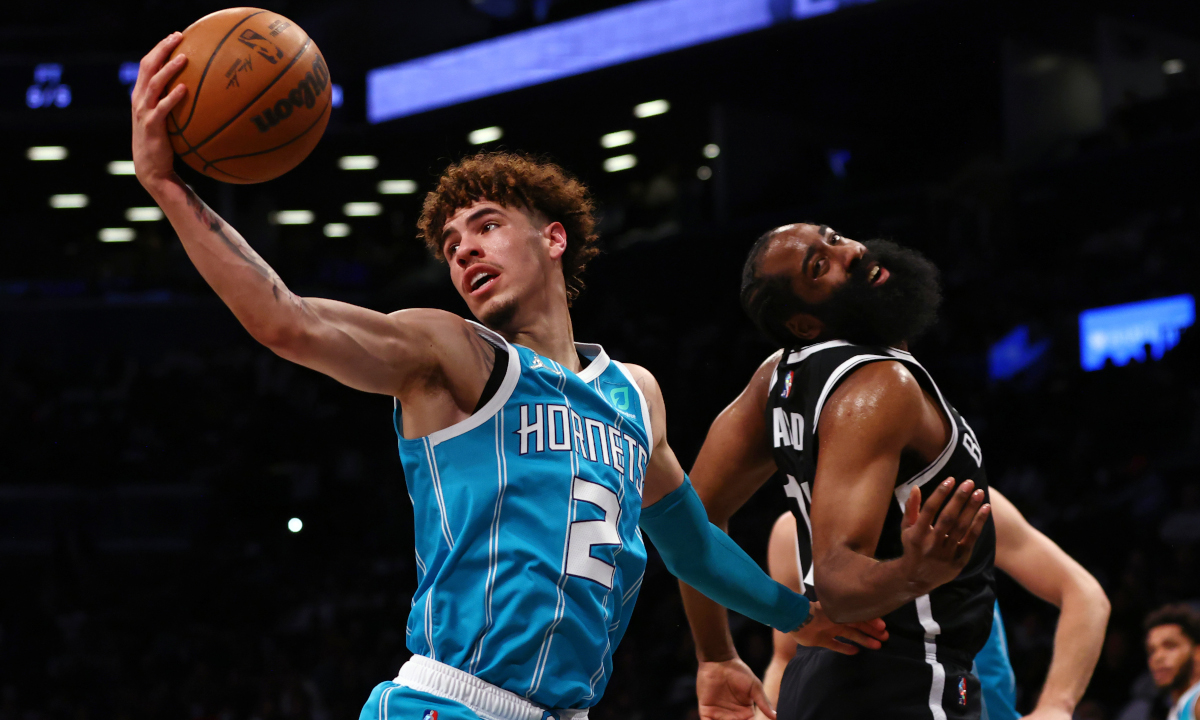 Since assuming majority ownership in 2010, the Charlotte Hornets under Michael Jordan have not fared well. In the 11 seasons Jordan has been the man signing the checks, Charlotte's .411 winning percentage is in the bottom five in the NBA. In that span, the Hornets have just two playoff appearances and are 3–8 in the postseason.
Kemba Walker rose to All-NBA status in Charlotte but never had the supporting cast to win more than 48 games in a season.
Ball sets the tone for this year's Hornets, even if he's not leading the team in any major category. Bridges is the top scorer, Mason Plumlee is getting 9.7 rebounds a game, and Ball shares the team lead with Gordon Hayward with 6.0 dimes a night.
There is a nice blend of veterans and youth, as well. Ball is only in his age-20 season. Bridges and reserve P.J. Washington are both 23, and solid sixth man Cody Martin, a second-round pick in 2019, enters his third season at age 26.
Charlotte added Hayward last season before getting Plumlee, Kelly Oubre Jr., and Ish Smith over the summer. The 33-year-old Smith tied an NBA record when he signed with the Hornets, becoming the fifth player in history to play for 12 different franchises.
He joins Chucky Brown, Tony Massenburg, Jim Jackson, and 1995 top-overall pick Joe Smith. Two active players, Jeff Green of the Denver Nuggets and Garrett Temple of the New Orleans Pelicans, are each with their 11th team.
The Charlotte Hornets did not have big expectations in 2021–22
If someone bet the over on the projected 37.5 wins for the Charlotte Hornets, per Action Network, they might be in line for a windfall. Last season, Charlotte (33–39) made the inaugural play-in tournament before being eviscerated at Indiana.
The Hornets have made missteps aplenty under Michael Jordan's ownership. Michael Kidd-Gilchrist comes immediately to mind. But Charlotte has the fourth-best offense per 100 possessions at 114.1 points, and their net rating is plus-9.6, good for seventh in the NBA.
They're playing with pace (104.67 possessions per game, fourth-highest in the league) and are legitimately fun to watch. It's been a long time coming for Michael Jordan's club, but the Charlotte Hornets might finally have the right mix to make some noise in the East.
Statistics courtesy of Basketball Reference, Stathead and NBA.com.
RELATED: LaMelo Ball Might Be an NBA Star, But He's Still Working on Basic Habits, According to Hornets Coach James Borrego