Michael Jordan Introduced Alex Rodriguez to a New Hobby on the Golf Course
Despite their branching paths, Alex Rodriguez and Michael Jordan remain two of the most iconic figures in modern sports history.
Rodriguez is a baseball legend whose career is tainted by steroid use. Jordan is arguably the greatest player in NBA history, even with LeBron James potentially still on his heels for that title.
Their shared greatness and wealth have allowed Rodriguez and Jordan to come into contact over the years. In fact, a day on the golf course allowed for a bonding moment between the two former All-Stars.
Michael Jordan helped Alex Rodriguez fall in love with cigars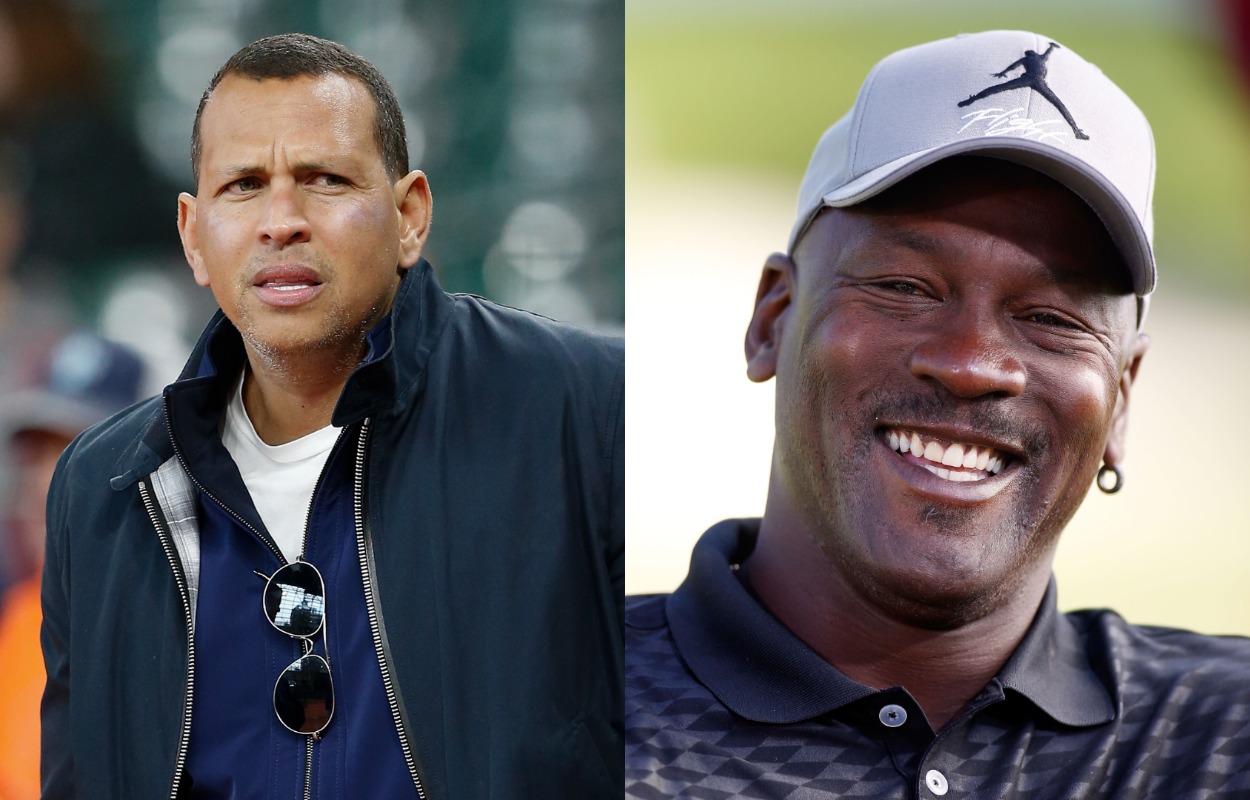 Alex Rodriguez has embraced wealth and fashion, from suits to sunglasses, since he was a young shortstop with the Seattle Mariners.
In a 2018 interview with Cigar Aficionado, Rodriguez said that Michael Jordan helped him with another aspect of culturing himself. Although Rodriguez didn't remember when he smoked his first cigar, the three-time MVP explained that Jordan helped him start "loving" stogies.
Rodriguez called Jordan a "good ambassador for cigars" and said the NBA icon introduced him to a Hoyo de Monterrey Double Corona. It was that day on the golf course which provided Rodriguez with an entirely new perspective on cigars.
Marvin Shanken, the publication's editor and publisher, asked Rodriguez if he'd gotten sick smoking the cigar.
"I didn't," Rodriguez replied.
Jordan is known for his love of cigars
It makes sense that Rodriguez would learn to love and appreciate cigars after speaking with Jordan.
Jordan, as Rodriguez said, is truly an ambassador for cigars. Whether it was in the locker room or on the golf course, Jordan has been photographed plenty of times over the years with a cigar in his mouth.
Jordan has also done several interviews with Cigar Aficionado over the years. The basketball legend began smoking in 1993, near the end of his first stint playing basketball for the Chicago Bulls, and hasn't stopped.
Sports have moved away from embracing tobacco
Jordan and Rodriguez may appreciate cigars and tobacco, but the same can't be said for their respective leagues.
Professional sports leagues have drifted away from endorsing tobacco or allowing those companies to have billboards over the last 30 years. Major League Baseball even introduced stricter laws on smokeless tobacco, a longstanding tradition in dugouts, after the 2016 season.
It will be interesting to see if sports leagues ever enact a ban on celebratory cigars in the locker room. The Boston Red Sox celebrated their World Series victory in 2018 with cigars in the locker room. Tom Brady and the Tampa Bay Buccaneers did the same in February 2021 after winning Super Bowl 55.
Of course, there are likely some who will always circumvent the rules. If the NBA ever enacted such a ban and the Charlotte Hornets won the NBA Finals, basketball fans shouldn't be surprised to see Jordan with a lit cigar in his mouth.
Like Sportscasting on Facebook. Follow us on Twitter @sportscasting19.