Michael Jordan Is an NBA Legend, but His Brother Is Now Finding Success in the League He Once Dominated
Article highlights:
Michael Jordan and his brother Larry have a special bond
The Charlotte Hornets recently gave Larry a promotion
Michael and Larry have the Hornets on a path toward success
Everyone knows of Michael Jordan's significant NBA success. He won six championships and is widely recognized as the greatest player of all time. He is also now the governor of the Charlotte Hornets. However, MJ isn't the only person in the Jordan family accomplishing a great deal in the league. His brother Larry is actually working his way up through the ranks as well.
Michael Jordan and his brother Larry seem to have a special relationship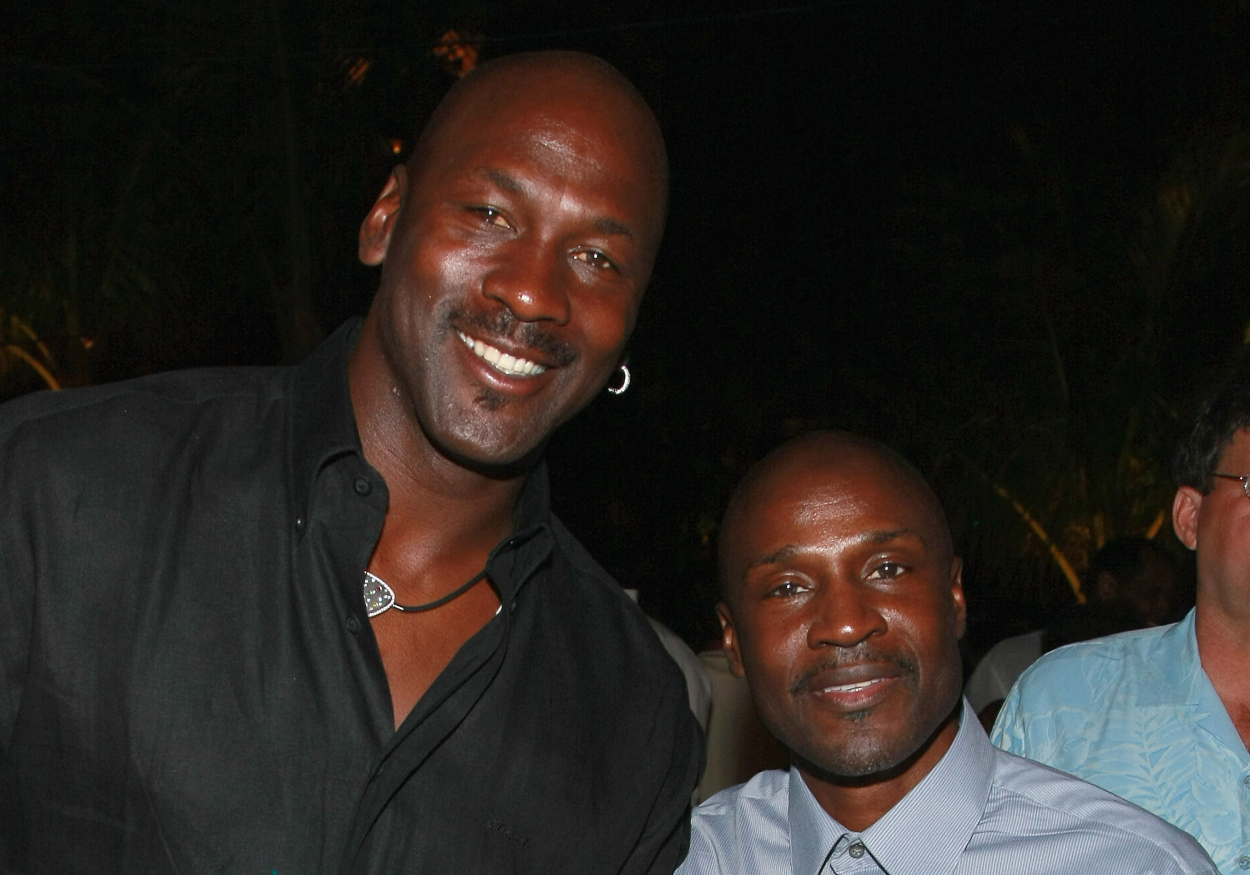 Michael Jordan is one of five kids, but his brother Larry is only 11 months older than him, so it appears the two had a close bond growing up.
Like Michael, Larry was also athletic. He just didn't grow up to be 6-feet-6-inches tall, as he's, instead, 5-foot-8.
"Larry was so driven and so competitive an athlete that if he had been 6-2 instead of 5-7, I'm sure Michael would have been known as Larry's brother instead of Larry always being known as Michael's brother," their high school coach Pop Herring said, per Biography.com.
Larry and Michael even shared the court during one season of high school ball when the elder Jordan was a senior and MJ was a junior. That was also the year Michael picked his famous No. 23 jersey, as Larry wore 45 on varsity, and he wore the same number on JV. So, when MJ moved up, he split it in half (or at least close to it).
"That's when his play just went to another level," Larry said, per ESPN. "Even though there were five guys on the floor, he pretty much played all five positions. His level of play was just so much higher than the rest of us. People ask me all the time if it bothered me, but I can honestly say no, because I had the opportunity to see him grow. I knew how hard he worked."
Of course, after high school, Michael went on to play for the North Carolina Tar Heels and then became one of the greatest players of all-time in the NBA with the Chicago Bulls and Washington Wizards. Larry, on the other hand, played for the Chicago Express in the only year the World Basketball League existed in 1988, per Bleacher Report.
But he's now finding success in the NBA.
The Charlotte Hornets promoted Larry Jordan
The Michael Jordan-owned Charlotte Hornets announced on Nov. 15 that Larry Jordan and others received promotions. Larry moved up from Director of Player Personnel to Vice President of Player Personnel. According to Yahoo Sports, Larry started working in his previous role in 2013 after serving as Director of Special Projects before that.
He has apparently done impressive work within the organization, too. Buzz Peterson, who the Hornets recently promoted to Senior Vice President of Basketball Operations and Assistant General Manager, praised Larry earlier in 2021 for his role in bringing in LaMelo Ball and some of their other recent draft picks.
"I've got to give Larry a lot of credit for staying on top of the scouts," Peterson said to Sports Illustrated's All Hornets. "It's a long season. And there's motivation, there's get your reports in, there's intel reports. He's constantly looking over five, six guys — not every day but several times during the week. 'How'd that game go? What'd you see? Where are you off to next?' Checking their reports, there's a lot that goes into that."
Now, it appears Michael, Larry, and others are finally getting the Hornets on a path toward success.
Michael Jordan's Hornets appears to be heading in the right direction
The Charlotte Bobcats/Hornets have had limited success since Jordan became the majority governor in 2010. They have only reached the postseason twice and lost in the first round both times. They have also had nine losing seasons since then.
However, after drafting the 2020-21 Rookie of the Year, LaMelo Ball, the Hornets improved from 23-42 in 2019-20 to 33-39 last season and reached the NBA Play-In Tournament. They seem to be even better in 2021-22 so far, too, starting 8-7 with wins over the Brooklyn Nets and Golden State Warriors.
It has taken Michael Jordan — and his brother Larry — a long time to turn the Hornets around, but it appears they're finally on their way toward the top.
Stats courtesy of Basketball Reference