Michael Jordan Has Only Kind of Met Superstar Actor Michael B. Jordan: 'I Don't Even Think He Knew Who I Was'
Michael Jordan is a name everyone knows, as Jordan's NBA career with the Chicago Bulls made him a massive celebrity worldwide. However, Jordan is now no longer the only famous Michael Jordan. That's because actor Michael B. Jordan has become one of the biggest names in Hollywood after starring in movies like Black Panther and Creed. So, have the two Michael Jordans ever met before? The film star recently answered that question.
Michael Jordan's NBA career made him an iconic figure
RELATED: Zion Williamson Is a $10.2 Million Star but Can't Quite Describe His First Encounter With Michael Jordan: 'It Was Like Meeting Black Jesus'
When NBA fans debate who the NBA GOAT is, the one constant in that conversation is always Michael Jordan.
After a stellar college career at North Carolina, Jordan went to the Chicago Bulls with the third overall pick in the 1984 NBA draft. He became a star almost as soon as he started playing too.
In his first season, Jordan won the league's Rookie of the Year award. By the time his third season rolled around, MJ was already leading the league in points per game with 37.1. This then kicked off one of the most dominant careers in NBA — and sports — history.
Jordan ultimately led the Chicago Bulls to six NBA Finals, and they won the title each time, completing two separate three-peats. He also led the NBA in scoring in 10 different seasons.
Here's a look at his other accomplishments:
14-time NBA All-Star
Five-time NBA MVP
Six-time NBA Finals MVP
1987-88 Defensive Player of the Year
32,292 career points (fifth all-time)
2,514 career steals (third all-time)
30.1 career points-per-game average (No. 1 all-time)
Jordan's play on the court made him an iconic figure around the world. Fans have spent outrageous amounts of money on his memorabilia and shoes. In fact, according to Forbes, Nike has paid Jordan over $1 billion since signing him in 1984.
Has MJ ever met Michael B. Jordan?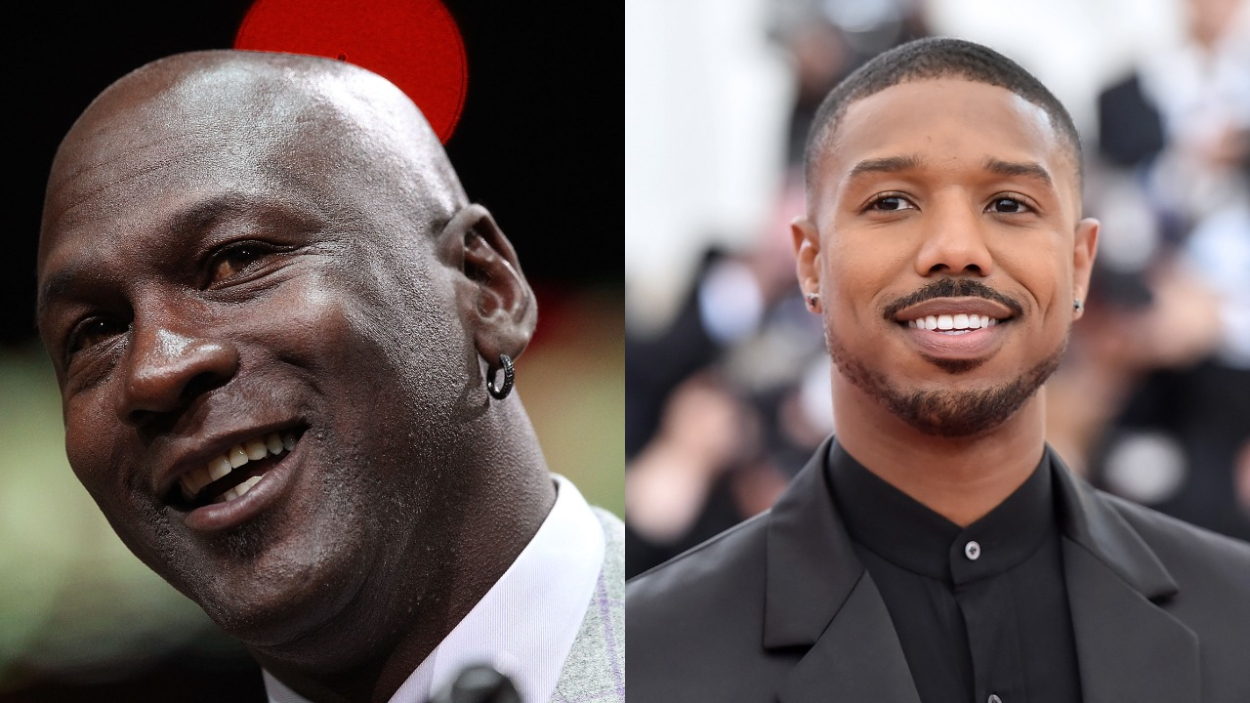 RELATED: Michael Jordan's 'Exposed' Actions Led to a Popular Actor Liking Him a Lot Less
In recent years, Jordan — who is now the owner of the Charlotte Hornets — has seen someone else with his name also become a massive star.
According to IMDb, Michael B. Jordan has been acting for over 20 years, but he really rose to fame after starring in Creed in 2015 and then Black Panther in 2018. Michael B. Jordan has gone from a B-lister (fitting because of his middle initial) to one of the top A-listers in Hollywood.
So, since the two celebs share the same name, have they ever met? Michael B. Jordan recently answered that question.
"I think at the time I met him, it was at an All-Star event, and it was in passing," Michael B. Jordan said on the April 26 episode of The Rich Eisen Show. "Somebody was like, 'Ay, you know,' — like he needs an introduction — 'Ay, what's up this is Mike,' and I shook his hand, and it was like literally less than 10 seconds. Then it was in passing. So, I don't even think he knew who I was at the time. I guess to answer that question: nope."
OK, so Michael B. doesn't really count that interaction as actually meeting Michael Jordan, but they still technically met.
Eisen, though, then asked why they haven't had a legit meeting yet.
"I don't know, man, we gotta figure that out," he said. "I think the powers that be, somehow, we gotta collab on something. I don't know; the marketing's too rich at this point. … Maybe [if] the Hornets [are] playing the Lakers at some point, maybe [we can] get a chance, [if] Jordan comes in town. Or maybe I go to North Carolina, who knows."
So, one Jordan is on board. Maybe we will see the two MJs meet sometime in the not-so-distant future.
Michael B. Jordan still has a long way to go to catch Michael Jordan
RELATED: Michael Jordan Is Loved by Many, but a Famous Rapper Once Called Him a 'Scumbag' and Compared Him to Donald Trump
Michael B. Jordan has become highly successful. However, he still has a long way to go if he wants to catch Michael Jordan in terms of wealth.
The Chicago Bulls legend earned an estimated $93.7 million on the court during his NBA career, per Spotrac, but his business endeavors off of the court have made him even more wealthy. According to Forbes, Michael Jordan's net worth is an estimated $1.6 billion.
Michael B., on the other hand, has an estimated $25 million net worth, according to Celebrity Net Worth.
Both men are very wealthy, but it's hard to beat out the original Michael Jordan in anything.
Stats courtesy of Basketball Reference