Michael Jordan Left an Unforgettable Impression on Allen Iverson With His Cigar-Smoking Power Move Ahead of the 2003 NBA All-Star Game: 'Man — You Run Everything'
Everyone has a Michael Jordan story. Even Michael Jordan has Michael Jordan stories. But sometimes MJ leaves such an indelible impression that his fellow NBA superstars — Allen Iverson, for one — are as awestruck as any fan would be.
Iverson got a glimpse of Jordan's influence firsthand. Prior to Mike's final all-star game, AI caught His Airness relaxing in the coaches' office in full uniform, his feet up on the desk, puffing on a cigar like he didn't have a care in the world.
Jordan played in 13 all-star games in his 15 NBA seasons
MJ was actually named an all-star 14 times but played in 13 games. Still, he's tied for fifth overall in all-star contests played, third in points, and third in field goal attempts. He never took a mid-season exhibition game off either, as evidenced by his 37 steals (second all-time) and 52 free-throw attempts (10th all-time). He was named the All-Star Game MVP on three separate occasions.
Jordan had a legendary dunk contest duel with Dominique Wilkins at the 1988 All-Star Weekend in Chicago. Their back-and-forth was an epic display not only of athletic ability but of competitiveness. (Jordan won).
The 6-foot-6 guard from North Carolina's final all-star game came in 2003 in Atlanta. As it was his last hurrah and the weekend was a celebration of all things Michael Jordan, The GOAT took a few liberties.
Allen Iverson caught Jordan "relaxing" in the coaches' office before the game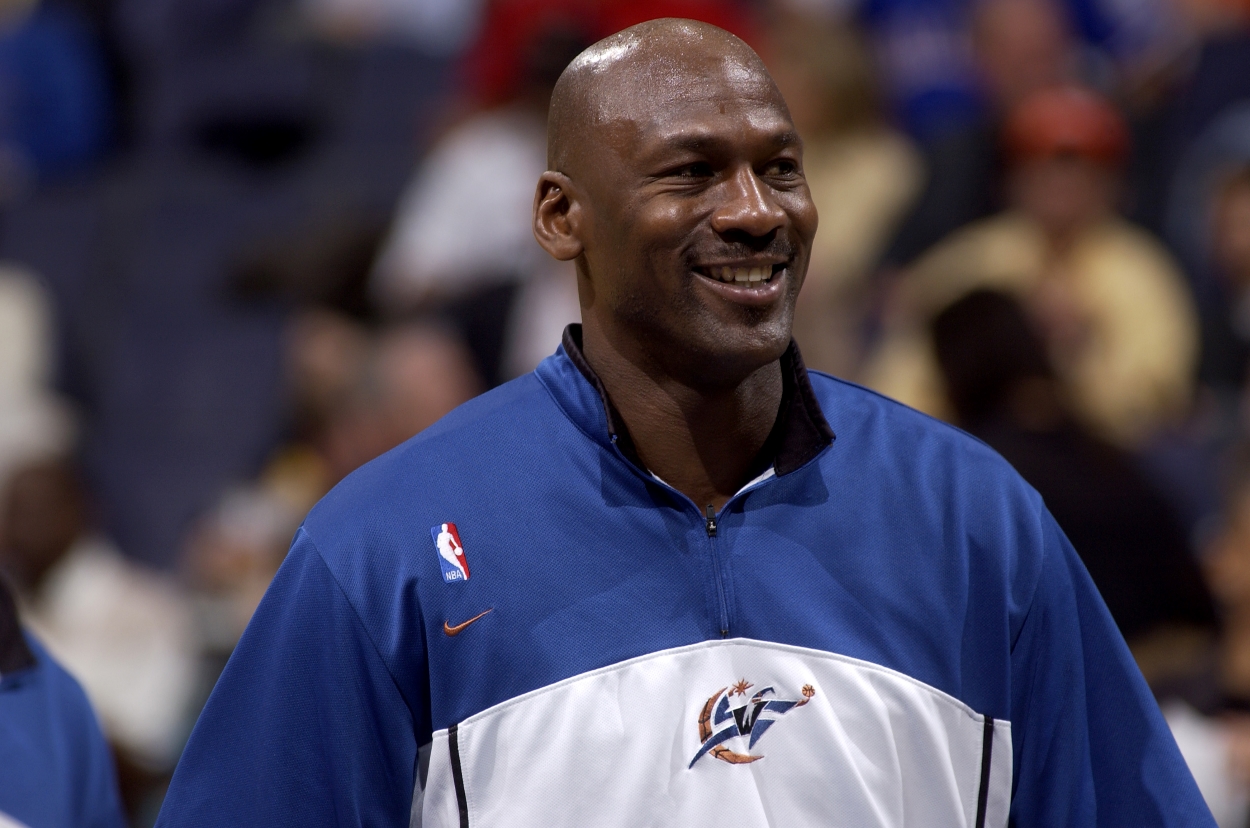 Like everyone that weekend, Iverson wanted to catch Jordan before the festivities officially got underway. The Answer wished to pay tribute, as he detailed in a piece on The Player's Tribune.
As Iverson tells it, he wore an MJ throwback jersey and a Bulls fitted hat into the arena that night.
But he couldn't find Jordan to show him.
AI tried the locker room — nope. Another section of the locker room — negative. A third section — no dice. So he finally went to the coaches' office to ask them where Jordan was.
"But there's no coaches in there," Iverson wrote. "It's just Mike."
It's Mike, and he's got his uniform on……. and he's in one of those reclining desk chairs, leaning back in that thing like he doesn't have a CARE in the WORLD. In the world. Got his feet kicked up like he's on some beach! And then to top it all off?? He's smoking one of those big-ass Mike cigars.

And he just looks at me — looks over my fit for a second — and he smiles.

Nods.

And then he goes right on back to puffing that cigar.

Allen Iverson on discovering Michael Jordan in the coaches' office before the 2003 NBA All-Star Game
Jordan had 20 points and two steals in an East loss that night. He took a game-high 27 shots.
Iverson's Jordan story is just one of many
Picturing that interaction is hilarious but totally on-brand for MJ. Why wouldn't the greatest of all time hang out in the coaches' office and puff on a cigar like he owns the place? He basically did own the place — the place being the NBA — for a decade and a half.
Iverson went on to sum it up best.
"You're smoking your big-ass cigar in the coaches' office, in your damn uniform, with your feet kicked up like it's nothing, before your very last All-Star Game?? Man — you run everything. You run EV-ER-Y-THING!!"
All statistics courtesy of Basketball-Reference.
RELATED: Larry Bird Had Glowing Praise for Reggie Miller After the Pacers Star Beat Michael Jordan's Bulls on One Foot in the 1998 Eastern Conference Finals: 'He Put Everything on the Line and Stepped Up'