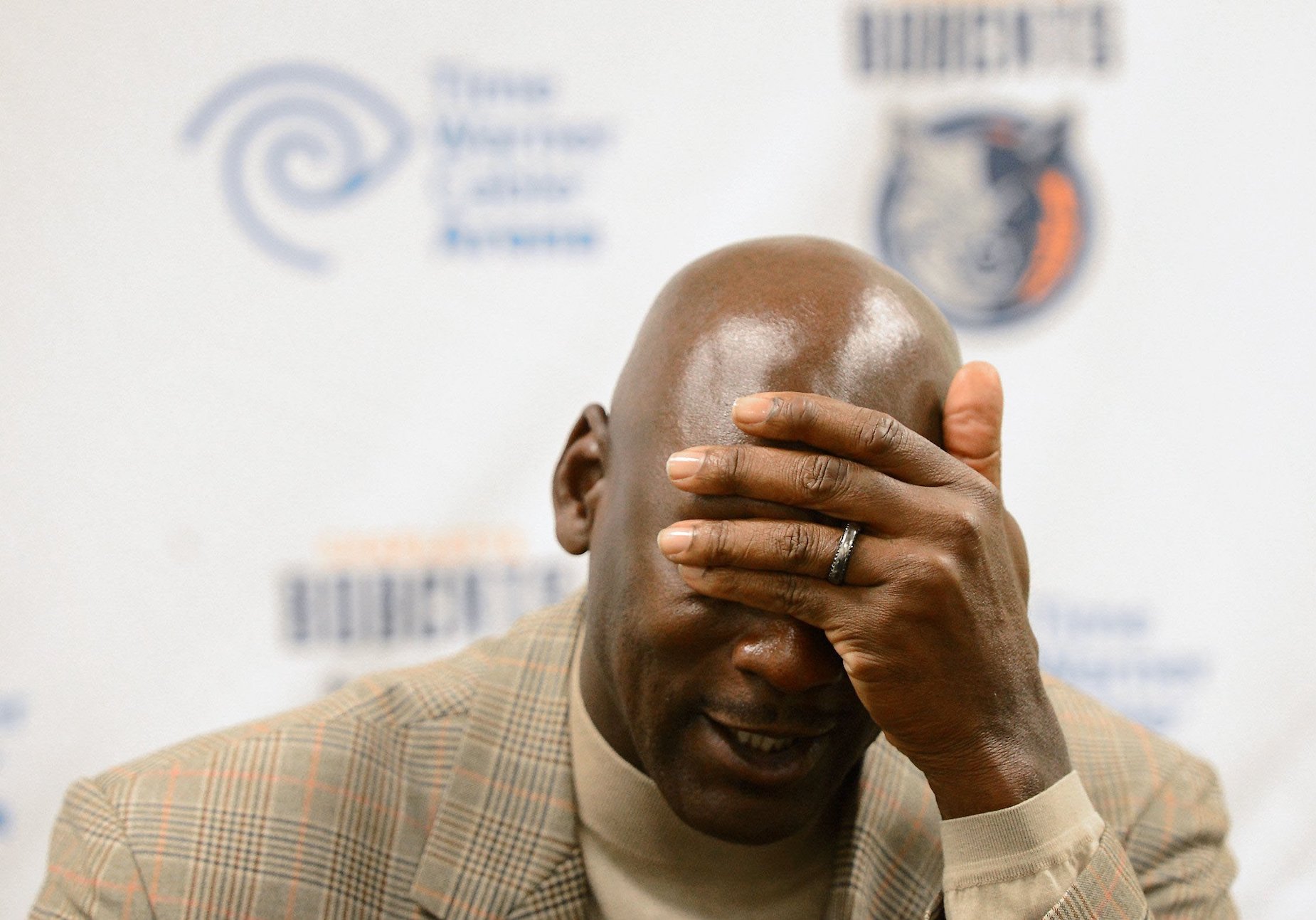 Michael Jordan Is a Legendary Winner but Once Lost a Game of One-on-One to a 'Bespectacled and Slightly Balding' CEO
Michael Jordan may hate to lose, but he once failed to beat a CEO in a game of one-on-one.
Even though it's been almost 20 years since he retired from professional basketball, Michael Jordan still has a reputation as a relentless winner. While His Airness obviously possessed plenty, he also had an incredible will to win; as we all saw during The Last Dance, he could take anything personally and turn it into motivation. Even MJ, however, could suffer the occasional defeat.
One of those rare setbacks took place in 2003, shortly after Michael Jordan retired from professional basketball. On that fateful day, a "bespectacled and slightly balding" CEO stepped onto the court and defeated the living legend in a game of one-on-one.
Michael Jordan hated to lose, no matter the competition
There's nothing too ground-breaking about an athlete hating to lose; Derek Jeter, for example, famously said that he wanted to be the best whether he was playing baseball or watching Jeopardy. Michael Jordan, however, took things to the next level.
Although he suffered an early setback when he failed to make his high school's varsity basketball team on the first attempt, Jordan didn't quit. He dominated the JV competition and, the following fall, joined the top squad; Jordan would, of course, go on to become a McDonald's All-American and earn a scholarship to the University of North Carolina.
From there, the wins kept on rolling in. As a college freshman, His Airness nailed the game-winning shot to clinch an NCAA title. After some early issues with the Detroit Pistons, Jordan went on to win six NBA championships, five MVP awards, and virtually every other award imaginable.
Away from the court, Jordan didn't dial things back. Whether he's trash-talking on the golf course or cheating at Yahtzee, MJ doesn't accept anything less than the best.
Enter John Rodgers, co-CEO of Ariel Investments
Thanks to his on-court accomplishments, Michael Jordan grew into one of the most famous men on the entire planet. John Rodgers, however, is a bit more anonymous.
Rodgers did have a brief basketball career, though. As Jerry Bembry explained in The Undefeated, the guard played 23 NCAA games for Princeton, averaging 3.5 points per outing. "In a 5-on-5 game, Rogers is legally blind," legendary Tigers coach Pete Carril once quipped. "He has no vision, and I can't teach vision. So he can't play here."
In the long run, though, everything worked out well for Rodgers. He went on to found what's no known as Ariel Investments. As Bembry noted, the former Princeton guard was once recognized as one of the world's best investors and "has served on the boards of McDonald's, Nike and The New York Times, and served as the co-chair of the Presidential Inaugural Committee after the election of his longtime friend, President Barack Obama."
Michael Jordan once lost a game of one-on-one to John Rodgers
Even though his basketball career never took off, John Rodgers still kept in touch with the game; he proved to be a capable player on the rec league and three-on-three scenes. In 2003, however, he claimed the biggest scalp of them all: Michael Jordan's.
At the time, MJ had recently wrapped up his final season with the Washington Wizards and headed to Las Vegas for the Michael Jordan Senior Flight School camp. There, he offered the campers a chance to face him in one-on-one. Rodgers was ready to prove his worth.
As Bembry explained in his Undefeated story, Rodgers jumped out to a 2-0 lead; His Airness, however, eventually bounced back and nailed two jumpers, knotting the score at 2-2. At that point, the next basket would decide the game. With the ball back in his hands, the Princeton guard turned investment executive drove into Jordan's body before putting up a shot.
"I can still remember watching the ball go up as I was falling out of bounds," Rogers recalled. "I can hear him say, 'Oh, no' before the ball went in."
And with that, "the bespectacled and slightly balding Rogers" had done the seemingly impossible and defeated Michael Jordan.