Michael Jordan Saw a Major Career Accomplishment Get Surprisingly Diminished on National Television
Michael Jordan achieved many significant accomplishments during his basketball career. He won six NBA championships with the Chicago Bulls and won five NBA MVPs. However, one of his biggest accomplishments came well before he even put a Bulls jersey on.
Back when he still played for the North Carolina Tar Heels in college, Jordan — a freshman in 1982 — knocked down the game-winning shot in the national championship game to defeat Patrick Ewing and the Georgetown Hoyas. While this was one of the first big Jordan moments the world witnessed, two ESPN anchors somewhat diminished the shot.
Michael Jordan won the national championship for North Carolina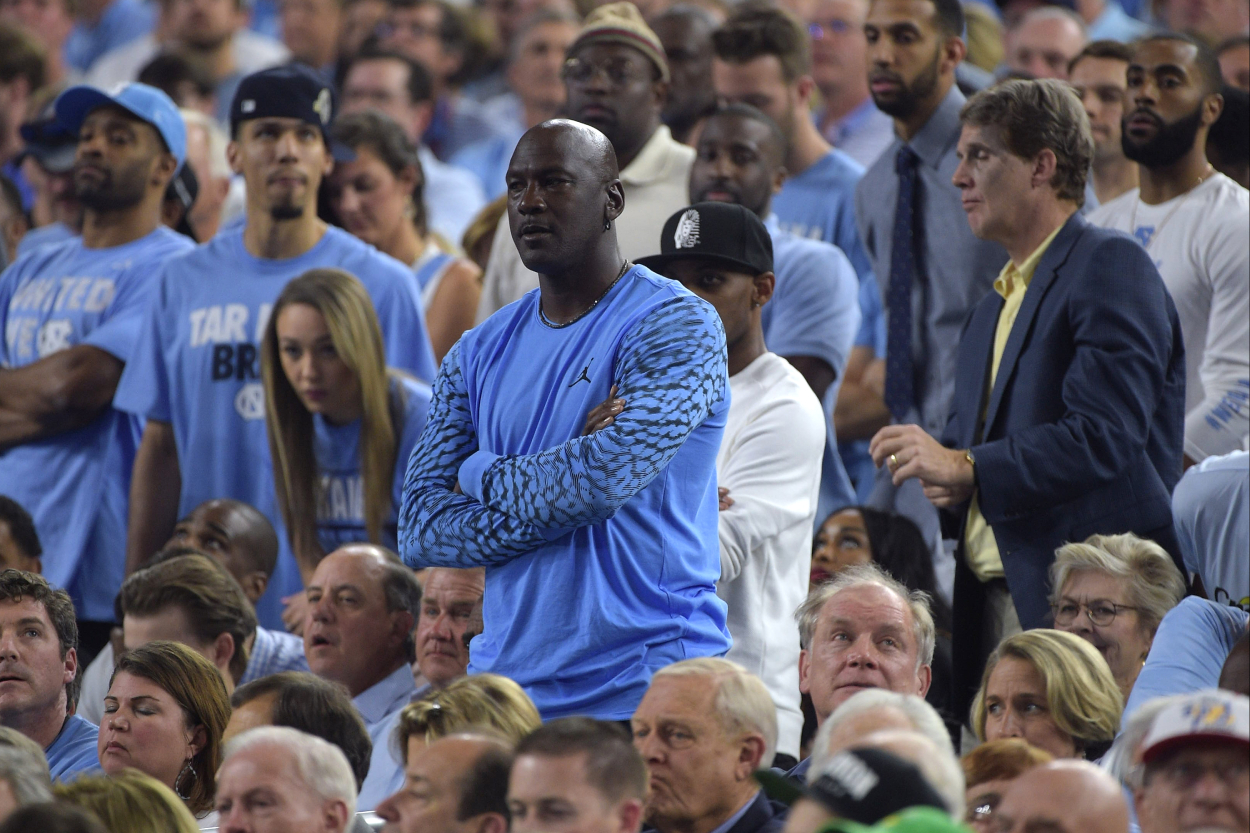 Michael Jordan was a nice young player during his freshman season at North Carolina in 1982. On a team with players like James Worthy and Sam Perkins, Jordan averaged 13.5 points and 4.4 rebounds per game.
He came up big in the 1982 National Championship Game, too.
Patrick Ewing and his Georgetown team had the lead over North Carolina, 62-61, with less than 20 seconds left, but Jordan changed that in the blink of an eye. The future Hall of Famer ultimately hit a jumper with about 15 seconds remaining to give the Tar Heels a 63-62 lead. After that shot, Georgetown turned the ball over, and North Carolina won the national championship — all because of Michael Jordan.
That shot was Jordan's true arrival as a star in the basketball world. However, a couple of ESPN anchors somewhat diminished the significance of his shot in April 2021.
Dick Vitale and Max Kellerman somewhat diminished MJ's shot
On the April 5, 2021 episode of ESPN's First Take, Stephen A. Smith gave his top five "NCAA Tournament finishes." Here is what his list looked like:
Kris Jenkins' game-winning shot over North Carolina in the 2016 National Championship Game for Villanova
Michael Jordan's game-winning shot over Georgetown in the 1982 National Championship Game for North Carolina
Jalen Suggs' game-winning shot over UCLA for Gonzaga in the 2021 Final Four
Christian Laettner's game-winning shot for Duke over Kentucky in 1992 Elite Eight
Mario Chalmers' overtime-forcing shot for Kansas in the 2008 National Championship Game against Memphis
ESPN legend Dick Vitale, though, took issue with this, as he believed Suggs' shot for Gonzaga, which moved his team to 31-0 and clinched a spot in the National Championship Game, should rank over Jordan's.
"I would drop Mr. Jordan to No. 3, and I'd move Suggs up there," Vitale said. "… They're undefeated; they've gotta fight for survival; they've gotta try to advance. Jordan's shot was more of a basically good shot. This was a dramatic shot. Thirty-three feet, Stephen A."
Max Kellerman then agreed with Vitale.
"The national title on the line is why Jenkins over UNC is No. 1," Kellerman said. "That's why it's No. 1 over Suggs, but I don't think you can put anything else over Suggs, including Jordan's shot. There's no time left."
It's pretty surprising they decided to knock MJ down a spot, especially with his specific play ultimately becoming the moment he introduced himself to the world. But are they right?
How does Jalen Suggs' shot compare to Michael Jordan's shot with North Carolina?
Smith, Vitale, and Kellerman are right about one thing. Kris Jenkins' shot for Villanova should definitely rank at No. 1. He sunk a three-pointer as time expired in the National Championship Game. But should Jordan's game-winning jumper or Suggs' time-expiring three-pointer rank at No. 2?
Well, they discussed this before the 2021 National Championship Game. Had their debate taken place afterward, they may have had different opinions. Gonzaga's loss to Baylor took away some of the significance of Suggs' shot. While Michael Jordan's shot for North Carolina did not come as time was expiring, his was for the national title. Suggs' shot was just to get his team to the championship game, and Gonzaga ultimately lost.
So, had Jalen Suggs and Gonzaga actually won the championship, his shot may have had a strong case for No. 2 on the list. The fact that Jordan won the title with his game-winner, though, should put his play above Suggs' at No. 2.
Either way, both plays were incredible. Michael Jordan and Jalen Suggs gave us memories we will never forget.
Stats courtesy of Sports Reference