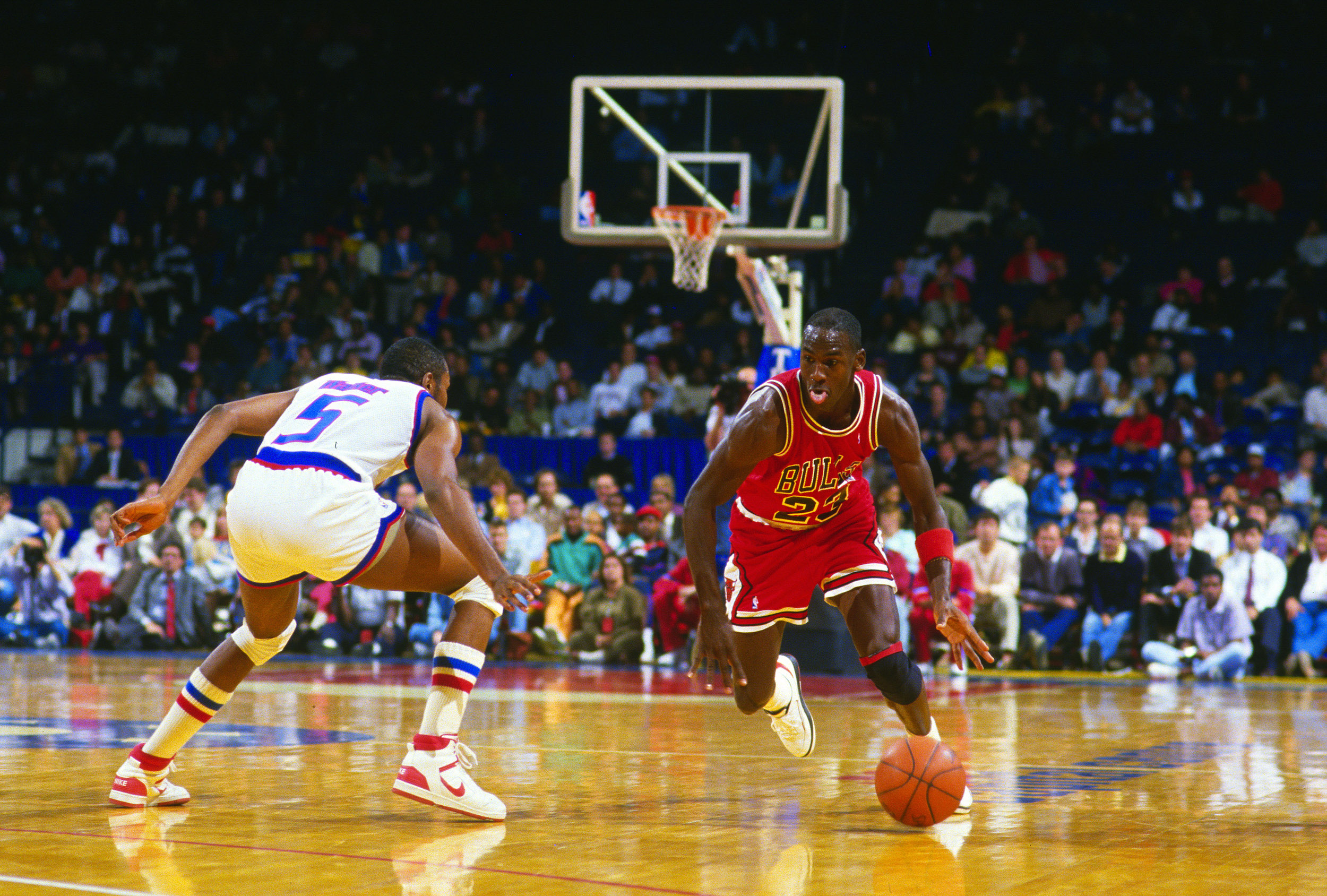 Michael Jordan May Have Used His Singing Voice to Psych-Out His Opponents
While Michael Jordan was no stranger to trash talk, he may have used his singing voice to mess with his opponents.
In the world of professional sports, few athletes can stack up against Michael Jordan. On a purely numerical level, it's tough to argue with His Airness' statistical output and winning resume. Beyond that on-court dominance, the Chicago Bulls legend also made a name for himself as a fiery competitor, willing to do whatever it took to succeed.
While Jordan was no stranger to trash talk, he may have used some less conventional methods to mess with his opponents. If you believe one former player, His Airness relied on signing to get inside Jerry Stackhouse's head.
Michael Jordan was a fierce competitor and a serial winner
As any basketball fan can tell you, Michael Jordan is considered a living legend for a reason. During his time on the hardwood, MJ proved to be a fierce competitor and a relentless winner.
Jordan honed his competitive edge as a child, doing battle with his older brother, Larry. That will to win was put to the test in high school when MJ failed to make the varsity basketball team at the first attempt; after spending a season with the JV squad, Jordan developed into a star.
After high school, His Airness headed to the University of North Carolina, where he promptly won an NCAA title with Dean Smith's Tar Heels. He spent three seasons on campus before entering the 1984 NBA draft. The Chicago Bulls selected Jordan with the third overall pick, setting the stage for NBA history.
Once in the association, Jordan blossomed into a legitimate star.  Once he and his Chicago Bulls teammates were able to get past the Detroit Pistons, his winning ways continued; His Airness would claim six titles in two separate three-peats, score over 30,000 points, and dominate the global basketball landscape.
Trash-talking his way to the top
No one can argue with Michael Jordan's talent. His Airness always had an extra weapon in his arsenal, though: some brutal trash talk.
During his time in the NBA, Jordan's verbal warfare knew no limits. He chirped everyone from Utah Jazz fans to Reggie Miller; even the rest of the Chicago Bulls weren't safe from a tongue lashing from time to time.
As discussed during The Last Dance, Jordan punched Steve Kerr during a heated practice. His Airness also targeted Rodney McCray after he joined the Chicago Bulls. According to an unnamed source, Jordan called the veteran forward a loser during a scrimmage; after that exchange, his confidence was apparently shot.
Jordan was even willing to trash-talk Bill Clinton during their time on the golf course. If there was a chance to seize a mental advantage during a competition, MJ was going to seize it with both hands.
Michael Jordan may have sung to mess with his opponents, including Jerry Stackhouse
Based on what we know of Michael Jordan, it's easy to imagine him unleashing a verbal assault on his opponents. During a duel with Jerry Stackhouse, however, MJ may have used a more gentle approach.
According to Roshown McLeod, Jordan sang some Rita Brown to get inside Stackhouse's head. "I just remember stories of Jordan singing to guys when he was playing," the small forward explained on the "Scoop and Brown" podcast, as documented by Fox Sports. "His number one song was 'Giving You The Best That I Got.' I remember him singing that to Jerry Stackhouse one day and just putting on a show. It was like he had a concert going on in his own head."
Stackhouse, however, denied that Jordan ever serenaded him. "They're not secrets, they're lies," he told TMZ Sports. "I called Roshown McLeod, and I checked him on it. He apologized. He said he just got caught up in the moment."
With those conflicting stories, it's impossible to know if Michael Jordan ever sang to his opponents. Given His Airness' will to win, however, it's not outside of the realm of possibility.