Michael Jordan Met an NBA Legend When They Were Both Still in High School and Immediately Started Talking Trash: 'He Has Been Talking Trash From That Day'
Many NBA players didn't receive the credit they deserved in their careers thanks to Michael Jordan's greatness overshadowing theirs. One former star who potentially knows that pain more than anyone is New York Knicks legend Patrick Ewing.
Ewing and Jordan rose through the ranks together, as they both entered college in the same year, and Ewing entered the NBA just one season after MJ. So, since Jordan had so much success, it often kept Ewing from getting the recognition he would have received had Mike and the Chicago Bulls not been so dominant.
It appears Jordan potentially knows that, too. In 2019, Ewing said he first met his fellow Hall of Famer back when they were still in high school, and he said His Airness has been talking trash ever since.
Michael Jordan and Patrick Ewing faced off in the national championship game as freshmen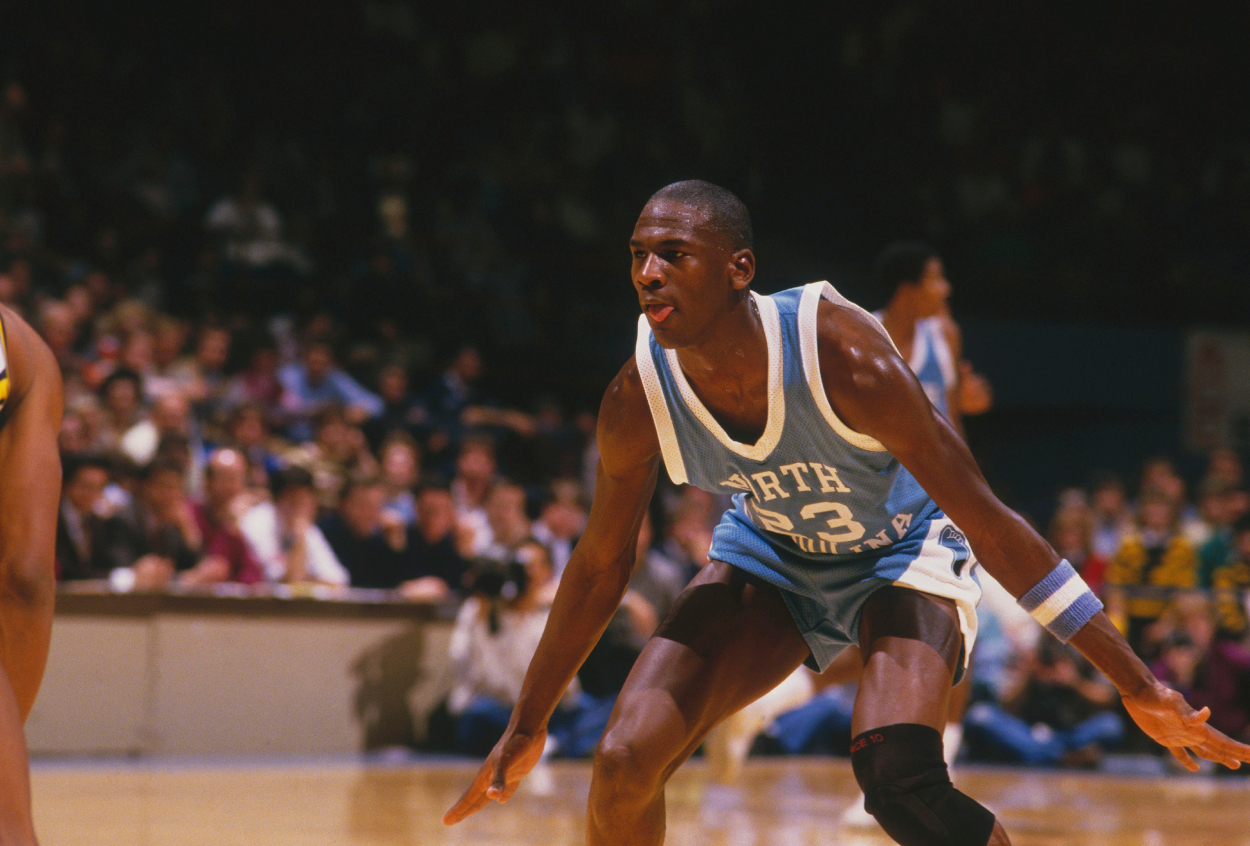 Both Jordan and Ewing entered college in 1981, MJ at the University of North Carolina and Ewing at Georgetown.
Jordan had a nice freshman season on a stacked Tar Heels team. He averaged 13.5 points and 4.4 rebounds, while Ewing recorded 12.7 points and 7.5 rebounds per game for the Hoyas.
Their teams then actually met in the national championship game that season, and Ewing had a great performance, dropping 23 points and pulling down 11 rebounds. But Jordan's squad, which also had James Worthy and Sam Perkins, earned the 63-62 win, and MJ hit the game-winning shot.
The Tar Heels legend stayed at North Carolina for the next two seasons and became a superstar. He was two-time consensus All-American and the 1983-84 AP Player of the Year. Ewing, who now coaches at Georgetown, stayed in school through his senior season and became a three-time consensus All-American, the 1984-85 AP Player of the Year, and he won a national championship as a junior in 1983-84.
Before both of their college careers, though, North Carolina recruited Ewing, which led to the two stars crossing paths for the first time.
Patrick Ewing recalled one of his first interactions with Michael Jordan
Prior to his legendary Georgetown career, Patrick Ewing considered North Carolina as an option for college.
Yes, he and MJ could have been teammates.
Obviously, the Tar Heels couldn't land the star big man, but Jordan — who had already committed to the school — certainly left an impression on him.
"That was one of the first times I got to meet him, and he has been talking trash from that day," Ewing said on a 2019 episode of The Dan Patrick Show. "… Every chance he gets, he rubs salt on the wound that I never beat him. Didn't beat him in college, didn't beat him in the pros. I have to suck up and (say), 'Yes, you're right.'"
That sounds brutal. But apparently, Ewing and Jordan also played a pickup game during that visit.
"He was like, 'You can never dunk on me,'" Ewing recalled. "I'm in street shoes, and I just rose up, and I said, 'Come on, you too small.'"
Footage of that battle would be incredible to see. But we got to watch plenty of MJ-Ewing matchups in the NBA.
Michael Jordan and Patrick Ewing continued their rivalry in the NBA
Like they did in college, Michael Jordan and Patrick Ewing also had legendary NBA careers that put them both in the Naismith Memorial Basketball Hall of Fame. His Airness became a 14-time All-Star, 10-time scoring champ, five-time NBA MVP, six-time champion, and six-time NBA Finals MVP. He is also fifth on the all-time scoring list with 32,292 career points and No. 1 in career points per game (30.1).
Ewing earned 11 All-Star and seven All-NBA selections with the New York Knicks, and he finished in the top 10 in league history in career blocks with 2,894.
He, however, could never beat Jordan.
Despite the Knicks having some great teams, they lost to Jordan's Bulls five times in the postseason during Ewing's career, including the 1993 Eastern Conference Finals. New York only beat Chicago in the playoffs in 1994 when MJ was retired and playing baseball.
Jordan may have started talking trash back when he and Ewing met as high schoolers, but he backed it up through college and then in the NBA. His greatness always gave him the upper hand, and Ewing could never get past him.
Stats courtesy of Sports Reference and Basketball Reference
RELATED: Michael Jordan's Competitiveness Seeps Into All but 1 Area of His Life, According to Actor Will Smith