Michael Jordan's Hornets Might Roster 2 Ball Brothers After Lavar Ball Said He Could Beat MJ in 1-on-1
Michael Jordan and the Charlotte Hornets could add a Ball brother in consecutive years. After drafting LaMelo with the No. 3 overall pick in 2020, Charlotte is now expressing interest in signing LiAngelo. The Ball's are sticking with Jordan and the Hornets despite their father, LaVar, infamously claiming he could beat MJ in a game of 1-on-1.
The Hornets "love" LiAngelo Ball's work in Summer League
LiAngelo Ball is trying to become the third Ball brother to find a spot in the NBA. He's had a far less direct route to the Association than his more famous brothers.
Ball, like Lonzo and LaMelo, was a top prep player at Chino Hills High School. He followed in Lonzo's footsteps by attending UCLA but withdrew after facing an indefinite suspension for a shoplifting incident in November 2017.
LiAngelo (and LaMelo) would play in a professional league in Lithuania as the middle Ball brother prepared for the NBA draft. It made little difference, however. LiAngelo hadn't been building much buzz before the shoplifting incident, which appeared to dash any interest there might have been. He went undrafted in 2018.
Still, Ball has not given up on his NBA dream. The Charlotte Hornets added Ball to their Summer League roster and have been impressed by what they've seen thus far.
Jordan Schultz of ESPN reported the Hornets "love" LiAngelo Ball, with one assistant telling Schultz that Ball worked out every day for two months for a shot in the Summer League.
Ball isn't exactly lighting it up in Vegas, but he's shooting the ball quite well. He is averaging 10.5 points on just 16.3 minutes per game through the first four contests, shooting 41.7% from beyond the arc.
Time will tell whether Ball gets an NBA or G League spot, though the Hornets seem interested in adding him to the mix. Two Ball brothers in Charlotte would make for a fascinating dynamic, especially after LaVar Ball's hilarious crusade against Michael Jordan a few years back.
LaVar Ball once said he could beat MJ in 1-on-1
LaVar Ball has always been a fierce advocate for his sons. He is also someone who has never been afraid to make outlandish assertions.
Ball joined the debate desk at ESPN's First Take in 2017 and humorously claimed he could beat Michael Jordan in a game of 1-on-1. Ball said he "never lost" and suggested Jordan is "too small."
Michael Jordan is never one to let a comment like this slide, nor will he back down from the trash talk. He responded accordingly, in typical MJ fashion.
"You've got to understand the source," Jordan told attendees at his Flight School, via USA TODAY. "He played, I think, college, maybe? He averaged 2.2 points per game. Really? It doesn't dignify an answer, but I'm going to give it to you because you asked the question. I don't think he could beat me if I was one-legged."
Jordan actually applauded LaVar for the pride he took in his sons, but he also suggested the outspoken father let his kids and their play do the talking.
Fast forward nearly four years. LaMelo Ball is fresh off a rookie season in which he captured NBA Rookie of the Year honors. LiAngelo is impressing members of Jordan's front office in Charlotte. Heck, there's even a connection with the eldest brother, as Lonzo prepares for a new chapter in MJ's old stomping grounds in Chicago.
The Jordan-Ball relationship suddenly runs deep.
Jordan's Hornets are on the rise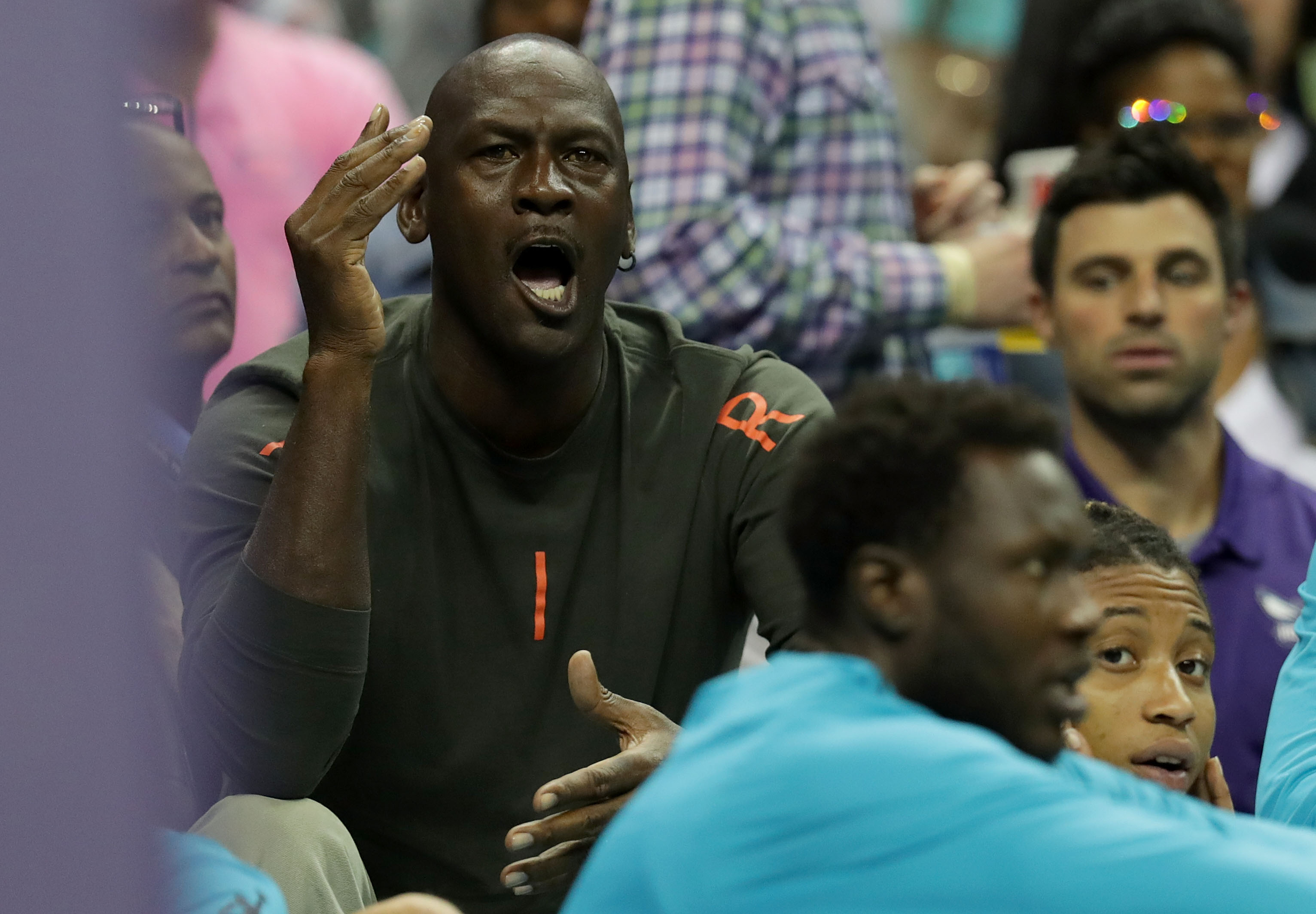 Michael Jordan's Charlotte Hornets previously maintained a pretty unsavory reputation for poor drafting and personnel decisions. However, that narrative is beginning to change.
Charlotte's recent draft picks are making some noise. That includes the likes of PJ Washington and Ball. The Hornets got some positive reviews after the 2021 NBA Draft, where they selected Connecticut guard James Bouknight and traded up for Texas big man Kai Jones.
Despite getting initial backlash for the Terry Rozier and Gordon Hayward contracts, both moves paid dividends this past season and look like fairly suitable deals.
The Hornets suddenly have a strong foundation, with Jordan building something more sustainable for the first time as team governor. Perhaps LiAngelo Ball will become part of that foundation and get his first chance in the NBA.
Stats courtesy of NBA.com.