Michael Jordan Would Not Have Used the NBA Draft's Modern Rules to His Advantage 'No Matter How Good I Was'
The NBA Draft has changed a great deal since Michael Jordan stuck his tongue out and dominated at the University of North Carolina.
In Jordan's day, the idea of a one-and-done player, or prep-to-pro player, was scarce. Even the country's most elite and generational prospects stayed in college for three or four years. Call him nostalgic or a traditionalist, but Jordan preferred things that way.
Michael Jordan says he would not have left North Carolina early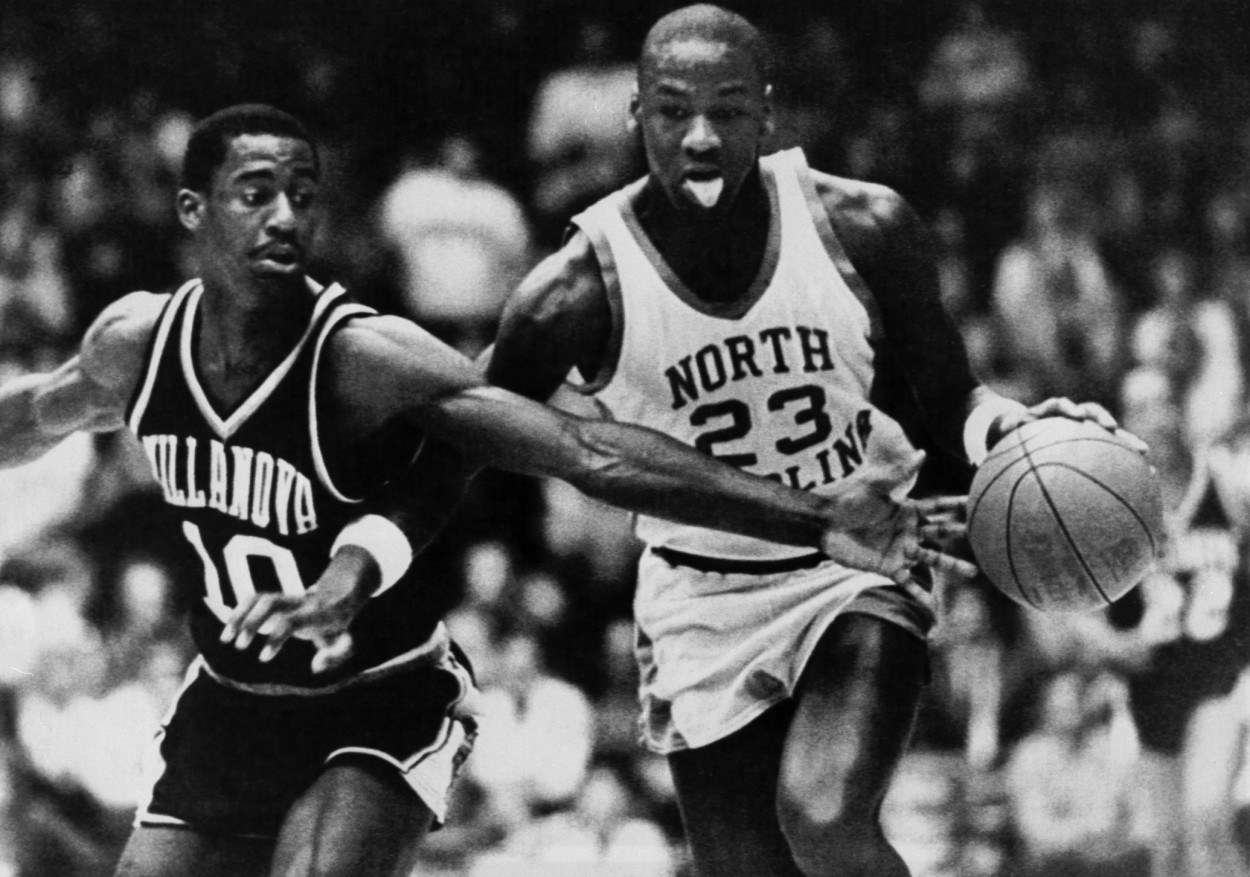 If the 1983 NBA Draft worked as the current ones do, one would think Jordan — then coming off an excellent sophomore season at North Carolina — would have signed with an agent in hopes of being selected in the lottery.
Jordan doesn't see that being the case, but not for reasons you might expect. In a 2005 interview with Cigar Aficionado, the six-time champion admitted that even if the modern rules and trends existed when he was in college, he would not have taken advantage and left school as a teenager.
"If I had been a freshman or even a sophomore, no matter how good I was, I don't know if I would have been ready for what I had to deal with in the professional ranks. But [you have] more and more young guys doing it. I am a firm believer that something is affected by leaving college early or not going to college at all."

Michael Jordan
Although the trio of Moses Malone, Darryl Dawkins, and Bill Willoughby all entered the NBA or ABA straight out of high school in the 1970s, most players — including Jordan — continued following the traditional path for the next two decades. The modern trends, especially the one-and-done, didn't become popular until the 1990s.
History certainly worked out for Jordan and the Chicago Bulls, who selected him third overall in the 1984 NBA Draft. Still, the idea of him actually leaving early if given the opportunity is a fascinating one.
What would have happened if Jordan left school in 1983?
Just for a second, let's pretend that more high school and college players took advantage of early entry in the 1980s. With respect to Jordan, let's also consider what would have happened if he had the opportunity to leave school early.
Although Jordan won a national championship as a true freshman, we're going to consider him leaving school after a much improved second season. ​​As a sophomore during the 1982-83 campaign, Jordan averaged 20 points per game on 53.5% shooting from the field. He added 5.5 rebounds, 1.6 assists, and 2.2 steals in 36 outings.
So what would have happened in the 1983 NBA Draft? Ralph Sampson, the standout center from the University of Virginia, still would have gone first overall. But would the Houston Rockets have selected Jordan third overall instead of Louisville forward Rodney McCray? Would the then-San Diego Clippers stick with Arizona State shooting guard Byron Scott at fourth overall, or would they bring Jordan to California?
Unfortunately, the odds might be stacked against Jordan going that early. Clyde Drexler, another top shooting guard prospect, went 14th overall. That range makes sense for Jordan, so for the sake of this experiment, we'll have the Denver Nuggets use the 15th overall pick on Jordan. Now that is a scenario worth imagining.
For the record, only one player selected in the 1983 NBA Draft's first two rounds, Alabama point guard Ennis Whiteley, was not an upperclassman. Whatley, a sophomore, went 13th overall and played for seven teams across 10 NBA seasons.
Many of the top basketball prospects haven't listened to Jordan's wisdom
Jordan not only made it clear that he felt he would not have been ready to leave school early, but he also disagreed with the concept as a whole.
Today's players might consider Jordan the living equivalent of the old man who yells at clouds, at least in that regard. Some of the sport's top active players, ranging from Brooklyn Nets star forward Kevin Durant to Los Angeles Lakers big man Anthony Davis, only spent a year in college.
The likes of Kobe Bryant and LeBron James didn't even attend college. Kevin Garnett changed the stakes when he entered the 1995 NBA Draft out of high school, went fifth overall, and instantly proved that he belonged.
Nothing has changed recently. Five of the first six selections in the 2020 NBA Draft were freshmen who went one-and-done; the exception, LaMelo Ball, played professional basketball in Australia before coming to the NBA.
Jordan, who currently owns the Charlotte Hornets, shouldn't expect things to change anytime soon. Oklahoma State's Cade Cunningham, the consensus top prospect in the 2021 NBA Draft, only spent a year in college.
Like Sportscasting on Facebook. Follow us on Twitter @sportscasting19.