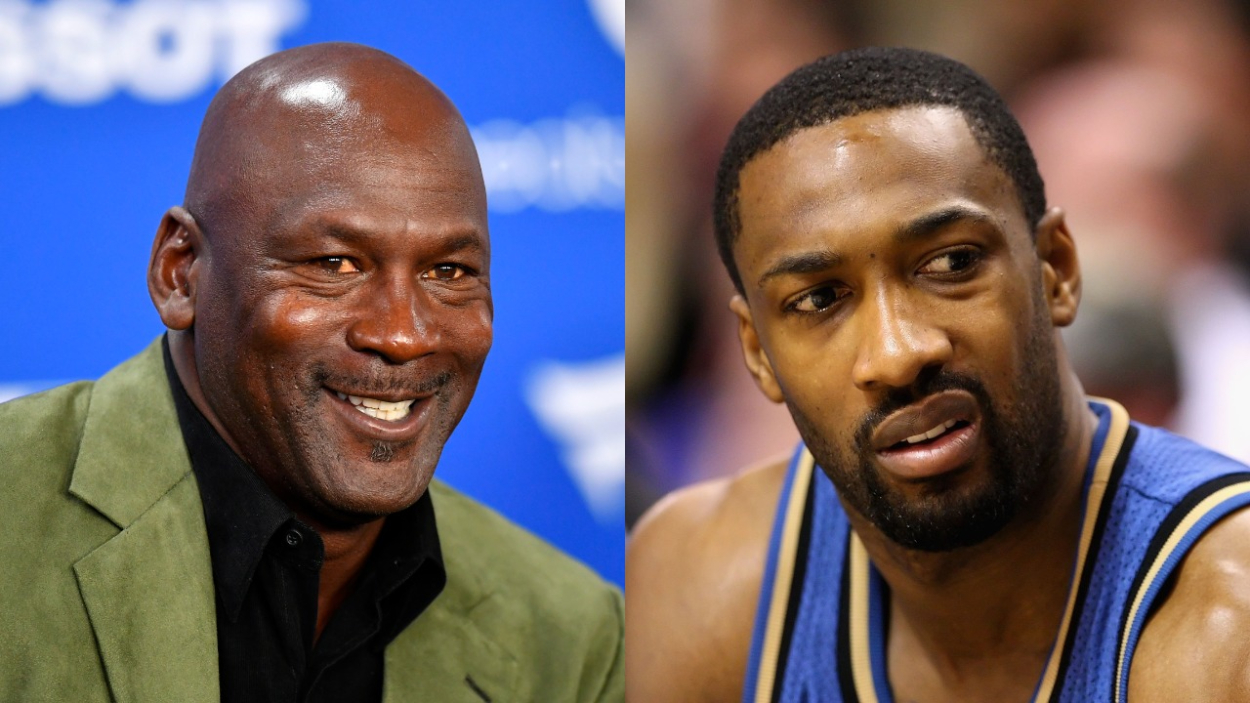 Michael Jordan Offended Former NBA Star Gilbert Arenas by Comparing Him to Bulls Bench Player Randy Brown: 'I'm an Assassin. You Don't Compare Me to Randy Brown'
Gilbert Arenas looked up to Michael Jordan, but MJ once offended the former Wizards star by comparing him to former Bulls bench player Randy Brown.
Everyone wants to impress their hero.
Whenever someone gets a chance to meet the person they look up to, they likely don't want to squander the opportunity by looking foolish. And while that didn't necessarily happen to former Washington Wizards star Gilbert Arenas, one of his first encounters with Michael Jordan didn't go as planned.
That was because MJ offended the point guard by comparing him to former Chicago Bulls bench player Randy Brown.
Gilbert Arenas crossed paths with MJ in the NBA but not on the Wizards
Arenas entered the league out of Arizona in 2001-02 when the Golden State Warriors selected him in the second round of that year's draft. That season also just so happened to be Michael Jordan's first year back in the NBA with the Wizards.
MJ only played on the Wizards for two seasons, which was also the same duration that Arenas played in Golden State.
However, the two only went head-to-head twice, with both meetings coming in the 2002-03 season.
In January 2003, Arenas scored 22 points in a Warriors win while Jordan only had 14 and five assists. They then played again in March, and Arenas had 41 points, six rebounds, and five assists in another win while Jordan had 24 points, five rebounds, four assists, and two steals.
Of course, this was at the very end of Jordan's career, so the matchup between the two stars wasn't as hyped-up as it could have been during the six-time champ's prime. But Arenas — who went to the Wizards via free agency in 2003-04 — also potentially had some extra motivation.
That was because of what happened during one of their first encounters years earlier.
Michael Jordan offended Gilbert Arenas by comparing him to Randy Brown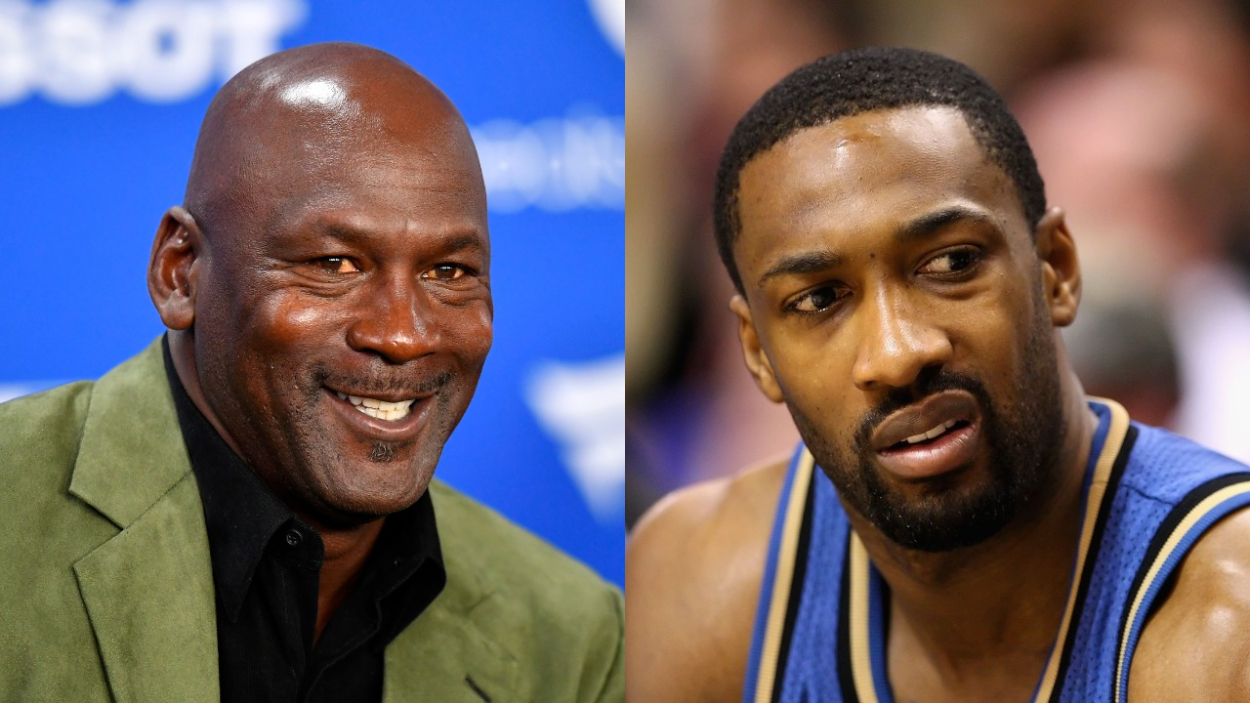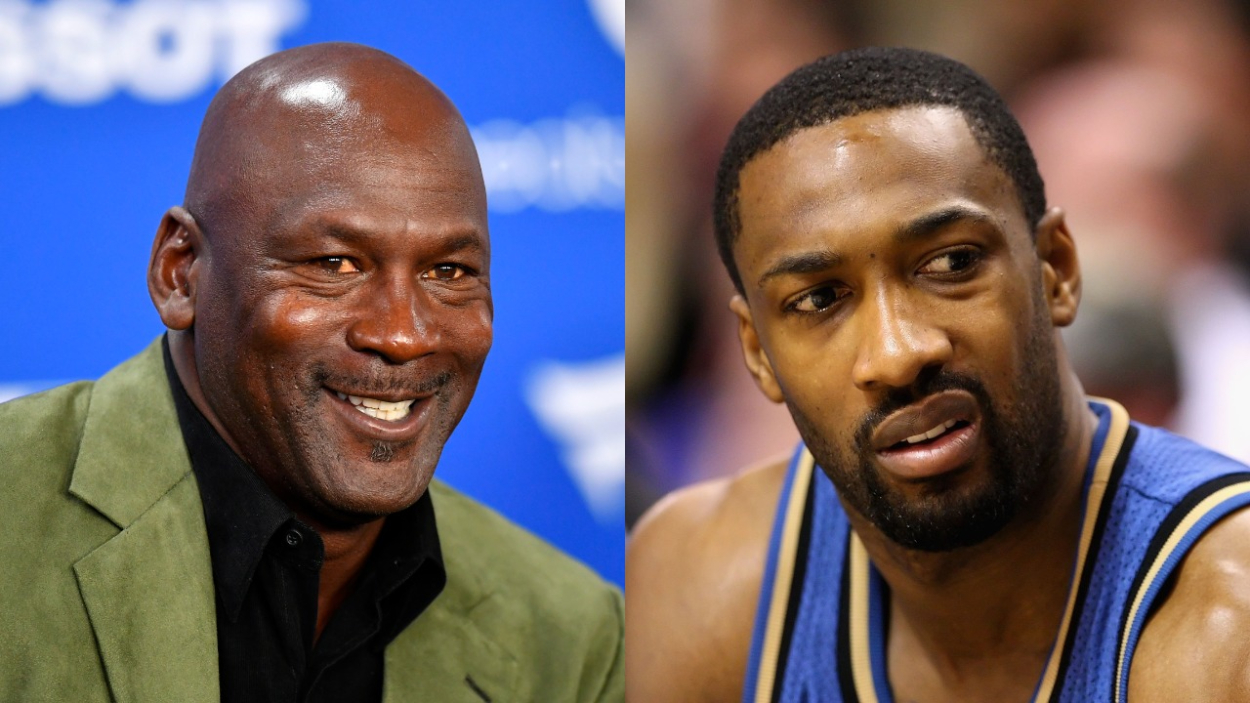 Arenas recently spoke to DJ Vlad of VladTV, and he discussed his relationship with Jordan.
The former All-Star said he started doing MJ's basketball camps after his freshman year in college, and while he understood the Hall of Famer's strict mindset in regards to being great, he still wanted to have his first interactions with him go a particular way.
"I understood his mentality; also, I'm a young kid. I understand a young kid's mentality, 'You're my hero. This is supposed to go a certain way,'" Arenas recalled.
However, one of their meetings at camp didn't go that "certain way."
Arenas said he scored 40 points during a game there and then received what seemed like a compliment from Jordan.
"He was like, 'Man, you remind me of one of the players on my team,'" Arenas said. "I'm like, 'Oh, s***, I remind him of like [Scottie] Pippen or himself?'"
That wasn't the case, though.
"He was like, 'Yeah, you remind me of … you know Randy Brown?' I was [like], 'Randy Brown? That motherf***** don't even play,'" Arenas said. "… I'm a f****** scorer; I'm an assassin. You don't compare me to Randy Brown. I'm thinking the whole night, 'I'm never passing to MJ again in these games.'"
Getting compared to Brown rather than Jordan or Pippen was probably a blow to Gilbert's ego. But while Arenas said he was "offended," he also revealed that Jordan saw how he responded and later formed a connection with him because of it.
Luckily for Arenas, he also proved to be much better than Brown.
Gilbert Arenas became a much more successful NBA player than Randy Brown
In case you're wondering, Randy Brown was a solid role player during his NBA career. He averaged 8.8 points for Chicago in 1998-99 and posted career averages of 4.8 points and 2.2 assists in 17.6 minutes. He even started in six games during the Bulls' "Last Dance" season.
But Arenas had much more individual success.
Overall for his career, Agent Zero averaged 20.7 points and 5.3 assists, and he earned three All-Star selections. He also won the 2002-03 Most Improved Player Award and went on to average as many as 29.3 points in 2005-06.
Injuries kept him from becoming someone like Jordan or Pippen, but Arenas still had an excellent NBA career and impacted his teams way more than Brown ever did.
And maybe, just maybe, MJ's comment gave him the extra motivation he needed to become a star.
Stats courtesy of Basketball Reference