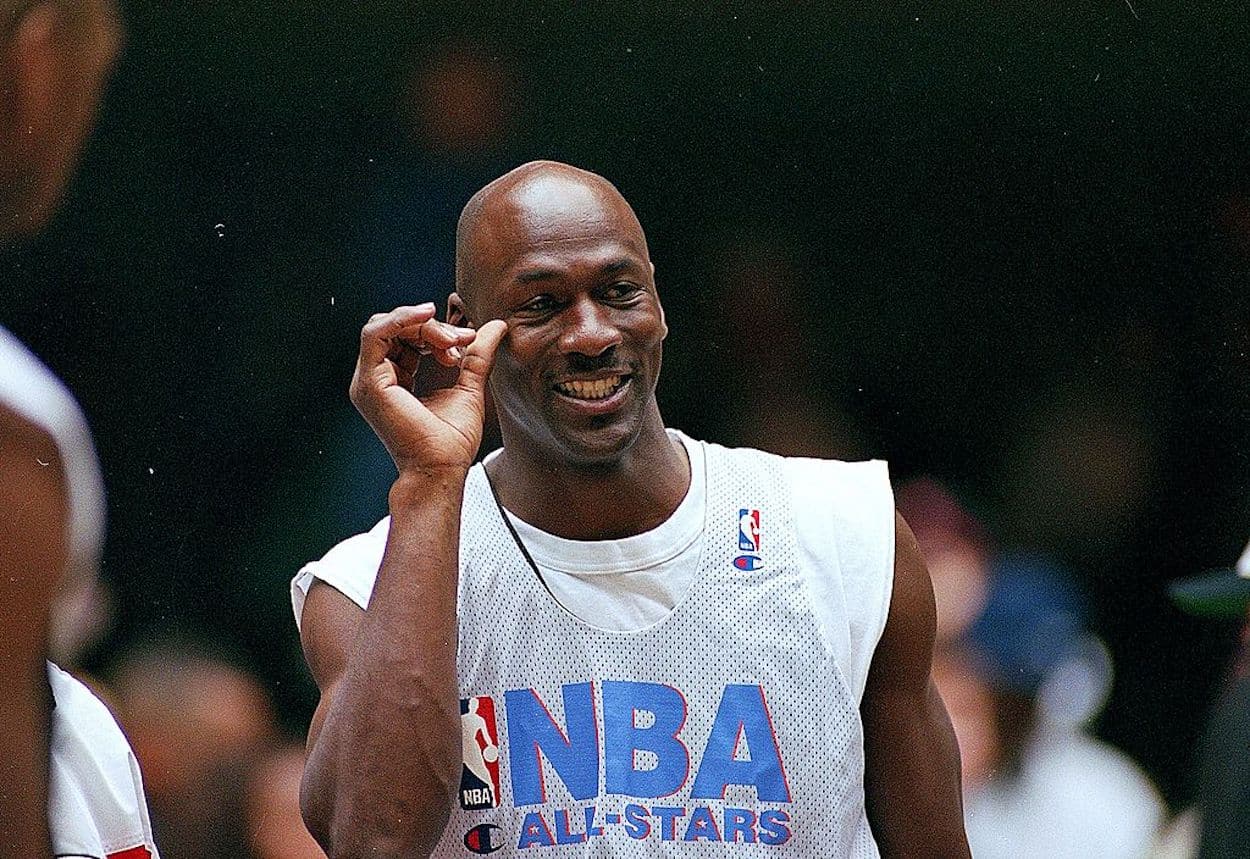 Michael Jordan Once Denied Scott Burrell a Game of 1-on-1 With a Biting Insult
Michael Jordan could take things personally, but he wasn't always up for a challenge. Just ask Scott Burrell about that.
While every NBA player is competitive, Michael Jordan exists in a category of his own. The living legend was ready to take on any challenge at any time in an effort to prove his superiority. Whether that meant betting on baggage carousels or playing cards against a little old lady, MJ was game.
Except on one occasion.
During their time with the Chicago Bulls, Jordan refused to give Scott Burrell a rematch after a close game of one-on-one. To add insult to injury, he also had some biting words for the UConn product.
Let's travel back to the 1997-98 season and revisit that encounter.
Michael Jordan wasn't going to take the chance of losing to a journeyman, even behind closed doors
If you imagine Michael Jordan during his prime, you probably picture him dominating the competition and brushing opponents aside without really breaking a sweat. When it came time to face Scott Burrell, though, MJ apparently encountered a challenge.
In a 2020 story, Jerry Bembry of Andscape compiled 23 lesser-known Jordan stories. One of them involved a fateful encounter with Burrell.
As the tale goes, the two men played a game of one-on-one during Burrell's brief time in the Windy City. Although His Airness eventually pulled it out and won 7-6, the former Charlotte Hornet wasn't deterred. He had gotten close to winning, and he wanted a second chance.
Jordan, however, wasn't interested in a rematch. When Burrell asked for an explanation, MJ had a curt reply ready to go.
"So you can tell everyone, all your friends, family and relatives that you beat Michael Jordan?" Jordan asked. "If I win, what am I going to say to my family: 'I beat Scott Burrell?'"

Jerry Bembry, Andscape
Leave it to Jordan to pass the buck with a bit of trash talk.
Burrell still had a positive experience working with MJ, though
When you hear about Jordan declining a rematch with an insult, it's easy to view that as less-than-ideal behavior. Burrell himself, though, didn't sound too concerned.
"No, he wasn't a bully," Burrell said, according to Bembry. "He coached like a leader and we respected him for what he said. In this day and era, it might be too aggressive. But, no, I mean, guys loved it. I enjoyed it, and I needed it. I played on good teams, but I never played on a championship team. And now I know what a championship team is like."
Beyond that, the journeyman spoke to how the rest of the Bulls viewed His Airness.
"Everyone respected Mike — you could say maybe feared or respected," Burrell continued. "Every time he yelled, it was for a specific reason, and he was right. You might have forgotten a play, or a defensive responsibility. Effort, mental focus, you needed to bring it every day."
That respect, even amid the insults, speaks for itself.