Michael Jordan Once Taught a Popular Magician 3 Important Lessons After a Long Day of Fishing
Michael Jordan's NBA greatness with the Chicago Bulls taught basketball fans many important lessons. Among them were to not take greatness for granted and what it looks like when someone works tirelessly to be the best at something.
However, Jordan has also been able to reach people throughout his retirement. In fact, a popular magician once revealed three lessons he learned from the GOAT.
Michael Jordan taught NBA fans what greatness looks like
RELATED: Zion Williamson Is a $10.2 Million Star but Can't Quite Describe His First Encounter With Michael Jordan: 'It Was Like Meeting Black Jesus'
Michael Jordan's NBA career has been unmatched. He became one of the greatest basketball players to ever play, and no athlete has ultimately had a career quite like his.
In just his third season, Jordan led the NBA in points per game, which ended up being the first of 10 seasons in which he led the league in scoring. He later led the Bulls to a three-peat from 1990-91 through 1992-93 and then, after retiring for over one full season, led them to another three-peat from 1995-96 through 1997-98.
He was the most dominant player of his era and potentially the most dominant ever.
Here is a look at some of his other accomplishments:
14-time NBA All-Star
Six-time NBA champion
Six-time NBA Finals MVP
Five-time NBA MVP
1987-88 Defensive Player of the Year
32,292 career points (fifth in NBA history)
2,514 career steals (third in NBA history)
30.1 career points-per-game average (first in league history)
Throughout his basketball career, and until he hung his sneakers up for good in 2003 (following two other previous retirements), Jordan showed sports fans what true greatness actually looks like.
He still isn't done proving how great he is.
Daniel Fernandez revealed what MJ taught him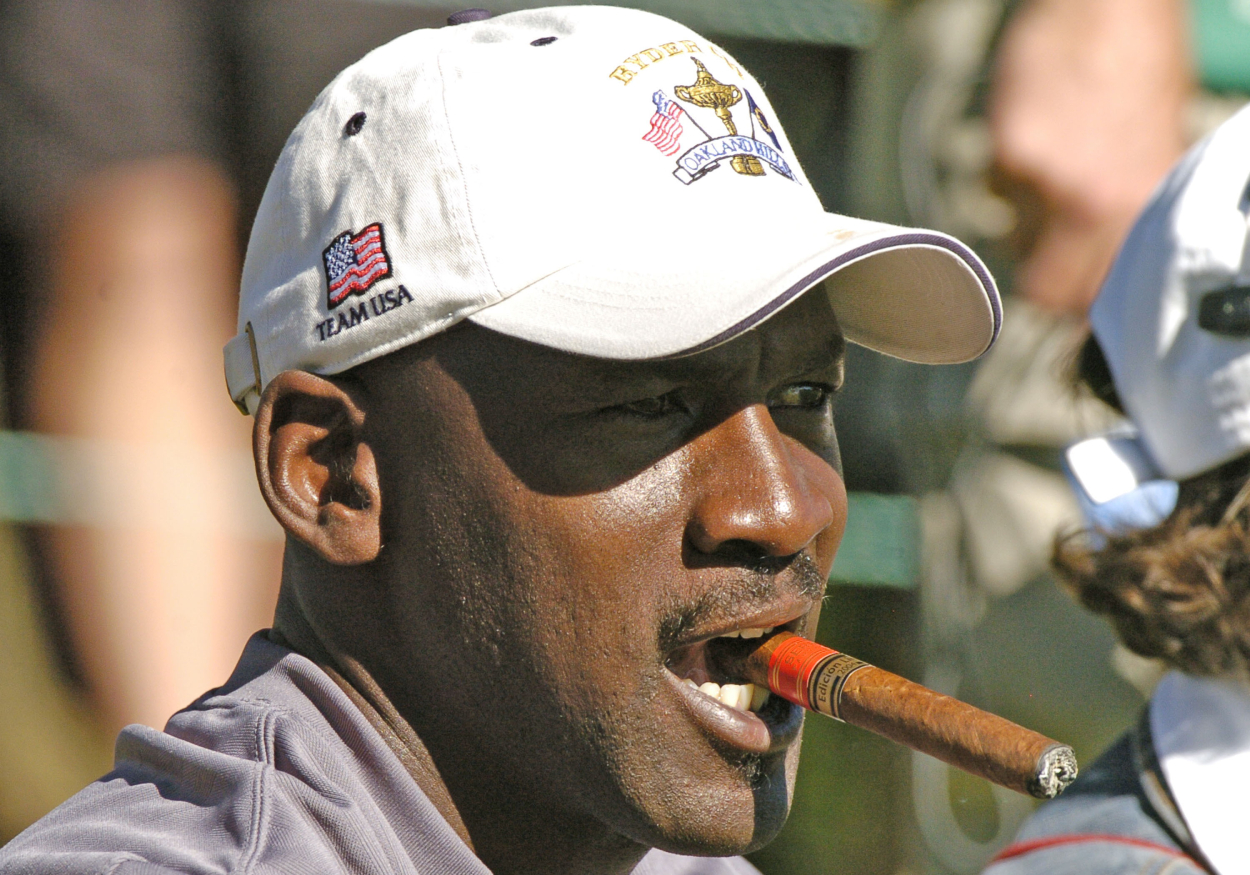 RELATED: Michael Jordan's Net Worth Is so Massive He Got Married in the Same Place as a Former U.S. President
Daniel Fernandez is a popular magician who has even appeared on The Ellen Degeneres Show.
In December 2020, Fernandez posted a video to his YouTube channel in which he revealed that he had taken a trip back home to Cap Cana in the Dominican Republic, and he learned that Jordan docked his yacht near his home.
Fernandez said he then later rode his bike to Jordan's docked yacht so he could meet the GOAT. In his video, he revealed the three lessons MJ unknowingly taught him.
"My first lesson came before I even met him; this guy had been out deep-sea fishing for two days straight, and at the end of the day, while his family and crew are drinking and talking, he decided to isolate himself and continue fishing," Fernandez said. "He is restless in his pursuit to squeeze the most out of the day, whether it's dock fishing after deep-sea fishing or golfing before a championship game."
Despite being incredibly nervous, Fernandez said he then chose to enter the dock behind Jordan's before sitting down and doing some magic. For his first trick, he told Jordan to think of a number between one and 100. It couldn't be 23, the number Jordan made famous.
MJ ultimately chose 24, which was the number Fernandez had previously written down.
"I might be looking too deep, over psychoanalyzing, yet I believe his response was my second lesson," Fernandez said. "He chooses 24. This might be due because of his late friend Kobe, or it might be the fact that he's always looking to be one step above."
What was the third lesson Fernandez learned from Michael Jordan?
RELATED: Michael Jordan Hasn't Played Basketball in Years but Still Gets Nervous About 1 Superstition
Fernandez did a few more tricks, and when doing one, Jordan thought he caught on to how Fernandez pulled it off. He even persistently told the magician that he caught him, according to the video Fernandez posted.
"I guess in a way, me being able to trick him means that he lost, and he wasn't having that," Fernandez said. "And there it was: my third lesson. … He always competes, and he competes to win; to do more."
Fernandez continued: "Use every single day as an opportunity to get better. … Live by constant and never-ending improvement because life is a game, and whether you want to or not, you're competing, so play to win."
Whether Jordan is sinking game-winning shots in the NBA's biggest games or hanging out with magicians in retirement, he always seems to teach people what it looks like to be the best. He may no longer be dominating on the court for the Bulls, but Jordan still exudes greatness, and it's hard for people to not recognize that whenever they are around him.
Stats courtesy of Basketball Reference