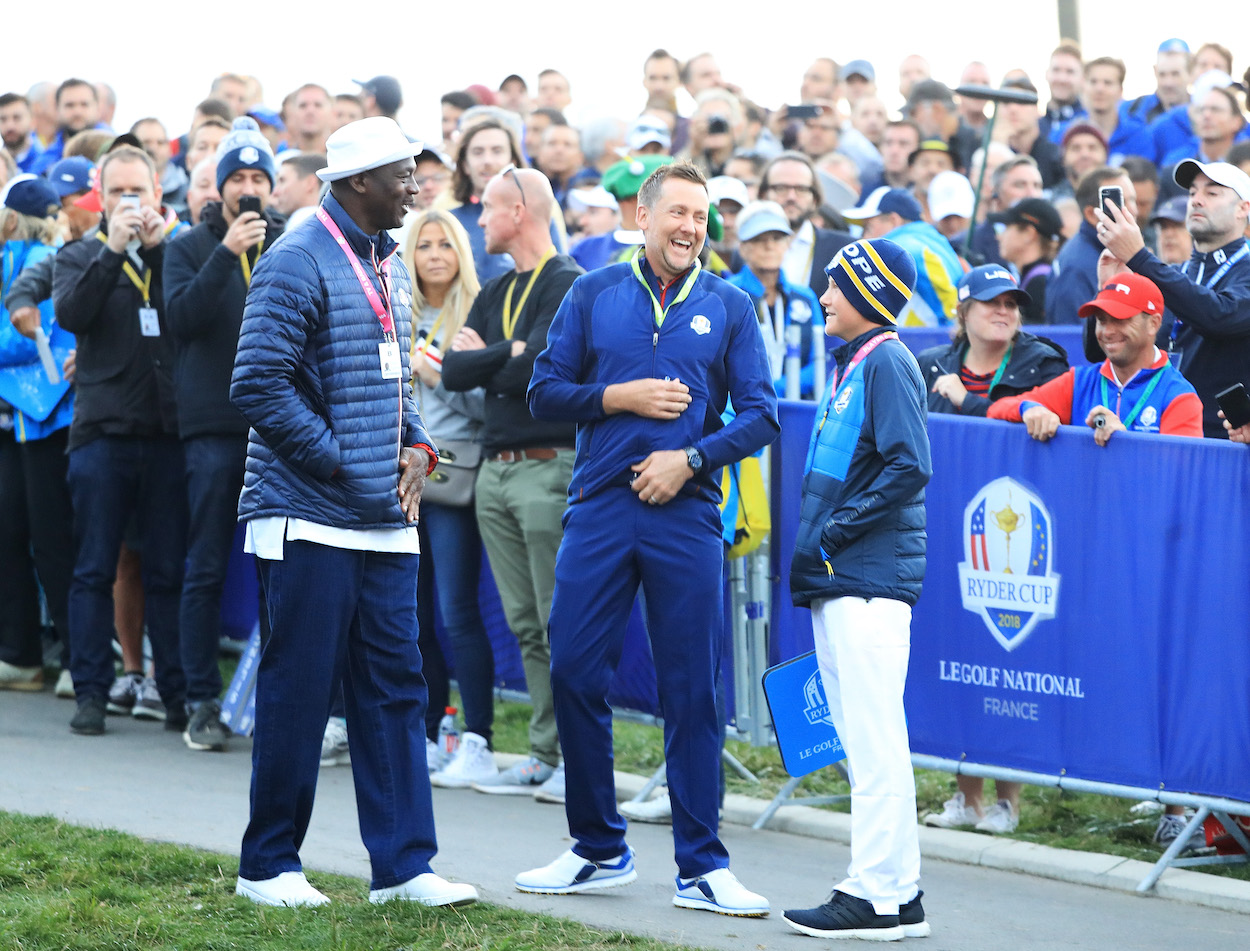 Michael Jordan Is Only Intimidated by 1 Athlete, and It's Not Even an NBA Player: 'I Stay Away From Him When I'm Walking. I Won't Watch Him'
Michael Jordan believes Ian Poulter would be his stiffest competition on the golf course.
Michael Jordan wasn't scared of anyone or anything throughout his legendary NBA career. The Hall of Famer believed he could score on any defender in a variety of ways, and he always wanted to guard the opposing team's best player.
No basketball player ever struck fear in Jordan's eyes on the court, but MJ recently admitted he's intimidated by one professional golfer with a fiery competitiveness.
Michael Jordan and Ian Poulter have a history
Every golf fan who followed the 2012 Ryder Cup remembers Ian Poulter willing the European team to a comeback victory with his heroics on Saturday and Sunday. The event came to be known as the "Miracle at Medinah" as the Europeans came back from a 10-5 deficit to win 14.5-13.5 on U.S. soil.
That comeback was initially sparked by a maniacal Poulter during Saturday afternoon fourballs. With Team Europe trailing 10-5 in the Ryder Cup, Poulter and Rory McIlroy found themselves losing to Jason Dufner and Zach Johnson heading into the final few holes of the match.
Michael Jordan, a passionate golf fan and a Ryder Cup enthusiast, was present at Medinah on Saturday, and he decided to follow Poulter's group to see if he could rattle the Englishman's cage. MJ caught up with Poulter on the 13th tee and acted as his personal shadow for the rest of the round, staring him down every step of the way.
And what did Poulter do? Oh, just birdie the last five holes by himself to win a crucial point for Europe.
"Ian is a tough character," Jordan told Golf Channel in 2014. "When I poked at him a little bit, he kind of responded."
"It was motivating," Poulter said. "Michael Jordan psyching me out on the golf course, and I'm not letting it happen."
Poulter didn't just win that all-important match, though. He went on to defeat Webb Simpson in Sunday singles to finish off the weekend with a 4-0-0 record. Europe incredibly won eight of the 12 singles matches to complete one of the greatest comebacks in Ryder Cup history.
That weekend, Poulter earned the respect of the great Michael Jordan.
Michael Jordan admits Ian Poulter is the only athlete who intimidates him
Jordan, being the avid golf fan he is, attended the 2021 Ryder Cup at Whistling Straits in September, and he sat down with Golden State Warriors star Stephen Curry during the weekend for a 1-on-1 interview.
In the spirit of the competition, Curry asked Jordan who he would be scared to go up against on the European team, and MJ had an easy answer.
I'm not scared of anybody … but Ian Poulter. I used to go and watch him all the time. If I'm in any of his matches or walking down, he finds me after he makes a good putt, and it's like, 'Man, I didn't do anything. I like you. I support you.'

I stay away from him when I'm walking. I won't go watch him.

Michael Jordan
Clearly, that decision stemmed from the memorable incident with Poulter in 2012, and Curry decided to take a playful jab at Jordan for sparking Team Europe's epic comeback.
"I didn't spark it!" Jordan replied. "I have all the thoughts about it, but I didn't spark it."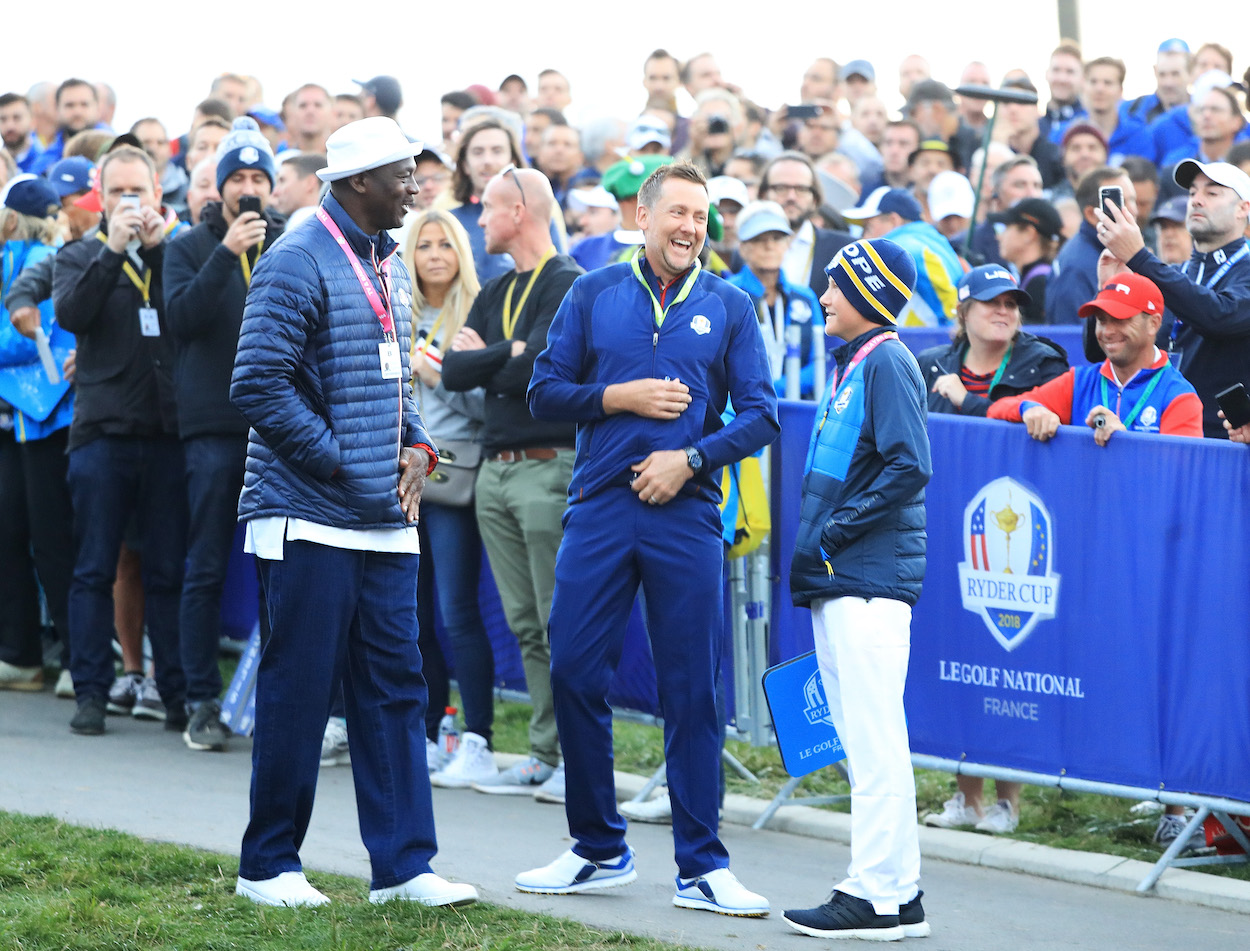 But Poulter would beg to differ.
A mutual respect
Jordan is one of the most competitive athletes — wait, scratch that — one of the most competitive humans to ever walk this earth. It only makes sense that he would gravitate toward Poulter because of his fiery competitiveness on the golf course.
Poulter was always a big fan of Jordan, too, and he admitted a few years later MJ's presence brought something special out of him that day. Poulter told Alan Shipnuck of Sports Illustrated for the Golf.com podcast in 2017:
"I am a Michael Jordan fan. I love basketball, so MJ being there was giving me a buzz. Then as that match was closing out, he was becoming more prominent and his position of where he was standing was becoming more and more invasive, shall I say.

The closest he got was when he kinda gave me a little jab in the chest going from the 16th green after I've holed the 25-footer downhill left to right. I'm walking off the green and I just see him. He's right in my walkway as I walk to the 17th tee. And he kind of just wags his finger and kinda shakes his head as if to say, 'You son of a…how dare you hole that putt?' And as I was walking past him, he gives me a little jab, and I'm saying to myself, 'You know, you're going to have to hit me harder than that.'

I was trying to stick it to everyone, but it was like, how dare he be in my space, how dare he be in my zone, how dare he be on my court, giving me s***? So I'm like, 'OK, if that's how you want to play it, this is what you're gonna get.'"
Few athletes can stick it to Jordan like that. MJ knew right then and there Poulter was one of the few people on this earth he couldn't intimidate.
Like Sportscasting on Facebook. Follow us on Twitter @sportscasting19.