Michael Jordan Was Disrespectfully Passed Over in Favor of an Alleged Cheater by a Famous TV Personality
Whether it's the NBA GOAT, or even the sports GOAT, debate, not many people ever pass over Michael Jordan. His basketball career, especially the time he spent with the Chicago Bulls, was unrivaled by pretty much every athlete in all major sports. However, in terms of what they enjoyed covering more, one famous sports personality actually passed over Jordan's 1998 NBA season for a performance put on by an alleged cheater instead. That famous sports personality was the one and only Skip Bayless, and that alleged cheater was Barry Bonds.
Michael Jordan's 1998 NBA season vs. Barry Bonds' 2001 home run chase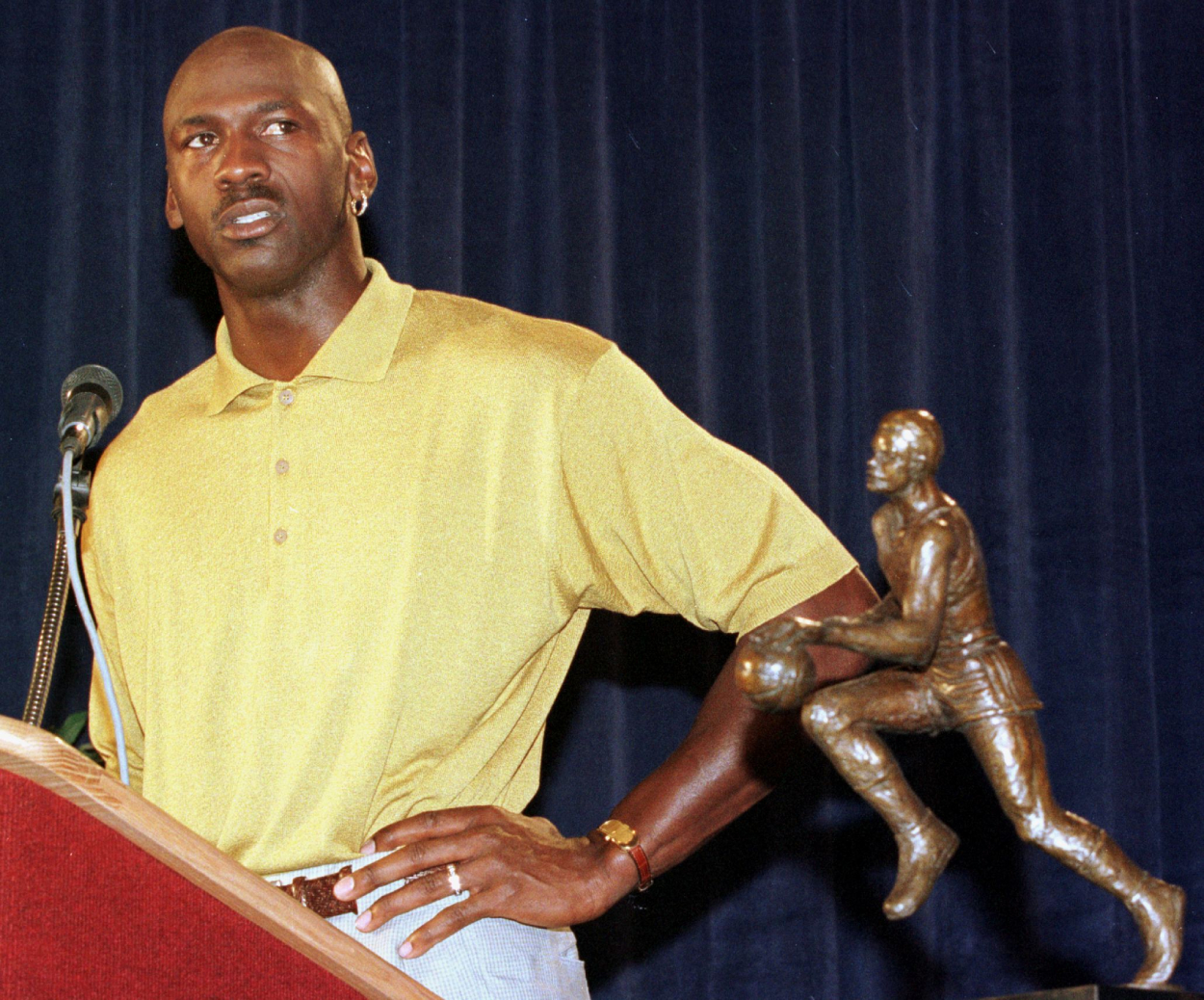 RELATED: Michael Jordan's Star College Teammate Said He Had a 'Big Mouth' Before Even Playing 1 Game at UNC
The 1997-98 NBA season for Michael Jordan was a special one. It was his last run with the Chicago Bulls.
He and the Bulls won three consecutive NBA titles from 1990-91 through 1992-93 before he left the NBA to play baseball during the 1993-94 season. However, after missing over one-and-half seasons, Jordan led the Bulls to another three-peat from 1995-96 through 1997-98. 
As highlighted in The Last Dance, many people knew that the 1997-98 season was the Bulls' last one together, too. So, that made the title even more special. Jordan also ultimately led the NBA in points per game for a 10th time that year and then retired after that season before coming back for two more years with the Washington Wizards just a few seasons later.
During those same years, Barry Bonds was also a legendary athlete. In fact, in 2001, with the San Francisco Giants, Bonds set the MLB record for most home runs in a season with 73. Bonds, of course, later broke the all-time record for career home runs with 762. However, many fans believe that there are asterisks by both those records, as, for years, Bonds was a suspected cheater. He broke the single-season record at 36 years old when his talents should have been diminishing, and, in the words of NBC's Cecil Harris, Bonds went from a "sleek star with the Pittsburgh Pirates" to "a hulking San Francisco Giant."
According to NBC News, Bonds ultimately testified "that he did not knowingly use steroids developed by the Bay Area Laboratory Co-operative, known as Balco. Instead, he claimed he thought what he was ingesting was flaxseed oil."
Despite Bonds' alleged cheating, though, Skip Bayless recently took Bonds' record-setting feat over MJ's legendary 1997-98 season.
Skip Bayless took Barry Bonds' HR chase over MJ's final Bulls season
RELATED: Michael Jordan Just Saw His Major Career Accomplishment Get Surprisingly Diminished on National Television
In a video recently tweeted by the show, Undisputed, FOX Sports commentator Skip Bayless received a question about whether he was "more in awe" of Michael Jordan with the Bulls or Barry Bonds during his chase of the single-season home run record. Bayless covered both MJ's time with the Bulls and Bonds' home run chase.
"[Bonds] did something I never ever thought I would see and will never see again, I don't think," Bayless said. "… I get the steroids. He got huge; got it. But still, the ability [to swing], the hand-eye coordination, the reflexes — greatest baseball player ever. Again, he was a slugger before steroids."
He continued: "It got so bad that Barry Bonds would see two pitches a game; they'd just pitch around him, they'd walk him every time. He would hit those two pitches as hard as he could hit both of them, and they would either hit the wall, or carried the wall."
Bayless made some great points, as Barry Bonds dominated baseball like no other player has before. However, while the question asked who Bayless — himself — was in more awe of during the years that he covered both of them, should anyone ever really pick Bonds over MJ?
Michael Jordan's NBA dominance should be more respected
RELATED: Michael Jordan's Competitiveness Seeps Into All but 1 Area of His Life, According to Actor Will Smith
Let's be clear: despite the popular belief that PEDs allegedly helped make Barry Bonds a better player, he is still an all-time great. It's hard to look past 762 home runs, 1,996 RBIs, seven MVP awards, eight Gold Gloves, and a .298 career batting average. However, Bonds only hit 40 or more home runs three times in his first 14 seasons. He then hit 45 or more in five straight seasons from 2000 through 2004. He was between 35 and 39 years old during those seasons, too.
The Washington Post reports that the earliest listed offense of Bonds allegedly taking steroids was in 1998. His big run began just two years after that. It's hard to give someone so much credit for something they potentially didn't even do on their own.
Michael Jordan, however, dominated in the NBA for years just solely on his own athleticism and will to win. He led the NBA in points per game in 10 seasons and averaged as many as 37.1 in 1986-87. Additionally, being able to go 6-0 in the NBA Finals, compared to Barry Bonds losing in his one World Series appearance, should be put into consideration, too, even though one player can make more of a difference in basketball than one can in baseball.
Barry Bonds was still a great player before allegedly taking steroids. However, it's hard to give him the nod over Michael Jordan in anything.
Stats courtesy of Basketball Reference and Baseball Reference