Michael Jordan's 4 Words Potentially Helped Launch a Former Cowboys Star's Dominant Run in the NFL
Whenever Michael Jordan says something, many people drop everything they're doing to listen. This was the case for a former Dallas Cowboys star. That former Dallas star was wide receiver Dez Bryant.
When Bryant signed a three-year deal with Jordan Brand in 2013, Michael Jordan himself had four words for Bryant that the pass-catcher ultimately used for motivation. Soon after that conversation, Bryant then went on a dominant run for the Cowboys.
Several football players have signed with Michael Jordan's Jordan Brand in the past
RELATED: Comedian Kevin Hart Once Pissed Michael Jordan off at His Own Event After Roasting Him About a Specific Facial Feature
When people think of Michael Jordan, his shoes, and the Jordan Brand as a whole, they probably think of basketball. Jordan is an NBA legend, and his shoes are iconic within the basketball landscape. However, over 20 years ago, Jordan also branched out to football.
According to The Undefeated of ESPN, in 1999, during Jordan's second retirement, he focused on making a mark in the business world and wanted to take his Jordan Brand over to other sports. This led to Yankees legend Derek Jeter signing with him for baseball, and former wide receiver Randy Moss ultimately becoming his first football player.
"Jordans were a basketball shoe, but when I came into the league, I was still infatuated by Nike shoes and Jordan shoes," Moss said in 2017, according to The Undefeated.
"I just wanted to pay tribute to Michael," Moss, who eventually got a signature shoe, added, per The Undefeated. "But at the same time, I looked at the shoes and I was like, 'Oh, those would look good with my uniform.'"
Soon after Moss helped launch Jordan Brand's football branch, other stars joined him. This included Donovan McNabb, Marvin Harrison, Charles Woodson, Michael Vick and Warren Sapp. Jordan Brand has also endorsed many other football players since then too, including Jamal Adams, Joe Haden, Jalen Ramsey — and Dez Bryant.
Michael Jordan had four words for Dez Bryant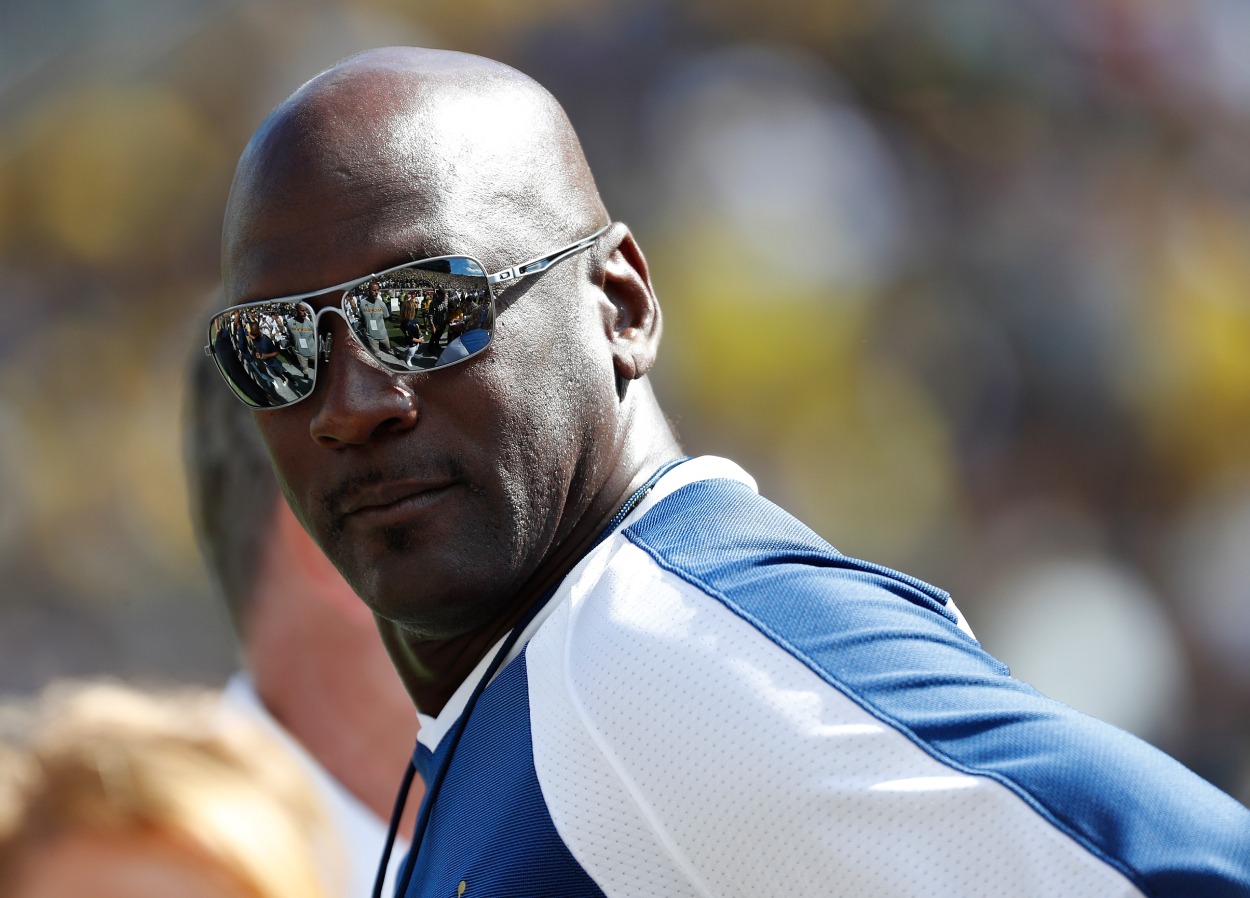 RELATED: Charles Barkley Once Threatened to 'Slap the Hell out' of Someone While Defending Ex-Friend Michael Jordan: 'I'm Going to Take My Chances With the Judicial System'
In 2013, Dez Bryant signed a three-year deal with Jordan Brand. He then met Michael Jordan at Jordan's birthday party, which took place during the NBA's All-Star Weekend that year.
When the two stars met at the party, Jordan had four words for Bryant.
"The only thing he told me was 'stay out of trouble,"' Bryant said, according to ESPN. "Hearing it come from him … He is a strong voice. His opinion matters."
According to The Washington Post, Bryant received a misdemeanor domestic violence charge in 2012, but the charge was ultimately dropped "after he maintained a clean record for one year." According to ESPN, Bryant had also been in the news for settling multiple lawsuits over unpaid loans.
Bryant, though, ended up taking Jordan's words to heart. ESPN reported that Bryant wanted to prove to Jordan that he could stay out of trouble, so he reportedly planned to not get paid by Jordan Brand for the first year of his deal. If he, in fact, stayed out of trouble, Bryant would then reportedly get his second year's salary.
"It just adds fuel to trying to do things great at all times," Bryant said of Jordan's message, per ESPN. "That's something you don't want to mess up. Now, I do pay attention to that, just because of the fact of who he is and what he is about. Everybody knows Michael Jordan is about his business, so that make you want to be about yours."
Soon after this, Dez Bryant then went on a run of pure dominance with the Cowboys.
Dez Bryant became one of the NFL's best wide receivers
RELATED: Michael Jordan's 36-Hour Gambling Spree Nearly Lost Him and a Partner $1 Million and Delayed His Return to the NBA
When Dez Bryant signed with Jordan Brand, he had just come off a year in 2012 where he had caught 92 passes for 1,382 yards and 12 touchdowns. He then had two of his best seasons in the NFL in 2013 and 2014 after signing with Jordan.
Bryant earned the first two of his three career Pro Bowl selections in those two seasons. He ultimately caught 93 passes for 1,233 yards and 13 touchdowns in 2013. Then in 2014, Bryant was arguably the best wide receiver in the NFL. He caught 88 passes for 1,320 yards and an NFL-leading 16 touchdown catches that year. He not only earned Pro Bowl honors in 2014, but he was also a First-Team All-Pro.
The Cowboys also had a significant amount of success in 2014 with Bryant. He helped lead them to a 12-4 record that season, and they reached the divisional round after defeating the Detroit Lions in the wild-card round.
Dez Bryant was ultimately among the best of the best in the two years that followed him teaming up with Michael Jordan and Jordan Brand. Looking back on it, Jordan's four words may have been what helped launch his dominant run in the NFL.
Stats courtesy of Pro Football Reference