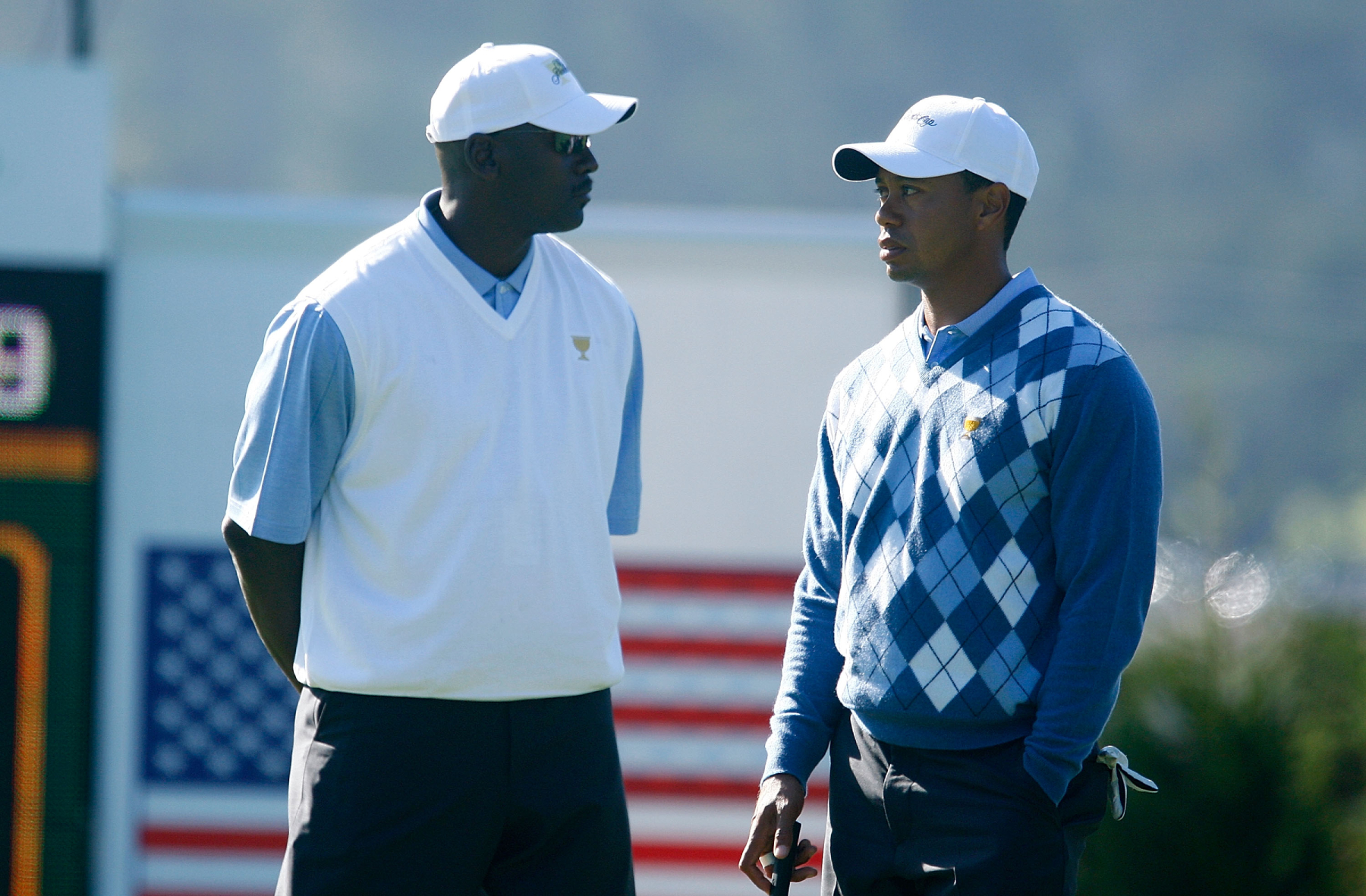 Michael Jordan Praises Tiger Woods for Tearing Down Racial Barriers
Michael Jordan and Tiger Woods have both meant a lot to their respective sports. Jordan certainly has some high praise for Woods.
Michael Jordan and Tiger Woods are two of the greatest and most iconic athletes of all time. Jordan is considered to be the greatest basketball player ever, while Woods is considered to be one of the greatest golfers ever. They both changed their sports completely, and Jordan actually praised Woods for what he has meant to other Black athletes, specifically in the sport of golf.
Michael Jordan is an icon after having a legendary NBA career
When people discuss the greatest basketball players to ever play, Michael Jordan and LeBron James are the two names that always come up. Whoever you think is the greatest, though, Jordan certainly transcended the game more than James will ever be able to.
After a stellar college career at North Carolina, Jordan went to the Chicago Bulls with the third overall pick in the 1984 NBA draft.
Jordan then ultimately earned nine straight All-Star selections from 1984-85 through 1992-93 with the Bulls, before missing the 1993-94 season and part of the 1994-95 season to try out baseball. From 1986-87 through 1992-93, Jordan also led the NBA in points per game in seven straight seasons, averaging as many as 35 points per game in 1987-88. 
He also led the Bulls to a three-peat during those years too, winning three straight championships from 1990-91 through 1992-93. 
After playing baseball in 1993-94, and only playing in 17 regular-season games with the Bulls in 1994-95, Jordan earned three more consecutive All-Star selections and led the NBA in scoring in three straight seasons again from 1995-96 through 1997-98. He also, again, led the Bulls to three consecutive championships in those three seasons.
After retiring for three seasons following 1997-98, Jordan played for the Washington Wizards in 2001-02 and 2002-03. The latter was his final season in the NBA.
Here are some of Jordan's career accomplishments.
Hall of Famer
10-time NBA scoring champion
14-time NBA All-Star
Five-time NBA MVP
Six-time NBA champion
Six-time NBA Finals MVP
32,292 career points (fifth all-time)
30.1 career points-per-game average (No. 1 all-time)
Jordan certainly had a fantastic career. Woods, however, is also a legend.
Tiger Woods is one of the greatest golfers of all-time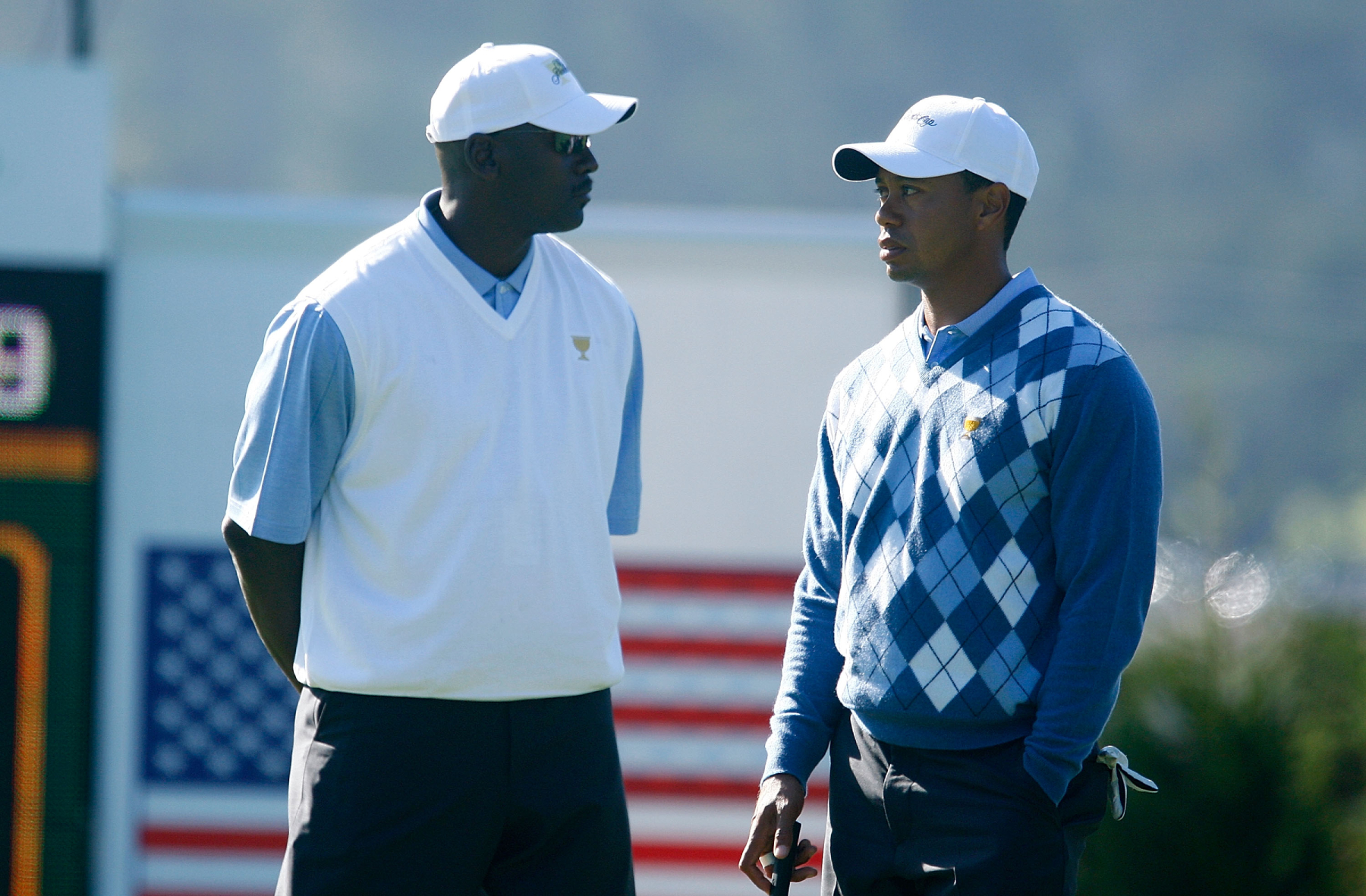 Woods has been an excellent golfer since first turning pro in 1996. Actually, not just an excellent golfer, but one of the greatest to ever do it.
According to PGATour.com, Woods has 82 PGA Tour wins in his career. He also has 31 second-place finishes. What puts Woods on the list of the greatest golfers ever, though, is the number of majors he has won. Woods has won 15 majors, which is second all-time to only Jack Nicklaus, who has 18, per the PGA.
The most recent major that Woods won came in 2019. He ended an 11-year drought that year by winning the Masters Tournament in what was one of the greatest comeback stories of all time.
Michael Jordan praised Tiger Woods for tearing down racial barriers
Cigar Aficionado Magazine recently released new footage from a 2017 interview with Jordan.
In the interview, Jordan was asked who the greatest golfer of all-time was, Woods, or Nicklaus.
"Obviously Jack won more during the time he played," Jordan said, according to TMZ. "Tiger evolved it to where it crossed a lot of different boundaries — where it's not just a white guy's sport."
According to TMZ, Jordan said that Woods paved the way for other minority golfers, which helped gain more interest in the game.
"Now, does that constitute him being the greatest? Does that mean he's any less than Jack — I think [the sentiment] is unfair," Jordan said, per TMZ. 
Jordan went on to compare Woods and Nicklaus to him and Bill Russell.
"I won 6 championships, Bill Russell won 11 —  does that make Bill Russell better than me or make me better than him? No, because we played at different eras," Jordan said, per TMZ. "So, when you try to equate who's the greatest of all time, it's an unfair parallel. It's an unfair choice. I think those are the demons that obviously Tiger had to live with and he's gonna be challenged, he's gonna be graded upon that but for me, I think they're both great. I would never say one is greater than the other."
Jordan certainly seems to have great admiration for another all-time great athlete in Woods.
Stats courtesy of Basketball Reference